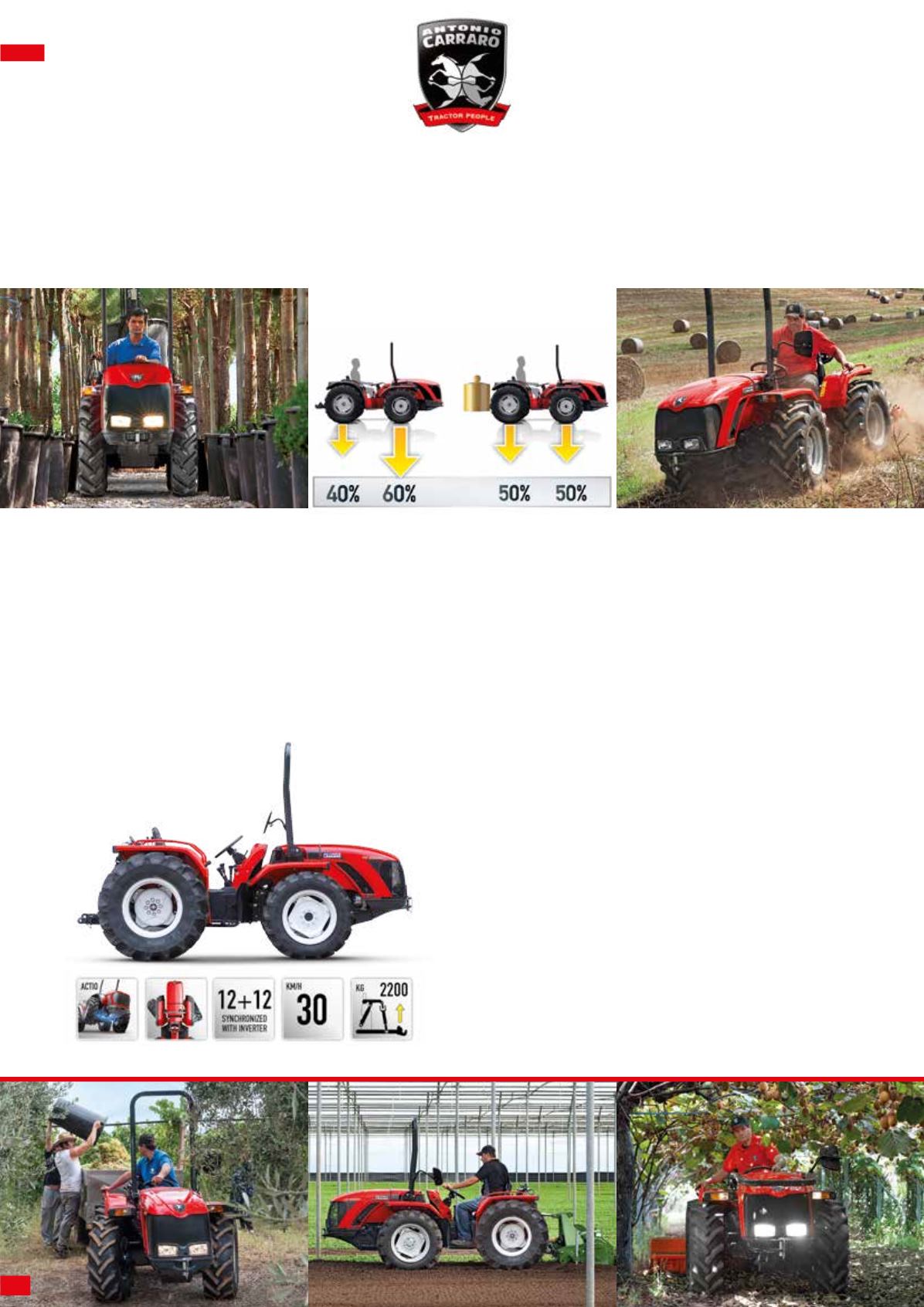 10_
THE PRODUCT
> TRACTOR PEOPLE
TC 5800F: THE CUTEST, THE FAVOURITE
4 cylinder, 49.7 hp Yanmar engine; gearbox 12+12 with inverter
and independent PTO. Steering with bigger rear wheels; ACTIO™
with a low centre of gravity and servo-assisted steering; TC 5800F
is popular because it is well-designed and in proportion.
Compact and with good handling in all situations, as well as having
good grip and stability on slopes and uneven ground, it is characterised
by its low silhouette, excellent ground clearance and a spacious,
comfortable drive position. Its power is medium but sufficient for
carrying out many types of agricultural tasks. The smaller front wheels
allow for a narrow turning circle and greater traction is guaranteed by
its large rear wheels. The hydraulic system is suitable for all needs as is
the mixed control lift, useful for all types of ground work. Maintenance
is easy and rational thanks to the vertical opening of the bonnet with
separate access to the battery and air filter.
Every agricultural operator choses his tractor on the basis of the tasks he has to carry out. If he has to work between narrow rows, he will have to
take into consideration the width of the rows, ground slope and the density of the foliage in accordance with the season. For this type of customer
it is necessary to look towards a narrow-compact AC tractor which, in the market below 60 hp, the T Major Series has the narrowest tractors in
production. At this point there are two options: if the tractor has to be the narrowest possible and has to work on level or slightly sloping ground,
the choice will be the SNv model with an articulated ACTIO™ chassis; if instead, as well as the rowed crops, the tractor has to work on slopes or
uneven ground, the choice will fall on to an equal-wheel steering chassis (TN) or one with larger rear wheels (TCf).
STABLE, SAFE, GOOD HANDLING:
ABOVE ALL COMPACT