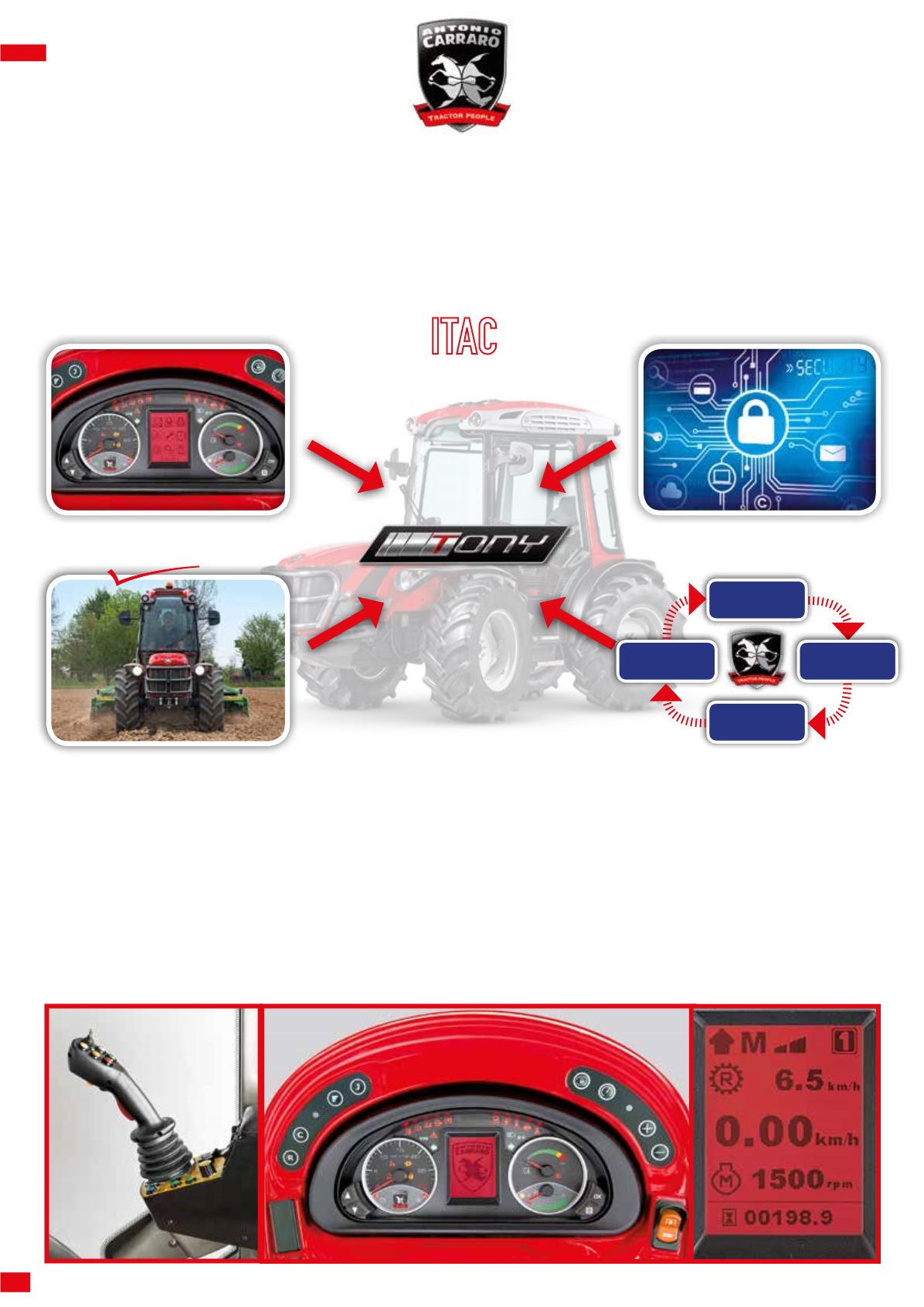 16_
THE PRODUCT
> TRACTOR PEOPLE
FUNCTION SETTING
SAFETY CONTROL
FUNCTION CONTROL
ITAC
Intelligent Tractor Antonio Carraro
CHECK
STANDARD
COMPARE
PERFORMANCE
MEASURE
PERFORMANCE
TAKE CORRECTIVE
ACTION
TMC SYSTEM
ITAC SOFTWARE
Intelligent-Tractor-Antonio-Carraro)
Every customer can personalise the functions of his tractor. The electronic control unit, equipped with the ITAC operating system, runs, monitors,
improves and corrects the vehicle's setting errors allowing the tractor's operation mode to be personalised, thanks to the TMC function,
according
to the ground, working conditions, equipment used and driving style.
The operator can set working speed by adjusting the revolutions of the PTO; alternatively, he can select one of the 3 drive modes for each of the 4
speed ranges available, thus obtaining maximum efficiency and operative comfort, whilst reducing stress and saving fuel and energy.
The control centre has been fitted with Safety Control (a safety system that constantly checks the running of the software itself, allowing for worry
free working conditions). The software also supplies the
tractor's diagnostics
, signalling to the operator maintenance deadlines, the correct
functioning of all the tractor's sensors and the consistency of all signals.
The illustration shows the CAN Bus communication network: a "slim" system that simplifies and speeds up the transferral of data. With the
employment of very few electrical wires, and by putting the different electronic control units in communication with each other it is possible to
get the immediate display of all the messages from the network.