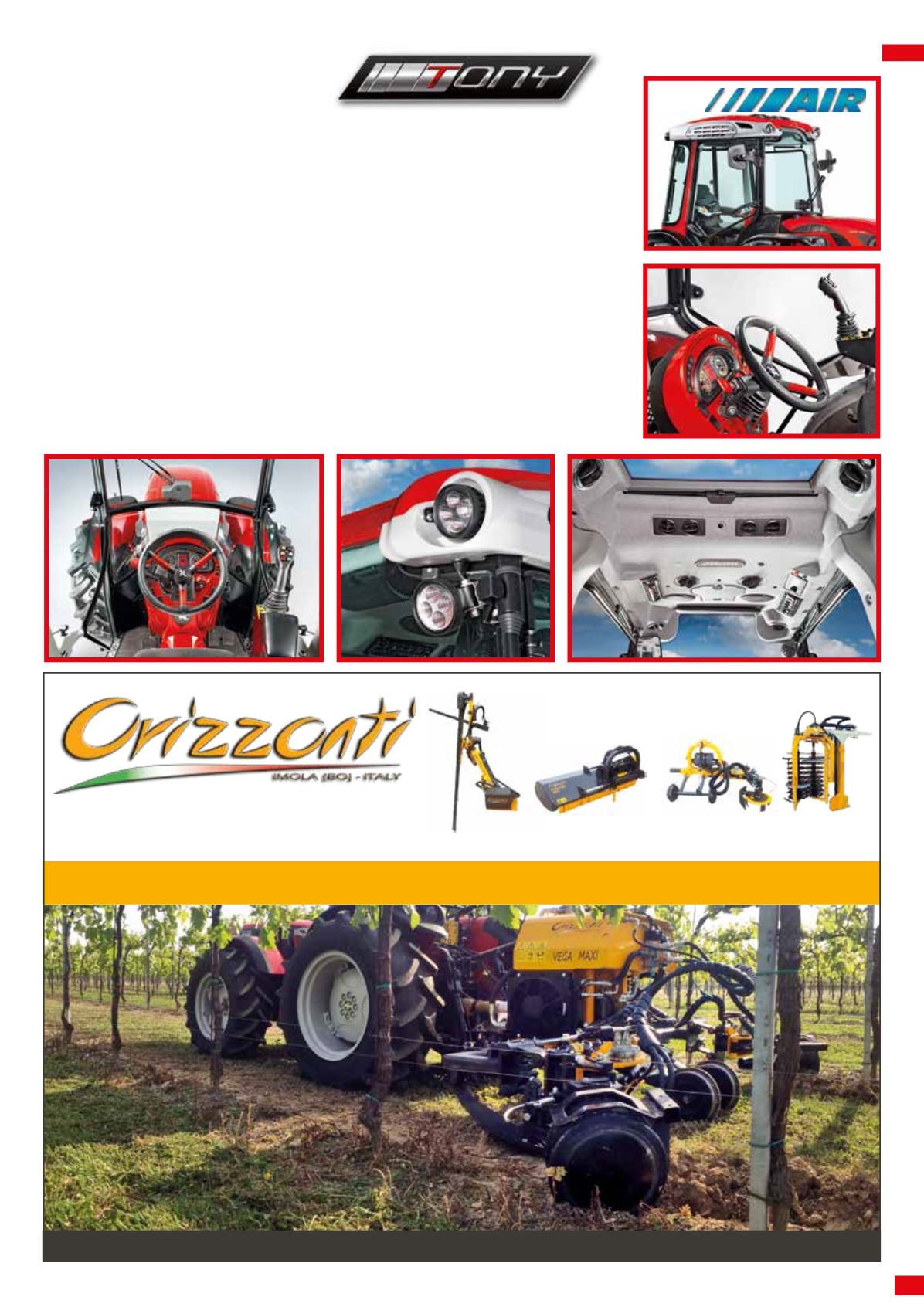 _17
TRACTOR PEOPLE <
THE PRODUCT

www.orizzontimacchineagricole.it

info@orizzontimacchineagricole.it


CAB AIR: NON-PLUS-ULTRA
According to many customers, the latest Air cab is not just amazing aesthetically speaking but excellent thanks to
a series of basic details
DESIGN >
integrated into the drive position, soundproofed and thermally isolated.
VISIBILITY >
son
all fronts thanks to the essential structure of the uprights, with all round windows.
ERGONOMICS
>
the drive position is ergonomic and curved with easy access; all the controls, suspended on the
reversible drive tower, maintain their settings even with reverse drive; the controls of the transmission
are replicated on the armrest of the multifunction proportional joystick JPM+ (inverter, Cruise, speed
range, Eco Speed).
COMFORT CERTIFICATE >
the heating and pressure system (Certification Cat. 4
protects the operator from dust, gas and aerosol) is run electronically with its display positioned on
the cab's roof; Certification FOPS and ROPS.
ECONOMY OF USE >
internal and external led lighting
system that guarantees minimum energy consumption; up to 8 external work headlights (opt).
serving your intelligence...
Agricoltural machines for soil work and pruning of vineyards and orchards
TRIMMER
SHREDDERS
PRE PRUNER
INTERCEPT
Via Rodolfo Morandi, 5 - 40026 Imola (BO) ITALY
Tel.: +39 0542 643982 - Fax: +39 0542 641107