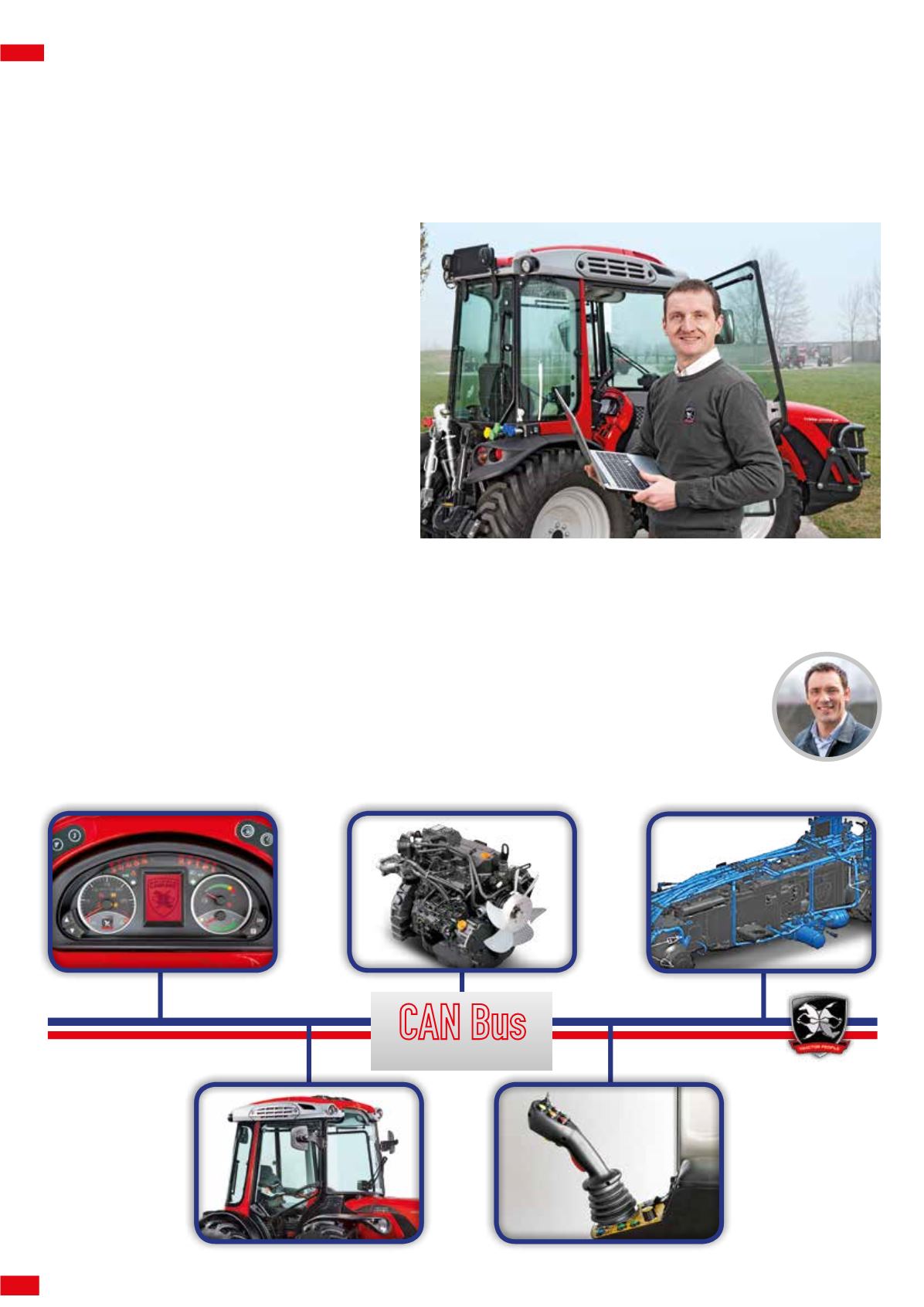 18_
FOCUS
> TECHNOLOGY
CAN LINE 1
CAN LINE 2
DCU (dashboard)
ECU (engine)
TCU (transmission)
CCU (cab)
HCU (joystick)
CAN Bus
Controller Area Network
Not too long ago it seemed like science fiction to be talking
about artificial intelligence and every time we used to see it in
a film we are left with the sensation of it being an impossible
realisation. Today however, reality has led us to consider this
type of intelligence as something quite concrete.
The pre-eminent use of software in all fields is making
everything quick and easy. Communication is perhaps the
perfect example, as we have passed from the horse drawn mail
coach to the postal system to the smartphone of the present
day where everything is passed on in real time.
We AC technicians, in recent times, have been asking ourselves
why we don't use the technology available in our sector too or
why we don't use latest generation software to make the lives
for the Antonio Carraro tractor user easier.
ITAC is the acronymof Intelligent-Tractor-Antonio Carraro and it
is the operating system which has been specifically developed
for AC compact tractors and their end-uses.
ELECTRONICALLY RUN TRACTORS: A NEW ERA
ITAC allows greater control of the tractor and provides more functions, greater sensitivity and precision, better use of space and increases comfort.
By adopting the CAN BUS system as the dialogue technology between the various control units, enormous quantities of information can travel
at the speed of light.
So, just like in a simple gesture like a smile when each man uses 12 different facial muscles spontaneously, the ITAC activates,
coordinates and integrates 16 different systems in order to render the operator's task easier.
It is not important to know every
single muscle to see a man's smile: the important thing is to see him smiling at work.
You think about what you want to do with your tractor and the ITAC thinks "how" to do it
JONNY PROSDOCIMI, HEAD OF AREA TESTING