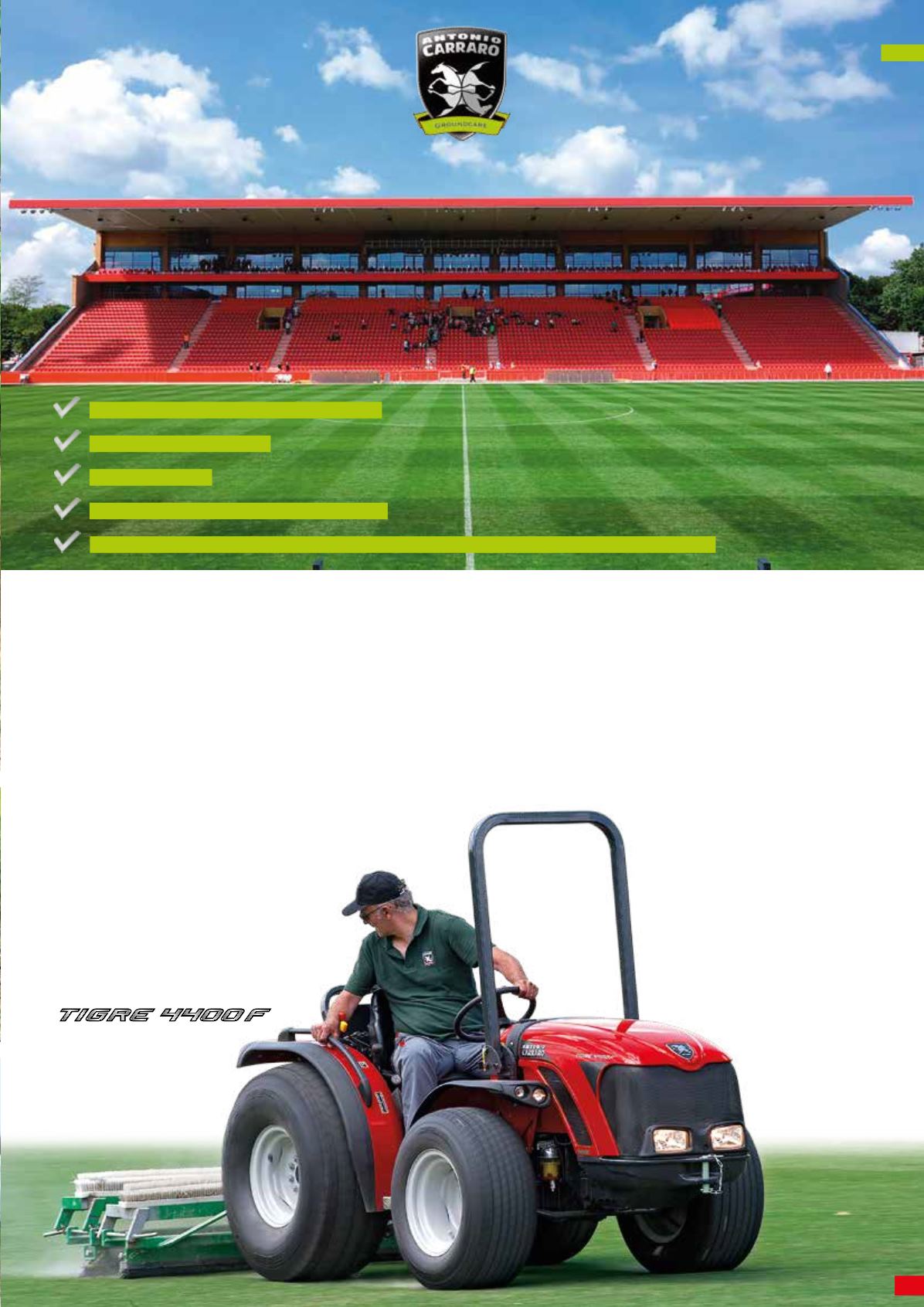 _25
GROUNDCARE <
THE PRODUCT
Weather permitting, sport should be played in the open air on lush, green turf. In accordancewith the newgreenmentality, modern cities are dedicating
space and important resources to playing sport in the open air: finally local government has started to understand the importance of its citizens'
psychological and physical health. This inevitably leads to the investment in machinery and equipment used in the maintenance of these spaces. The
most popular sports occupy vast areas: it is enough to consider football, tennis, rugby and golf which are all disciplines that, apart from anything, we will
be seeing at the Rio Olympics. In all of these sports it is essential to have impeccable turf for them to be played well. Often in recent years, in order to
guarantee a perfect playing field, synthetic grass has been used. It is in this sector that NewTennis System (NTS – Cavenago – MI) has built its success.
NTS is a clear example of howa passion for sport and themaintenance of sports fields go hand in hand. In 1989Michele Corsiero, a tennis instructor for 28
SPORTS GROUND MAINTENANCE
BIGGER REARWHEELS
38 HP YANMAR
SPECIAL FEATURES: COMPACTWITH COMFORTABLE DRIVE POSITION
ACTIO™ STEERING
GEARS: 8 FORWARD + 4 REVERSE
years and well-known personality in the sporting
world, began constructing and maintaining
tennis courts. "It started off as a joke" he says "we
had opened up a company to spreadmy teaching
methods in tennis, ad we decided to throw in
some construction and maintenance activities."
In the wake of tennis's success in those years,
synthetic fields became commonplace in Italy too.
There are many advantages such as the fact that
the base of synthetic grass is not rigid like those
in cement and very little maintenance is required.
There are of course other factors that
amateur tennis players like such as the fact
that they don't get dirty with red dust, the
ball bounces at a more manageable speed
and finally the colour green calms themind
and aids concentration. It reminds themof
theWimbledonplaying fields (even if there,
the grass is real!)
Today NTS is a big player in its territory.
In addition to tennis, Corsiero and his
Tigre 4400 F Groundcare version (synthetic surfaces)