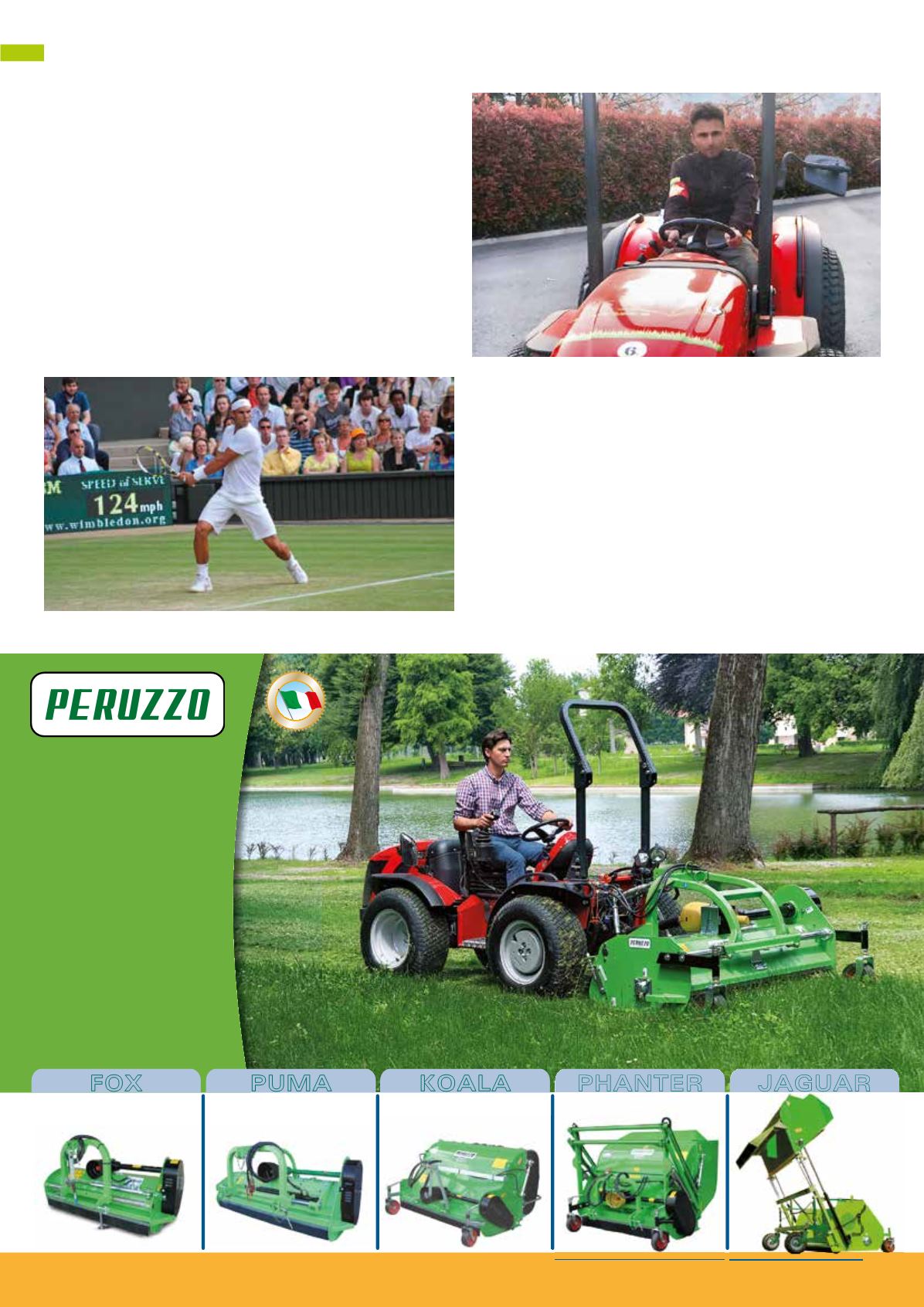 Da 15 a 30 CV/HP
Da 30 a 60 CV/HP
Da 16 a 30 CV/HP
Da 30 a 60 CV/HP
Da 40a 70 CV/HP
La scelta
più ampia di
Trinciaerba
Con e Senza
Raccolta
per
ManuTenzione
Pubblica e
SPorTiva.
aTTrezzaTure
MulTifunzione
www.peruzzo. i t
PERUZZO S.r.l.
Via Valsugana 30 - 35010 Curtarolo (Pd) Italy
Tel. +39 049 9620477 - Fax. +39 049 9620435 -
peruzzo@peruzzo.it
M
A
D
E
I
N
I
T
A
L
Y
P
E
R
U
Z
Z
O
FOX
PUMA
JAGUAR
PHANTER
KOALA
®
THE PRODUCT
> GROUNDCARE
15 employees are involved in the construction and maintenance of
football pitches, volleyball and basketball courts, multi-sports fields and
also gardens – wherever synthetic grass is used. With a very respectable
portfolio of clients which include amongst others the stadiums of San Siro
and Bergamo, the training pitches belonging to Milan, Inter and Atlanta,
the Franciacorta autodrome (BS), NTS also works with lamellate wood
covers, steel arches and air supported structures. One of their patents for
a clay tennis court is becoming popular abroad, especially in France and
Switzerland.
From the design to its laying, as well as its maintenance, NTS follows step
by step every phase of the life of its sports grounds with competency and
professionalism, thanks also to its vast fleet of tractors and equipment, of
whichmany are Antonio Carraro tractors.
"At present we have seven or eight", Cosiero can't remember exactly
how many Tigre he has got in his company "it's a lot though! There has
always been an excellent relationship with the dealer Agri-Brianza (from
Concorezzo – MI), and so we have always chosen AC for our business."
Our last purchase was a Tigre 4400F, delivered last February, used for
construction and maintenance, fitted with the hopper or the oscillating
sweeper. The compactness of these tractors is fundamental in small
environments like 5 a-side fields (800 m2) and their reliability has been
tried and tested. We work with high level players and we cannot afford to
have a machine that kicks off or which loses oil on the field of a stadium!"
We ask Corsiero to comment on the Olympics but he hasn't got time to
follow the sports news. "Sport? We are about to build the perimeter at
San Siro for the Champions League!" It is the only thing on his mind. He
is absorbed by his business and at the end of the day when you are at the
top of international sport you can't make any mistakes with your team.
Tractors included!"
Michele Corsiero's words.
From 15 to 30 CV/HP
From 30 to 60 CV/HP
From 16 to 30 CV/HP
From 30 to 60 CV/HP
From 40 to 70 CV/HP
The widest
Flail Mowers
choice
With or without
coll ction
For Municipality
or
Sport courSeS
Maintenance.
MultipurpoSe
turF
eQuipMent
In the photo Davide Corsiero