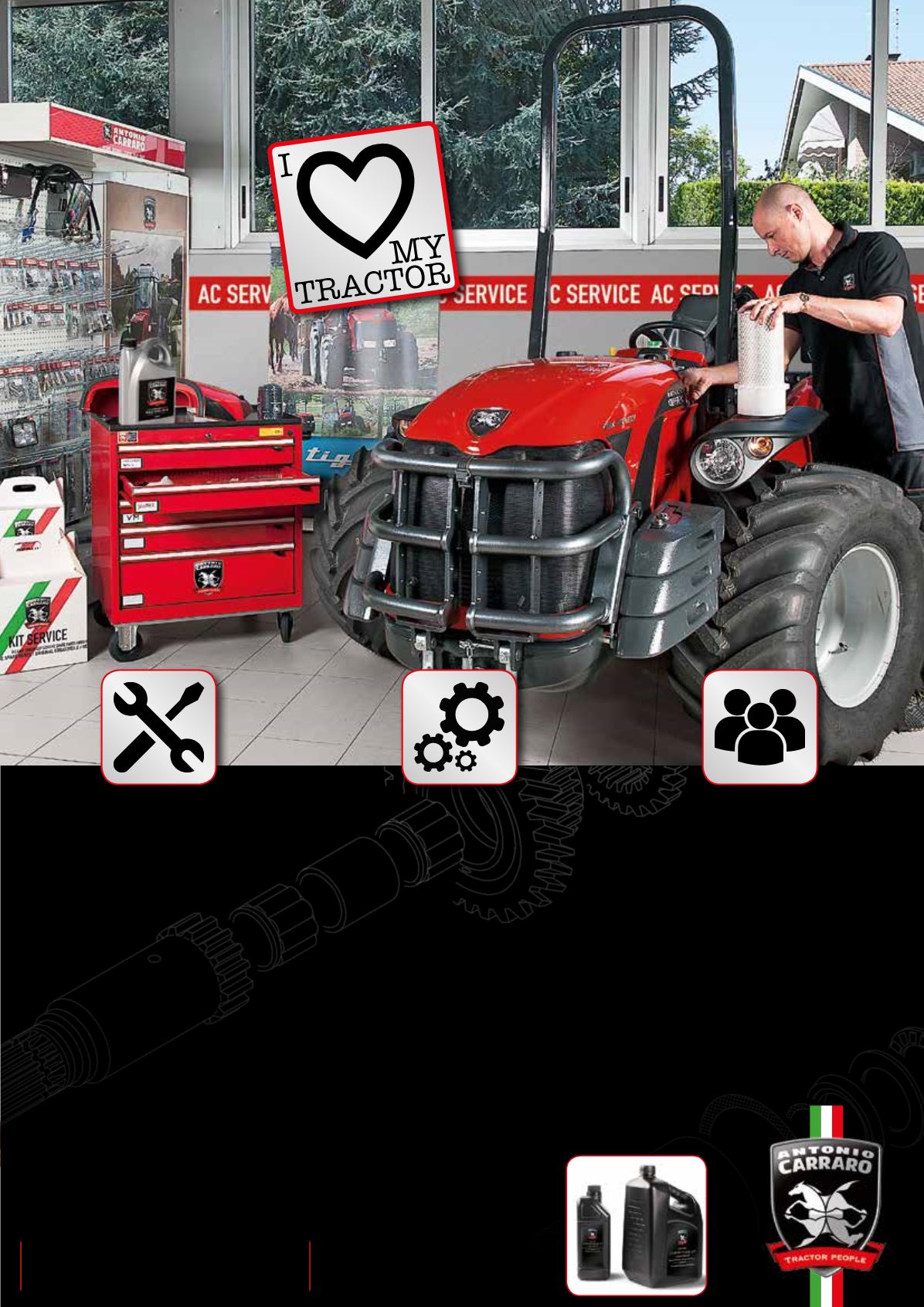 _33
AC TECH >
FACTORY
La rete di concessionari AC utilizza moderne attrezzature
e strumenti appositamente realizzati per gli interventi di
manutenzione dei trattori AC. Periodicamente i tecnici di
ogni officina autorizzata sono tenuti a frequentare corsi di
aggiornamento tecnico presso la Casa Madre. Ogni officina
autorizzata si avvale di personale altamente qualificato
e dispone di un'ampia gamma di servizi per garantire ai
propri Clienti massima tranquillità e protezione totale. I
concessionari AC sono a disposizione per fornire ai propri
Clienti informazioni sui servizi legati alla cura dei trattori AC.
Antonio Carraro® Original Spare Parts and Assistance
The AC dealer network utilizes modern equipment and
instruments that have been especially designed and built for
maintenance work on AC tractors. The technicians at every
authorized dealership periodically attend technical training
courses at the Parent Company's facilities. Each authorized
workshop employs highly qualified staff and provides an
extensive range of services in order to offer its Customers
maximum peace of mind and total protection. AC dealers can
give their Customers information on all the services related
to the care of AC tractors.
Ricambi Originali Antonio Carraro è un marchio registrato.
Gli elevati standard di progettazione e i severi controlli
sull'intero processo di produzione assicurano il massimo
livello qualitativo. Con i Ricambi Originali AC il Cliente ha
la certezza di mantenere inalterate nel tempo le prestazioni
del proprio trattore, preservando la sicurezza e il valore del
mezzo usato.
After-sales service
Thanks to the capillary network of dealers and the competence
of the Service Managers, the Parent Company can assure
all-around skills. With the right maintenance work, every
AC tractor will continue to provide excellent performance
throughout its operating lifetime.
Grazie alla rete capillare di concessionari e alla competenza
dei Service Manager la Casa Madre è in grado di garantire
competenza a 360°. Con i giusti interventi ogni trattore AC
continuerà a fornire ottime prestazioni lungo tutto l'arco della
sua vita lavorativa.
Original Antonio Carraro Spare Parts
Original Antonio Carraro Spare Parts is a registered
trademark. The elevated standards of design and the
stringent tests carried out during the entire production
process assure maximum quality levels. With Original AC
Spare Parts, Customers can be certain of maintaining tractor
performance unaltered over time, thus preserving the safety
and the value of the tractor.
INFO:
INFOPOSTVENDITA@ANTONIOCARRARO.IT
NUMERO VERDE 800-017323
INFO@ANTONIOCARRARO.IT
SEGUICI SU / FOLLOW US ON:
FACEBOOK / YOU TUBE
Antonio Carraro - Tractor people
Antonio Carraro Channel
ASSISTENZA / TECHNICAL ASSISTANCE
POST VENDITA / AFTER SALES
RICAMBI ORIGINALI / GENUINE PARTS