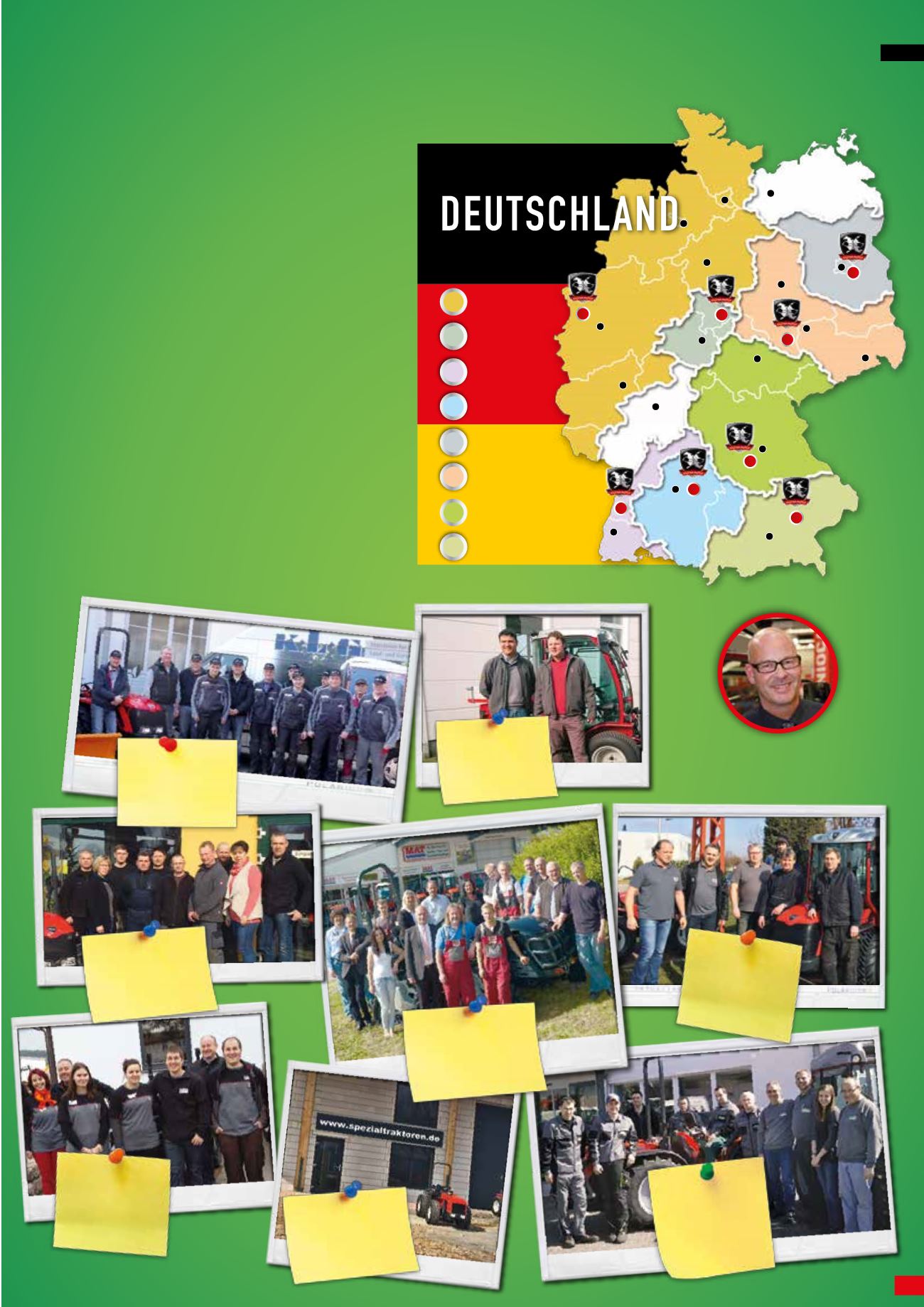 _43
FROM THE NETWORK
<
AC WORLD NEWS
MOERSCHEN
UR-ROSE
ZG
CTV
MATTHES
KOBATEC
KLG
MAT
TÖNISVORST
GIEBOLDEHAUSEN
MERSEBURG
STEIN BEI NÜRNBERG
WALDKRAIBURG
MITTENWALDE
SCHORNDORF
APPENWEIER
Freiburg im Breisgau
Stuttgart
München
Nünberg
Erfurt
Frankfurt
am Main
Düsseldorf
Koblenz
Bremen
Hamburg
Schwerin
Berlin
Kassel
Magdeburg
Hannover
Leipzig
Dresden
Italian excellence in the compact tractor sector is reflected in
Germany via the 8 regional importers and the 50 sellers which
together make up a quality sales and assistance network.
This decentralised organisation allows us to offer maximum
efficiency and specialisation in each market zone, which is
indispensible if the wide range of AC tractors and the country's
territorial diversification is taken into account, as it demands
extremely varied yet specific activities: from vineyards to
orchards, from forestry to municipal activities, from golf to
maintenance.
"Many of our partners have been dealing with the parent
company for more than twenty years", says Oliver Stamm,
AC Area Manager for Germany. "This link is the heart beat
of the commercial network: a guarantee of preparation and
competency, not only in terms of sales, but also after sales. On
the other hand, an excellent product needs to be able to also
offer an excellent service".
With its 300 tractors sold this year, Germany represents not
only one of the most important markets for AC, but also a
hothouse for the development of new products.
Our sincere thanks go to our loyal Tractor People in Germany!
A NETWORK OF EXCELLENCE
ZG RAIFFEISEN TECHNIK GmbH
Sanderstr. 21
77767 APPENWEIER
www.zg-raiffeisen.de
david.kimmig@zg-technik.de
LUTZ MATTHES
Mittenwalder Chaussee 10a
15
749 MITTENWALDE OT GALLUN
www.gartentechnik-matthes.de
CTV GmbH
Heinkelstrasse 39
73614 SCHORNDO
RF
www.ctv-gmbh.de
MOERSCHEN GmbH
Tempelsweg 1
47918 TÖNISVORST
www.moerschen.de
MAT GmbH
Zirndorferstrasse 7
84478 WALDKRAIBURG
www.carraro-traktoren.de
KLG GmbH & Co. KG
Mühlstraße 65
90547 STEIN BEI NÜRNBERG
www.klg-antonio-carraro.de
KOBATEC GmbH
Brandisstrasse 7
06217 MERSEB
URG
www.kobatec.de
UR - ROSE GmbH
Dechant-Muth Str. 27
37434 GIEBOLDEHAUSEN
www.spezialtraktoren.de
Oliver Stamm
Area Manager