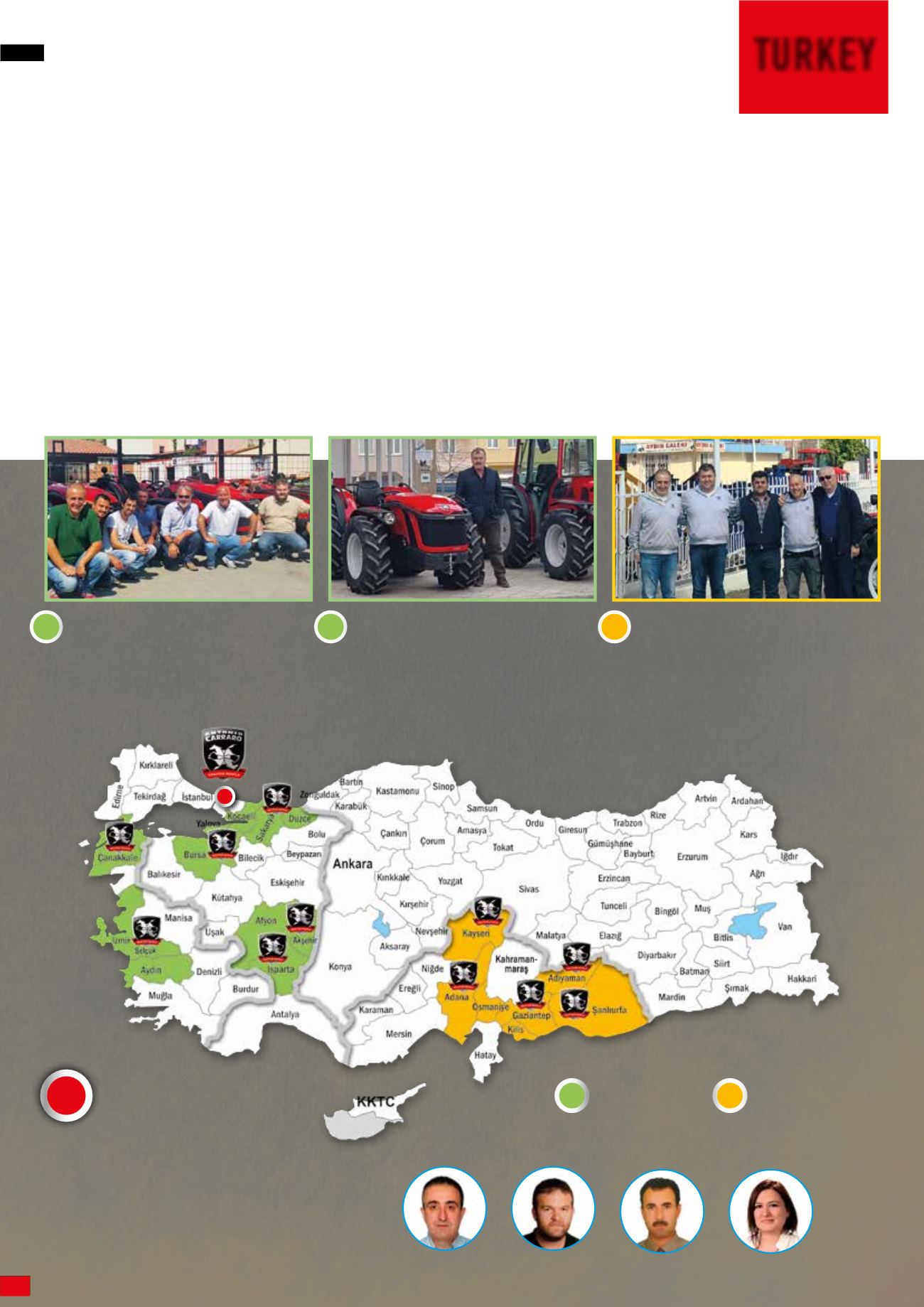 44_
AC WORLD NEWS
> FROM THE NETWORK
TURKEY
AC ANADOLU
KARADAG
IRDAY
AN EXPANDING NETWORK
Turkey, with its 66,000 units registered in 2015, is the main market for tractors in Europe. Its vast territory, with its many aspects, has led
to the need to be present directly within the country via a commercial subsidiary. In 2009 AC Anadolu was founded.
Situated in Istanbul, AC Anadolu coordinates AC sales and aftersales throughout the entire country via two regional distributers and around 10
dealers. "Being an expanding market", says Giuseppe Cutaia, manager of the Turkish subsidiary, " the number of dealers is bound to increase
rapidly". AC growth in Turkey over the last few years has been exponential.
The sales network is supported by a capillary network of assistance centres, capable of guaranteeing a 360° service to all of its AC customers.
Turkey is a country in which agriculture has had a strong economic prevalence. The crops are typical of the Mediterranean area and of an intensive
nature: from classic orchards to table grape cultivations, olive groves, citrus fruits, pistachios, almonds, hazelnuts and figs. A growth in agriculture
requires higher performing, more specialised tractors. The Turkish operators are highly aware of this and over the last few years they have become
adept and competent as they have learned how to take maximum advantage of the AC tractors' potential. Many customers and AC fans do not
hold back when expressing their passion for the brand on social networks, publishing wonderful photos (with wonderful Turkish landscapes!) and
films uploaded with useful technical content not only for their countrymen but for all the world to take advantage of.
Yasin Polat
Area Manager
Serdar Dikbas
Head of Sales
Abdulkadir Orhan
Branch Manager
Funda Bas
Head of Administration
İRDAY TARIM İNŞ. OTOMOTIV MAK. SAN. TIC. LTD. ŞTI
KARATAŞ YOLU ÜZERI TRAKTÖRCÜLER SITESI NO: 35
YÜREĞIR (ADANA)
IRDAYTARIM@HOTMAIL.COM
WWW.IRDAYTARIM.COM
ANTONIO CARRARO ANADOLU TRAKTöR PAZ. LTD şTI.
EKSIOGLU MAH. YAVUZ SELIM CAD. HAVAS EVLERI SITESI 3.
BLOK DA: 1
ALEMDAG 34794 (ISTANBUL)
BILGI@ANTONIOCARRARO.COM
WWW.ANTONIOCARRARO.COM.TR
KARADAĞ TURIZM İNŞAAT MOT. ARAÇLAR TIC. SAN. AŞ.
İZMIR AYDIN KARAYOLU ÜZERI NO: 43
SELÇUK, 35920 (İZMIR)
SADIKKARADAG35@HOTMAIL.COM
WWW.KARADAGTRAKTOR.COM
KARADAG - HÜSEYIN ÇİKİR
SELÇUK MAH. ATATÜRK CAD. NO: 23
İZNİK (BURSA)
CIKIRHUSEYIN@GMAIL.COM
WWW.ACPAZARLAMA.COM