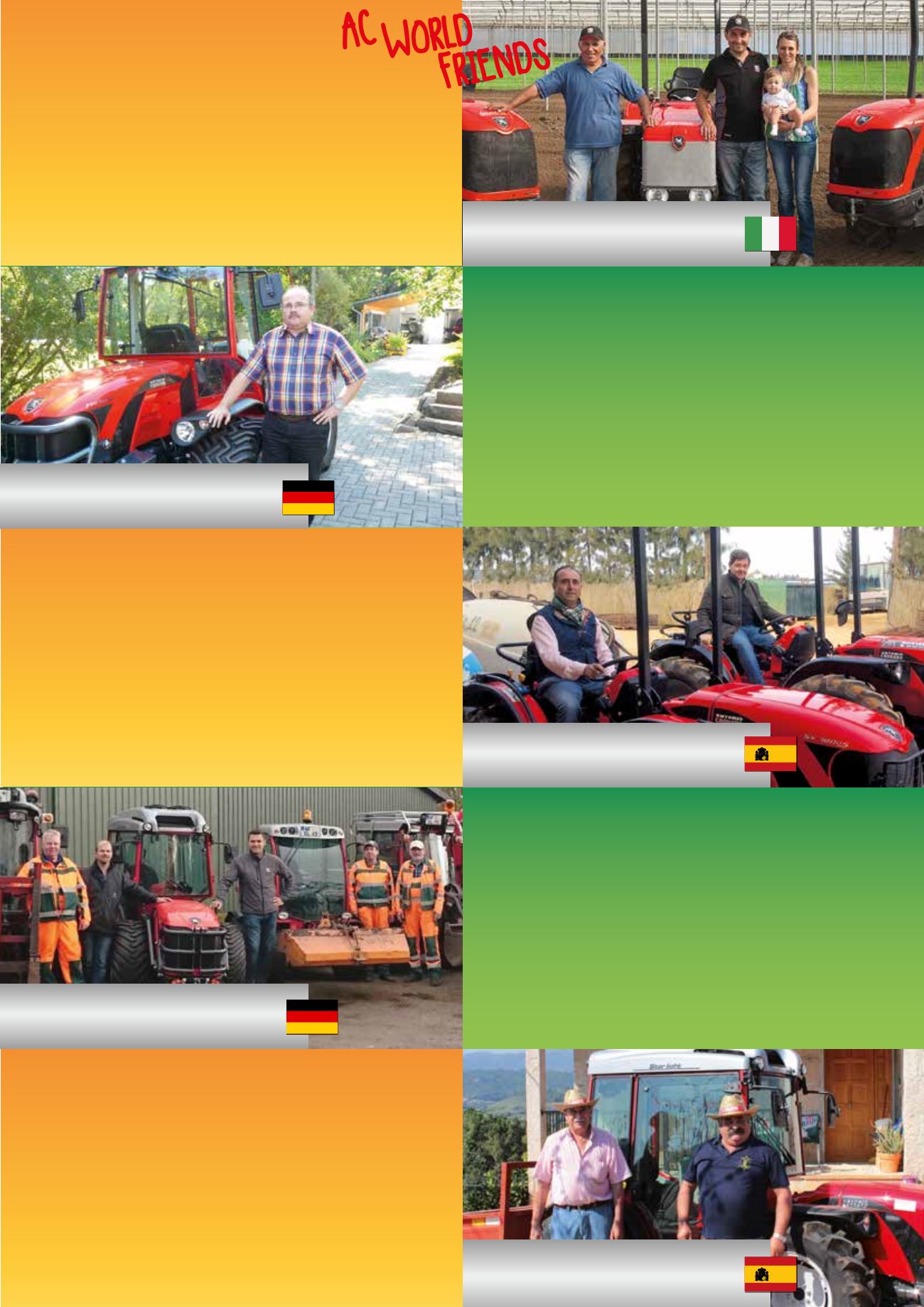 _47
GREEN LEAF
Vittorio Santoro produces IV Range vegetables (lettuce, rocket,
spinach, etc.) in his greenhouses at Pontecagnano. Along with his
father Guglielmo and his wife Nunzia while waiting for his daughter to
grow up, his trusty helpers are a TGF 7800S, a TGF 9800 Ergit 100 and a
Tigrone 5800 Jona."They are very comfortable, powerful, agile, compact
tractors with low fuel consumption", says Vittorio with satisfaction, who
was also a testimonial in the AC 2016 "Futurism" calendar. His photo is
on the page for February. "It was great to be a model for the day" jokes
Vittorio, "aboard my Reds, the pleasure was tripled!"
ABSOLUTE TRUST
Ernst-Helmut Stühn owns a private wood in Westerwald, a region
of about 2500 km2 situated north of the mountain Taunus range in
central-western Germany. Already the proud owner of a TTR 4400 and
of a Tigrecar 4300, he has recently expanded his fleet with a TTR 9800
Ergit 100 series that he will use, like the other two, for carrying out
forestry work and grass cutting. "I have chosen an AC for the third time
and I dealt with the company Moerschen. The quality of the machine
and the reliability of the dealer have won my complete trust". Thanks
for the esteem, Mr. Stühn!
DOUBLE RED
Double delivery for the dealer Maquiagro: an SX 7800S and an SRX
9800. The happy customer is Antonio Jesus Soltero from the company
Bionest, an agricultural company situated in El Rocio in the Huelva
province. The two tractors will be used on the 1000 hectares of fruit
cultivations, for which the company is a market leader: strawberries,
raspberries, blueberries, oranges, lemons and tangerines.
In the photo, on the left, Antonio Jesus Soltero (Director of Bionest) and Jose Antonio Gonzalez (General Manager
of Maquiagro Sevilla).
AC MUNICIPAL FLEET
The city of Leck is in the far North-West of Germany and is the only
northern German council to have an entirely AC fleet: three Supertrac
8400 HTM, an SP 4400 HST and a recently added SRH 9800 Infinity.
All the council workers are extremely satisfied with this primacy,
especially with the latest purchase, as a testimonial Anton Nahnsen,
Head of Building Sites said: "there is no better concept for a medium
sized council such as Leck. The AC tractors are flexible and they can
be employed in numerous activities all year round: grass cutting and
collection, transport, material movement, street and winter roadway
cleaning". Thanks for the enthusiasm and work well friends!
In the photo: municipal workers at Leck with Bernd Diederichsen (centre) from the dealer Motorgeräte Flensburg
(on the left) and Matthias Krommweh (on the right), Commercial Manager for the AC importer Moerschen.
LOVE AT FIRST SIGHT
"I was going to buy an SRX, but when I tried the SRH 9800 Infinity with
its hydrostatic transmission I fell in love!"" It is Jaime López Vázquez
saying this, an agriculturalist who produces wines such as Viña D.
Anzón and Viña Gimerans on his 6,5 hectares of Ribeiro vineyards.
"Working without having to use a gearstick and the clutch is a great
relief, especially with a loaded tractor". Excellent choice, Jaime!
In the photo, Jaime López Vázquez (on the right) with Manolo Rodríguez from the dealer Desagri
CUSTOMER: AZIENDA AGRICOLA ORO VERDE
LOCATION: PONTECAGNANO (SA) – ITALY
DEALER: LOPARDO SNC – POLLA
CUSTOMER: ERNST-HELMUT STÜHN
LOCATION: NIEDERDREISBACH IMWESTERWALD – GERMANY
IMPORTER: MOERSCHEN - TÖNISVORST
CUSTOMER: COMUNE DI LECK
LOCATION: LECK – GERMANY
DEALER: MOTORGERÄTE FLENSBURG – FLENSBURG
IMPORTER: MOERSCHEN - TÖNISVORST
CUSTOMER :JAIME LÓPEZ VÁZQUEZ
LOCATION: ESPOSENDE (RIBADAVIA) - SPAIN
DEALER: DESAGRI, S.L. - OURENSE
SUBSIDIARY: AC IBÉRICA
CUSTOMER: BIONEST
LOCATION: EL ROCIO – SPAIN
DEALER: MAQUIAGRO SEVILLA S.L. - UTRERA
SUBSDIARY: AC IBÉRICA