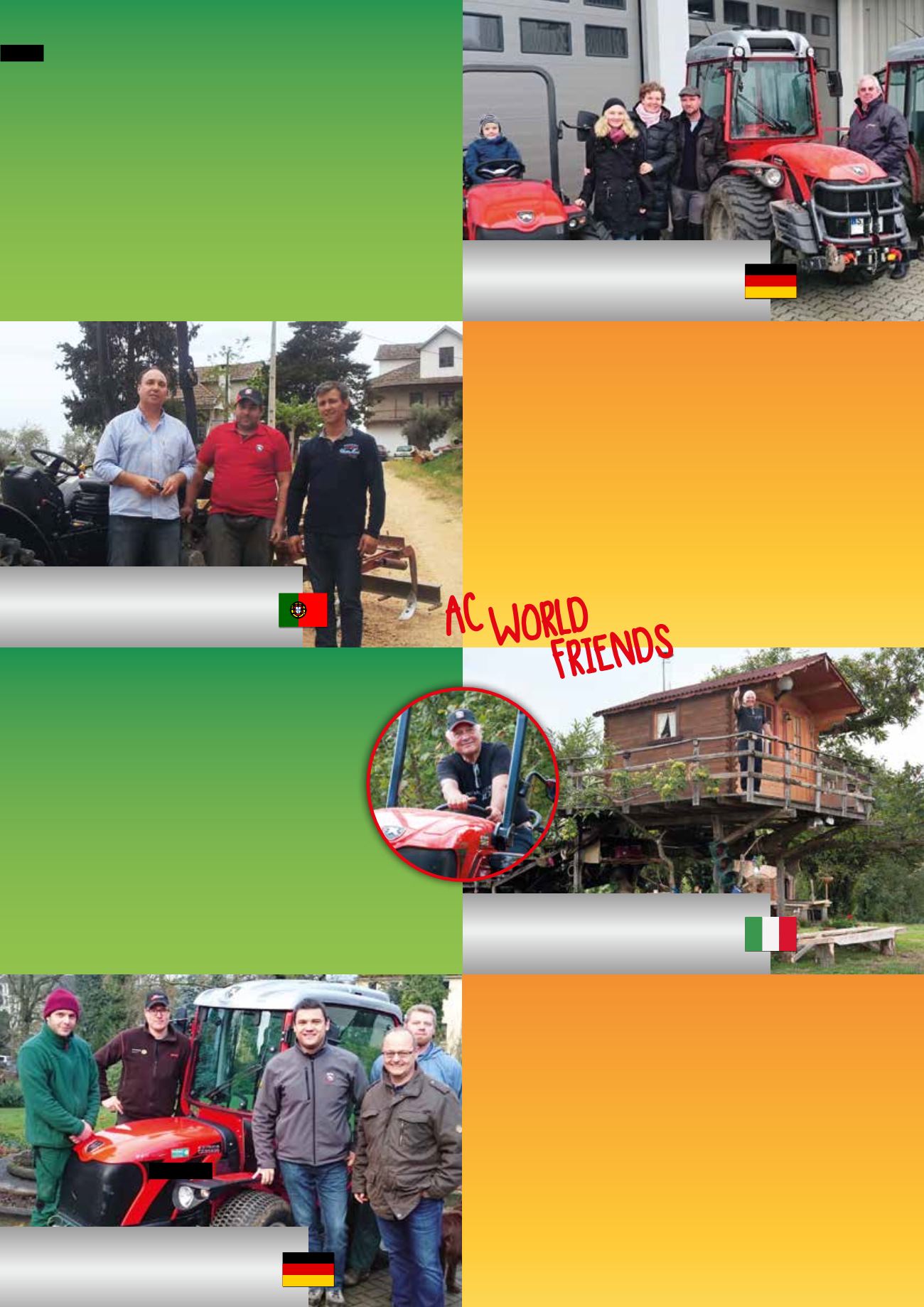 48_
AC FRIENDS
> EVERYWHERE
CUSTOMER: FAMILY B.
LOCATION: JORK – GERMANY
DEALER: PETER WAHLEN - JORK
IMPORTER: MOERSCHEN – TÖNISVORST
CUSTOMER: QUINTA DO CARRASCAL/CASA DOS LEÕES
LOCATION: VILA DE FLOR/SÃO JOÃO DA PESQUEIRA
DEALER: TRACTOPONTE, LDA - PORTUGAL
SUBSIDIARY: AC IBÉRICA
CUSTOMER: CARLO TONANI
LOCATION: SAN CESAREO – ROME
CUSTOMER: BARMER VERSCHÖNERUNGSVEREIN
LOCATION: WUPPERTAL – GERMANY
DEALER: REINSHAGEN - WUPPERTAL
IMPORTER: MOERSCHEN – TÖNISVORST
A PRESENT FOR ANONYMOUS CARRARISTS
They have chosen to keep their names out of print, but there is little
doubt: these are real Tractor People! Family B from Jork (Altes Land)
made an unusual request in their letter to Father Christmas: a new
tractor. How could they be disappointed? The dealer AC Peter Wahlen
supplied them with a bright red Tigre 4000! It was their third AC tractor
bought in a year, which was added to the SX 7800 S and an SRH 9800
Infinity. The anonymous Carrarist family has a fruit producing company:
"Traction, equal sized wheels and perfect ground grip: these are the
characteristics that render the AC tractors unique and particularly
perfect for the soft ground of our plantations". Well done, Family B!
In the photo: Family B with Peter Wahlen (right) from the dealer bearing the same name.
A MACH 4 IN PORTUGAL
A brand new Mach 4 was delivered to Valter Fonseca's two wine
producing farms, that extend over a total surface area of 40 hectares of
cultivated vineyards with Bio certification. The wine Eolos is produced
here, whose varieties are predominantly the national Turiga, the
French Turiga and the Tinta Roriz. This nice photo shows the delivery
of the tractor by Agostinho Frias from the dealer Tractoponte (right) to
the owner, Engineer Valter Fonseca (left) accompanied by one of his
collaborators, Mr. Vergilio. Well done and now to work!
AN ENCHANTED WOOD
In the city of Wuppertal there is an enchanting park made up of woods,
meadows, lakes, paths, play areas and areas to relax in. It is the Barmer
Anlagen, which, with its 100 hectares is the second biggest private
park in Germany. It is professionally and lovingly taken care of by the
company Barmer Verschönerungsverein, who having just put into
retirement the untiring Tigretrac 3800, has equipped itself with a brand
new TTR 4400-II. The vehicle operator, Jonas Zimmermann (on the left
in the photo) with his colleague André Hertrampf are satisfied with
their new purchase, of which the drive position has been extremely
well received. "The TTR 4400-II, with its low centre of gravity and
perfect weight distribution, is the most suitable vehicle in our park for
movement on slopes, which are oftenwet", testifies Jonas Zimmermann.
The delivery of the vehicle was made by Matthias Krommweh (Head
of Commercial Department at Moerschen) and Thomas Räder from
the AC dealer Reinshagen from Wuppertal with his collaborator Sven
Hildebrand. Enjoy the new TTR 4400!
A CHARMING REFUGE
We went to see Carlo Tonani, 50(!), AC dealer in Lazio,
but it wasn't an official visit. Having stopped working
as an able tractor salesman, Carlo greeted us as old
friends and took us to his private paradise. "It is a
corner that nature has given me and which I have
chosen as my refuge. Here I can relax and dedicate
myself to my greatest passion: the countryside and the
company of my dear friends". Our compliments Carlo! A
place that would be the envy of any fairy tale character...
you are a true dreamer, a member of the real "Tractor People"!