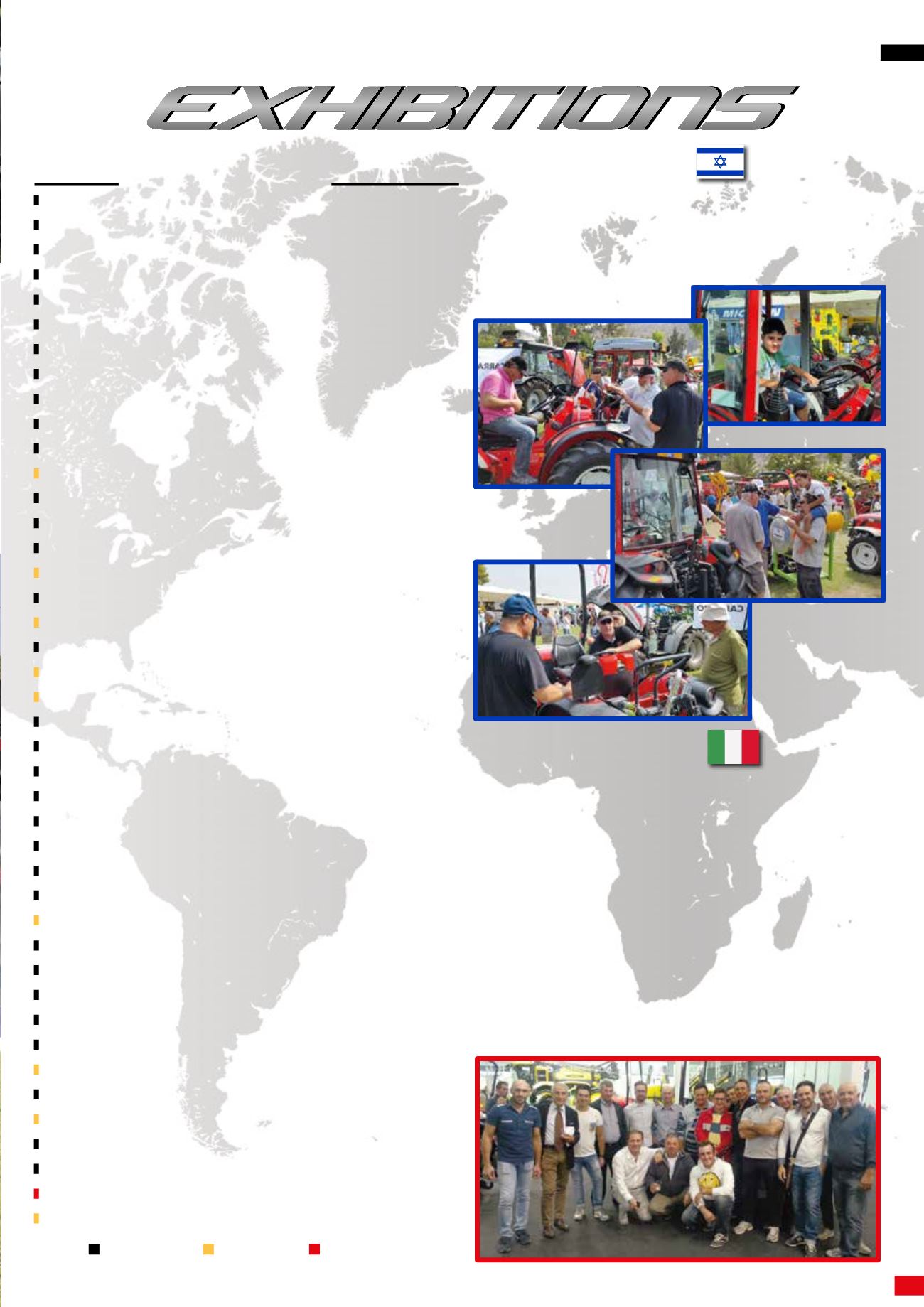 _53
FAIRS
<
AC WORLD
DK Roskilde Dyrskue
AUS CRT FarmFest
DK Grøn Fagmesse/ AMU Center
NZ Fieldays
IT Enovitis in campo
AUS Primex Field Days
CH Öga
AUS Farm Fantastic
BE Fairground - Libramont Fair
DK Maskiner under Broen
CA Expo Champs
H Bábolnai Nemzetközi Gazdanapok
IT Fiera di Terranuova Bracciolini
IT Fiera di Sant'Alessandro
IT Fiera di San Chiaffredo
NL Agrotechniek Holland
IT Fiera del Santuario
BE Demo Groen - Demo Vert
CA Canada's Outdoor Farm Show
D Galabau
UK APF Show
IT Fiera di Casalguidi
AUS Riverland Field Days
BO Expocruz
AUS Henty Field Days
F Salonvert
CA International Plowing Match
DK Fårup Sommerland / Almas Park & Fritid A/S
AUS Elmore Field Days
A Innsbrucker Herbstmesse
TR BurTarim
TN Siamap
UK Saltex
IT Fiera di S.Martino/Fiera dei Becchi
IT Campionaria Nazionale/Fiera Emaia
IT Eima
TR Adana Agriculture
IT Interpoma
TR Göller Bölgesi Tarım
CH Agrama
D Intervitis
DK Agromek
3-5/06/2016
7-9/06/2016
09/06/2016
15-18/06/2016
17-18/06/2016
23-25/06/2016
29/06-01/07/2016
22-24/07/2016
22-25/07/2016
24-25/08/2016
30/08-01/09/2016
31/08-03/09/2016
09/2016
02-04/09/2016
04-05/09/2016
7-10/09/2016
08-10/09/2016
11-13/09/2016
13-15/09/2016
14-17/09/2016
15-17/09/2016
15-19/09/2016
16-17/09/2016
16-25/09/2016
20-22/09/2016
20-22/09/2016
20-24/09/2016
28/09/2016
04-06/10/2016
05-09/10/2016
12-16/10/2016
19-23/10/2016
02-03/11/2016
11/11/2016
7-15/11/2016
09-13/11/2016
16-20/11/2016
24-26/11/2016
24-27/11/2016
24-28/11/2016
27-30/11/2016
29/11-02/12/2016
FAIR
PERIOD
AGRILEVANTE – ITALY
Great success and a new record for the number of visitors at the 2015
edition of Agrilevante, the international meeting for tractors and
technology geared towards agriculture, the agroindustry and green
area care, organised by FederUnacoma and the Fiera del Levante, took
place in Bari from the 15th to the 18th of October last year. It is a driving
force in the Mediterranean and a point of reference for operators in
Southern Europe, the Balkans, the Middle East, North Africa and Sub-
Saharan Africa.
In keeping with tradition, Antonio Carraro displayed the entire range of
its compact tractors dedicated to Mediterranean agriculture, from the
brand new Series T Major to the TGF 10900 with "Pressurised Protector
100 cab, certified in Category 4". The latter received an award in the
technical Innovation Competition.
In the photo Tommaso Traversi (AC Area Manager) and Domenico Inchingolo (AC dealer) with an affectionate
group of customers visiting the stand.
EIN-HAROD – ISRAEL
The importer Perfect Parts took part in the annual exhibition of
agricultural machines and equipment at the Holiday Park at Ein-Harod,
in the north of the country. The event, that is more successful every
year, saw the presence of a large number of visitors that particularly
appreciated AC's range of hydrostatics.
YEARLY
BIENNIAL
TRIENNIAL
*dates are subject to variation. We strongly advise you to consult the fairs' websites.