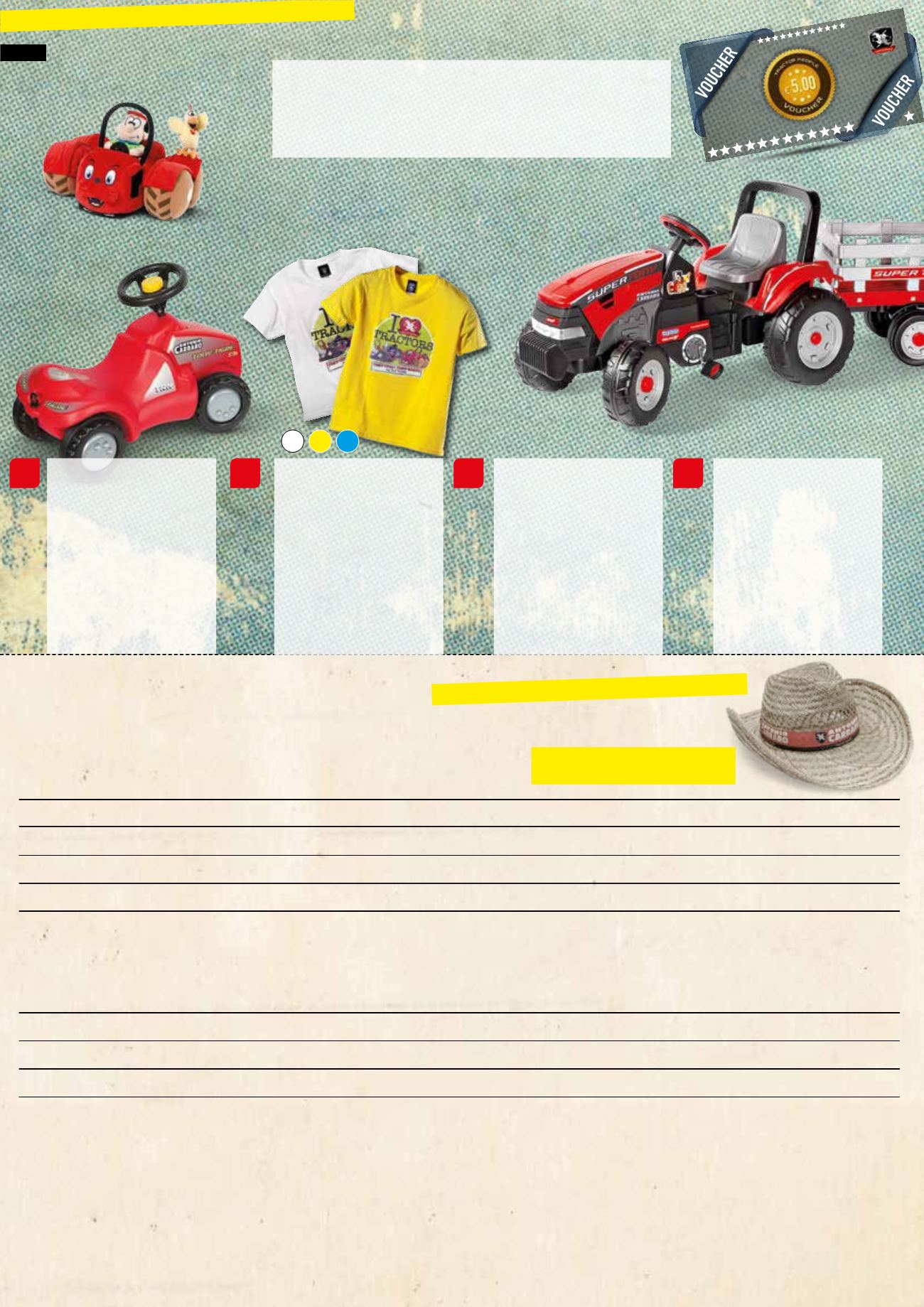 AC SHOP
> 2016 COLLECTION
ESHOP.ANTONIOCARRARO.IT
KIDS
LINE
09
10
11
12
I consent to the treatment of personal data in accordance with the law D.Lgs. 196/03
ORDER COUPON
Antonio Carraro spa - Via Caltana, 24 - 35011 Campodarsego (Pd) Italy Fax +39.049.9219922 / Email:
gadget@antoniocarraro.it
REMEMBER TO SPECIFY PRODUCT CODE, SIZE AND QUANTITY.
NAME & SURNAME OR COMPANY NAME
STREET
CITY
POSTCODE
COUNTY
TELEPHONE NUMBER
EMAIL
IT IS COMPULSORY TO INDICATE VAT NUMBER :
SHOPPING CART
CODE
PRODUCT
QUANTITY
SIZE
ADDITIONAL NOTES
TARIFFS FOR SHIPPING
FOR ORDERS UP TO 100 EURO:
ZONE A 12 EURO: Austria, Belgium, Denmark, Finland, France, Germany,
Great Britain, Greece, Ireland, Italy, Luxemburg, Monaco, Holland, Portugal,
Spain, Sweden. ZONE B 20 EURO: Andorra, Bulgaria, Cyprus, Estonia, Gibraltar, Iceland,
Canary Islands, Latvia, Liechtenstein, Lithuania, Malta, Norway, Poland, Czech Rep.,
Romania, Slovenia, Switzerland, Turkey, Hungary
ZONE C 30 EURO: Rest of the world
FREE SHIPPING COSTS ANYWHERE IN THE WORLD WITH PURCHASES OVER 100 EURO!!!
DATE
SIGNATURE
METHOD OF PAYMENT
FROM ITALY: CHEQUE
FROM ABROAD: PURCHASE FROM THE SITE
ESHOP.ANTONIOCARRARO.IT
OR BY
WRITING AN EMAIL TO
GADGET@ANTONIOCARRARO.IT
Prices indicated are valid until November 2016
.
BY PURCHASING WITH THE COUPON
YOU WILL RECEIVE A FREE STRAW HAT!
By buying online at
eshop.antoniovarraro.it
for a minimum
total of € 50.00* you will receive a discount of €5.00* (not
combinable) by inserting the code
TP_MAG2016
in the field
"Do you have any discount voucher?".
Prices indicated are valid until November 2016
47325219 SUPERTONY
PEDAL TRACTOR
Pedal tractor for children from 3 to
6 years old.
Adjustable seat, horn, drinks
holder and compartment under
the bonnet.
EURO 159,00
47325192 MINI
TONY TIGRE TC
Toy tractor with pedals suitable for
children from 2 to 4 years. It has
a detachable trailer and grooved
wheels suitable for all types of
terrain.
EURO 22,00
47325186 CUDDLY
TOY
Soft and cuddly AC mascot. Height
24 cm.
EURO 16,00
47325279/C01 BABY
T-SHIRT
The new t-shirt is cute and
colourful - 100% cotton –"soft
feel"treatment
Sizes from 3 to 11 years
Euro 9,90
*Vat included