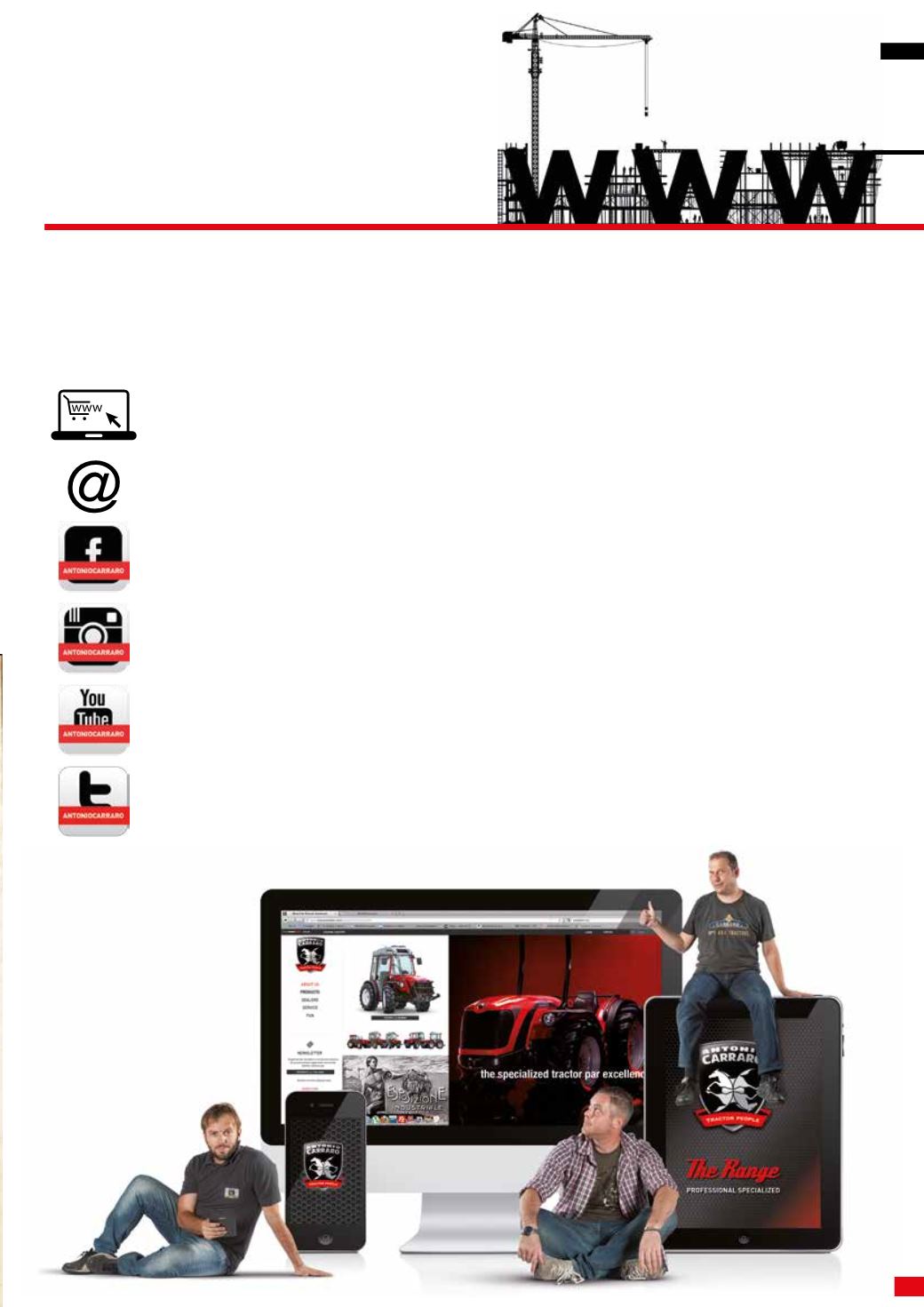 INTERNET <
AC FOCUS
_63
New internet site and the integration of all web communication.
Internet has never been so mobile: for the first time, users connecting with smart phones and tablets have exceeded those using
the pc. The first role of an internet site – more importantly than publicising the product – must be that of offering the user a
satisfying experience. It is for this reason that the web is evolving around the responsive concept, a type of structure that allows
the visualisation of a web page on any device. Innovation doesn't just mean having modern tractors, but also means knowing
how to talk about them in a modern context.
RESPONSIVE:
a new era
Antonio Carraro website + e-shop > (1.5 million page visualisations/year > 400,000 sessions/tear)
The site
www.antoniocarraro.com
and the store
eshop.antoniocarraro.it
will have a new layout, suitable for all
devices. An operative optimisation which will provide a better service to its users.
Newsletter Antonio Carraro + e-Shop > (7000 members)
Sent out every month to members in four languages, the AC newsletter updates its members on products,
promotions, events and gadgets. A second newsletter is dedicated to the products of the E-Shop, in Italian and
English.
Facebook > (7000 fans)
Social network communication channel, where there are meetings between the company and the customer
every day, through the sharing of photos, videos, thoughts and emotions, but above all the experiences of the AC
enthusiasts in their daily lives. A channel designed to make a team out of all the "carrarists" around the world.
Instagram > (432 followers)
Begun above all to publicise the gadgets from the e-shop, and then it too became an exchange channel and a
source for dialogue with the users, who often share their own photos with the Parent Company. Ample space is
given to the creativity of the followers in addition to their photos of their tractors at work and real time information
regarding fairs and events.
Youtube > (more than 5 million visualisation – over 3000 members)
It is the perfect example of how the videos loved best by tractor drivers are the ones taken at the field tests. The
AC philosophy on Youtube is to show the "Reds" at work to the users with just one special effect: the quality and
potential of the product.
Twitter > (100 follower)
Recently taken on, it is used above all to monitor and share opinions and articles about the brand from the web,
updating its followers about the latest news, events and corporate initiatives.