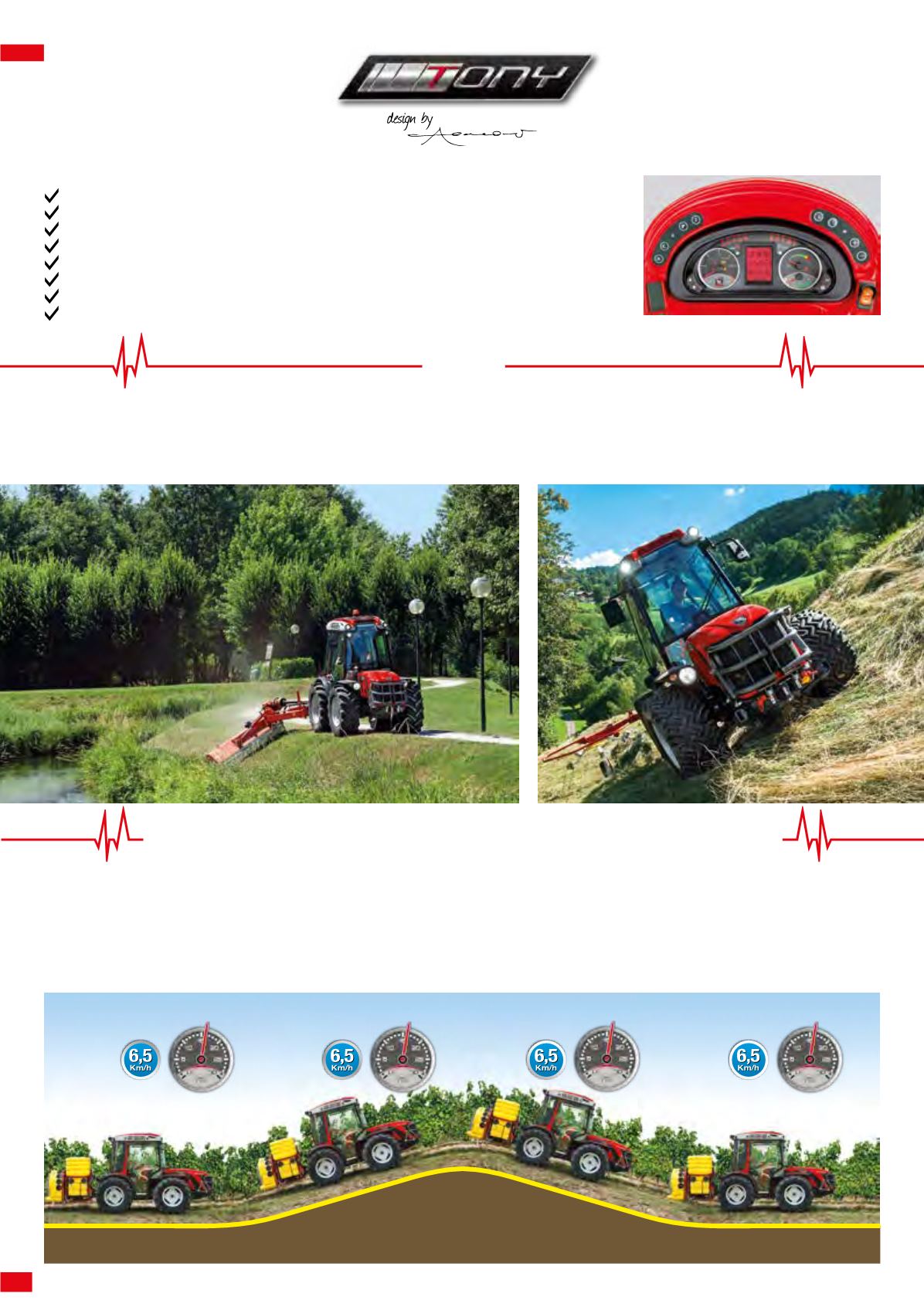 THE PRODUCT
> TRACTOR PEOPLE
10_
TMC
DUAL MEMO CRUISE CONTROL
1600
rpm
1600
rpm
1600
rpm
1600
rpm
ITAC
INTELLIGENT TRACTOR AC
TECHNICAL CHARACTERISTICS OF THE TONY:
ACTIO™ > STEERING (TR) OR ARTICULATED (SR9)
CONTINUOUS TRANSMISSION > ELECTRONIC CONTROL
RGS REVERSIBLE DRIVE > REV-GUIDE SYSTEM
ENGINE > 87HPWITH 4 TURBO CYLINDERS
ITAC SOFTWARE > INTELLIGENT TRACTOR AC
TMC TRACTOR MANAGEMENT CONTROL > PERSONALISED TRACTOR MANAGEMENT
JPM > MULTIPURPOSE PROPORTIONAL JOYSTICK
AIR CAB > ROPS/FOPS HOMOLOGATION + CAT. 4 PRESSURISATION
Many functions on the display with one objective inmind: a top level tractor for perfect performance. Amongst the functions of the ITAC operating
system the ones most useful to the operator allow him to interface with the tractor in order to execute the task at hand.
TMC (TRACTOR MANAGEMENT CONTROL )
TMC > DUAL MEMO CRUISE CONTROL
The TMC system, in Cruise Control modality, was designed to maintain the tractor's speeds constant at optimal engine revolutions during work
phases. During activities in environments with varying steepness of slopes or on uneven ground, the system monitors and adjusts the vehicle's
movement, both uphill and downhill, in order to guarantee maximum precision in terms of PTO revolutions and wheel speed. Pesticides are an
example of treatments that require elevated accuracy for their correct, homogeneous distribution without waste.
Automatic access to all operational possibilities available to the operator