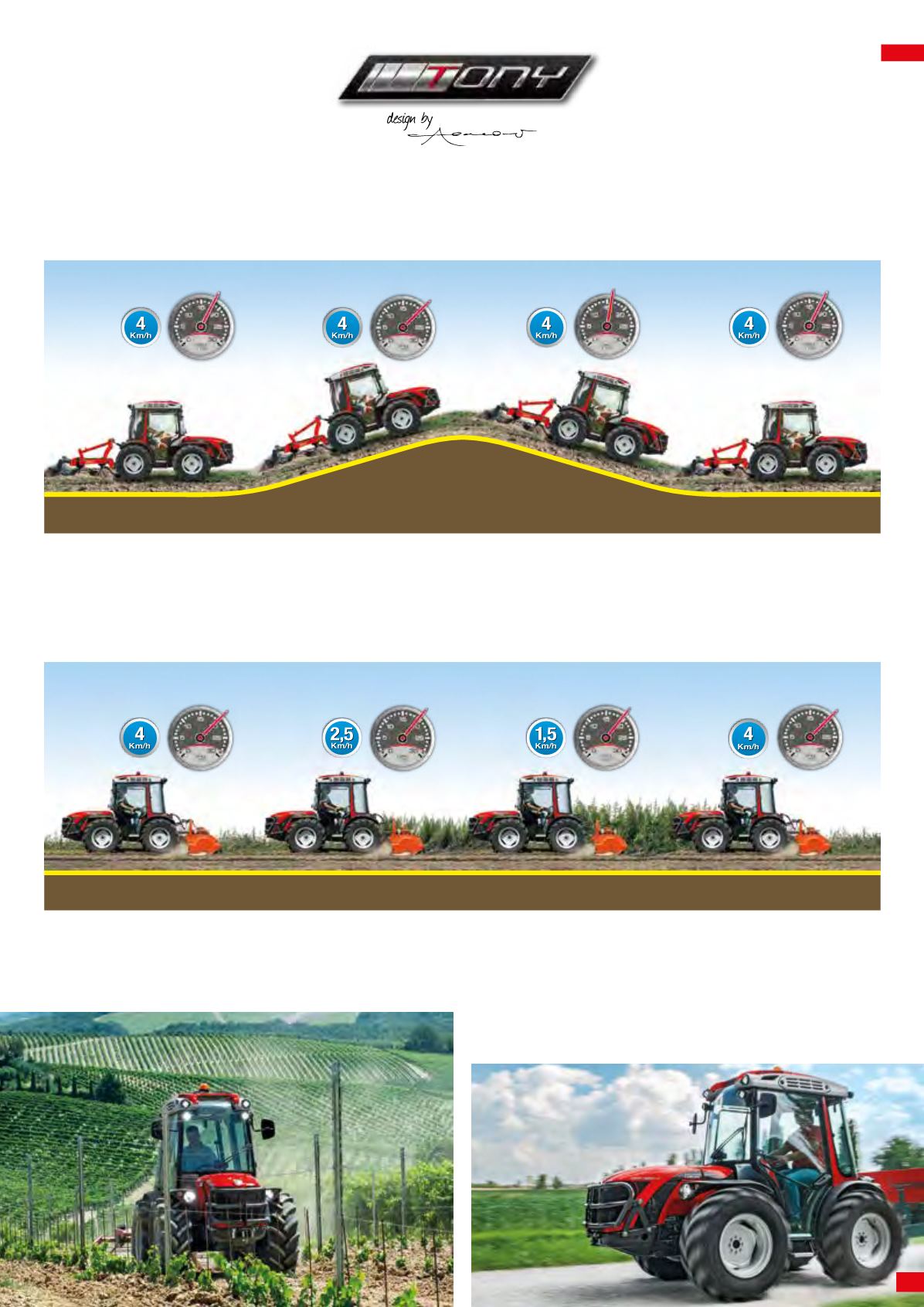 _11
TRACTOR PEOPLE <
THE PRODUCT
1600
rpm
1800
rpm
2000
rpm
1800
rpm
TMC
AUTOMOTIVE CRUISE CONTROL
2000
rpm
1950
rpm
1950
rpm
2000
rpm
TMC
> INTELLIFIX – CONSTANT TORQUE
TMC > INTELLIFIX – CONSTANT TORQUE
The Intellifix function has the objective of obtaining maximum torque for the engine revolutions set when there is an absorption of power via the
PTO. It gradually reduces speed in order tomaintain the power supply constant. Intellifix was designed for the control and automaticmanagement
of forward speeds and engine revolutions. It automatically effectuates a reduction in speed in relation to the torque from the wheels and the
charge absorbed by the PTO, should the absorption go above a specific percentage level imposed by the operator. Essentially, it maximises
working activities with lower fuel consumption.
AUTOMOTIVE
With the Automotive function, the operator simulates the traditional
use of the accelerator rendering the speed control pedal proportional
to the engine revolutions.
THE DRIVE POSITION
The drive position has everything close to hand. The comfortable seat
guarantees ideal operative posture with lower limbs comfortably re-
sting on moulded mats under the pedal board. The central tunnel, cle-
ar of obstacles and levers, allows for easy access. The steering wheel is
adjustable and can be inclined, just like the comfortable seat, which has
pneumatic suspension on request.
TMC > AUTOMOTIVE CRUISE CONTROL
The TMC system, in Automotive Cruise Control, was designed to maintain the tractor's speed constant at optimal engine revolutions. On plains
or with low loads, the tractor can work with reduced engine revolutions. When facing a climb or an increase in load, the system automatically
increases engine revolutions and modifies the group's displacement. As soon as the load to the transmission diminishes, the system reduces the
engine revolutions again thus adapting the group's displacement so as to maintain the desired speed.