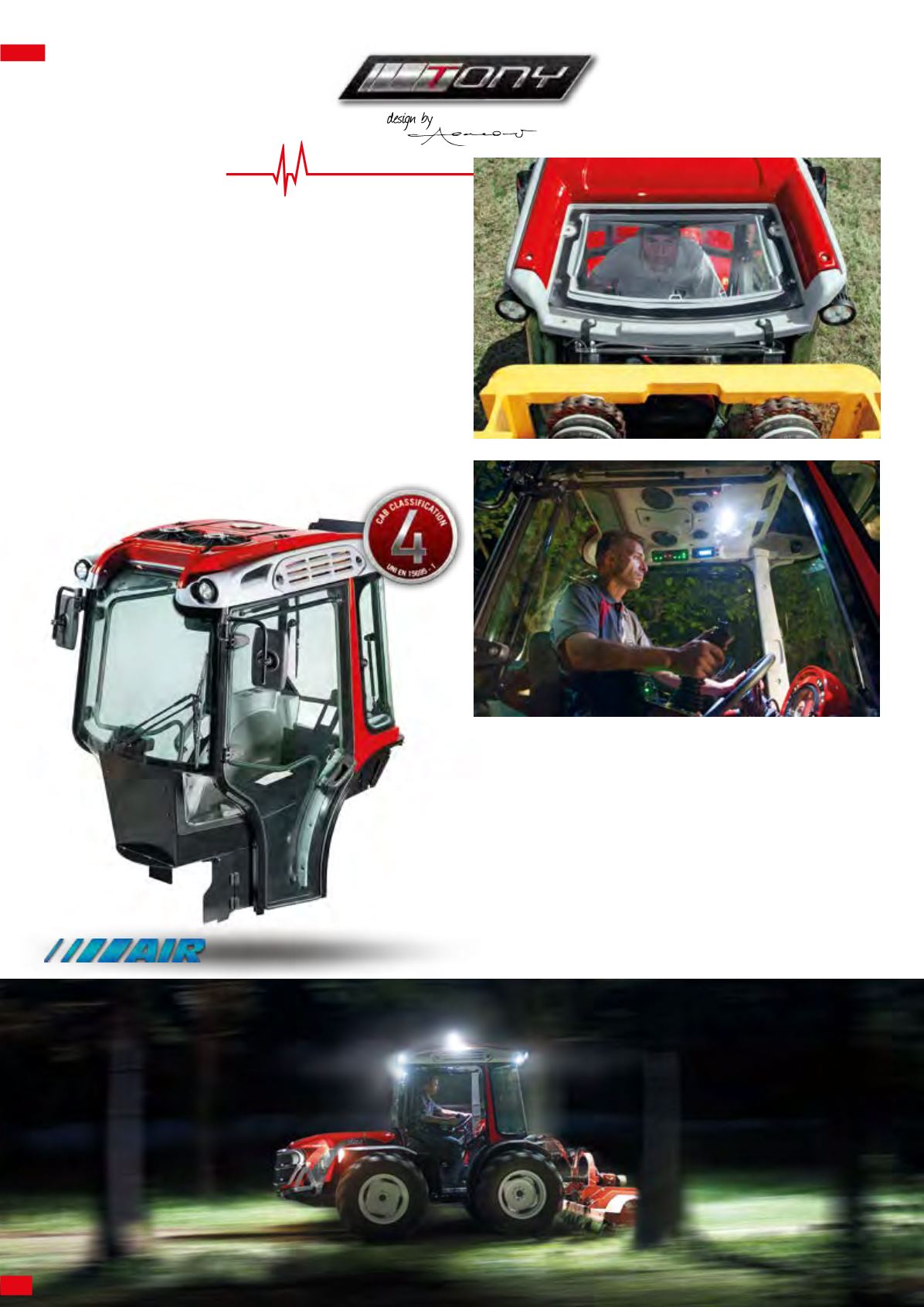 12_
THE PRODUCT
> TRACTOR PEOPLE
ROPS and FOPS homologated, pressurised and Category 4 certified
AIR CAB
The AIR cab offers maximum level operative comfort and safety. The
tractor and cab's volumetric profile is harmonious and streamlined in
order to grant agility and ease of movement in tight spaces and dense
vegetation. To guarantee a perfect working climate there is the efficient
heating and ventilation system with an integrated air-conditioning
system. It has excellent all round visibility thanks to the cab's many
windows on all sides along with a porthole at the same height as the
pedal board providing visibility over the ground.
The internal illumination allows for the tractor to be used comfortably
even at night with constant control over all the functions. The finely
tuned soundproofing and the uncoupling of the cab from the tractor's
main body guarantees minimum noise levels when being driven. The
operator's living space provides great freedom of movement for the
legs.
The powerful external lights positioned on the roof, together with the
headlights on the tractor's mudguards provide a great strip of light that
illuminates the ground in the day and which also allows the operator to
work in conditions of pitch black. The Air cab was designed to always
be "pressurised" and on request it is possible to have it Cat. 4 certified
which guarantees the perfect isolation of the operator from dust, gas
and aerosols in full accordance with the European legislation
"UNI-EN
15695- CAT 4"
.
The Air cab is pressurised and the purchaser has two choices: Air Cat.
4 Ready (the most economical with predisposition Cat. 4) and Air
Cat. 4 complete with active carbon filters, homologation certificate,
identification plate and support.