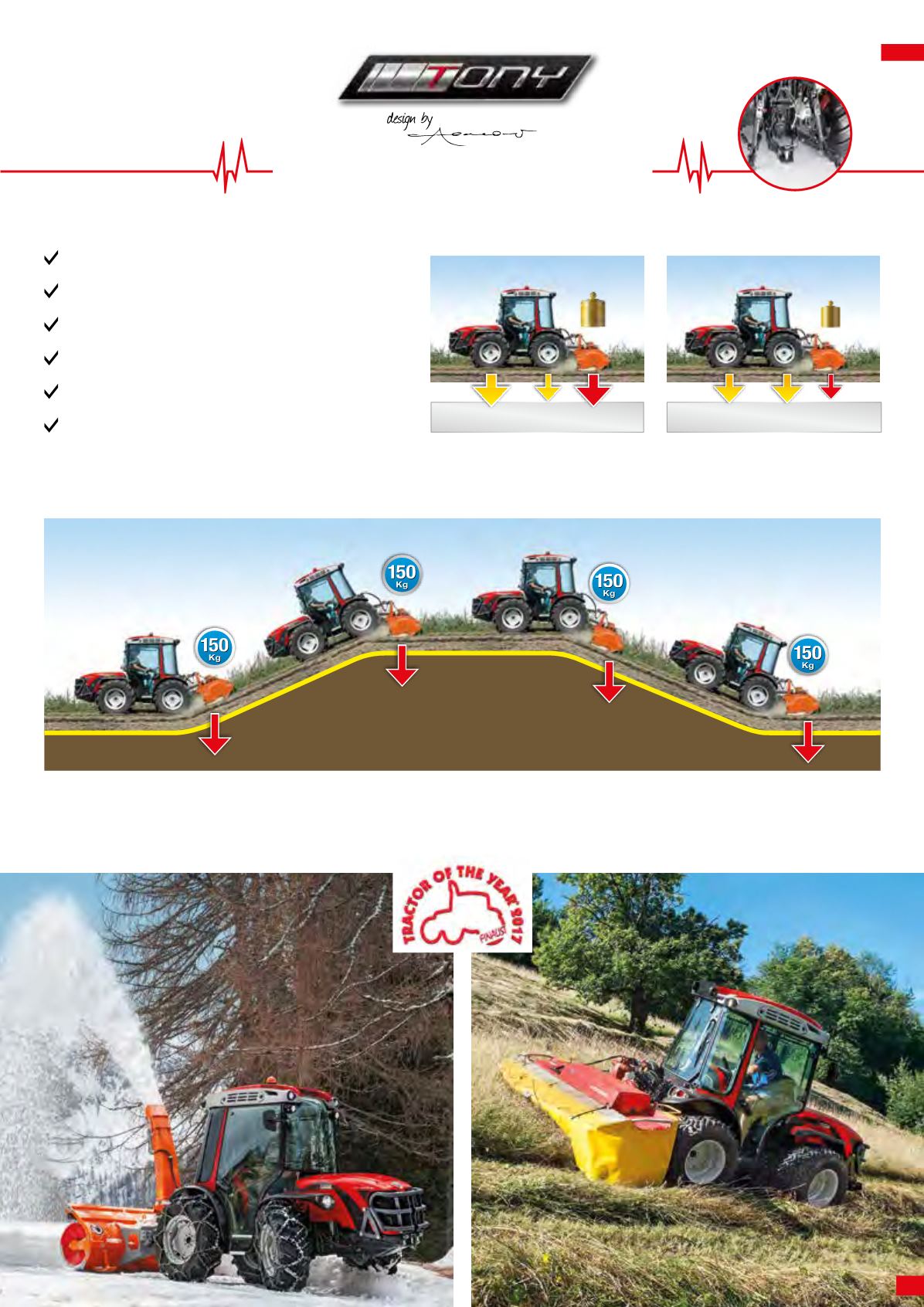 _13
TRACTOR PEOPLE <
THE PRODUCT
UNIFLEX
®
SUSPENSION
450
Kg
60% 40%
UNIFLEX
®
:
OFF
150
Kg
50% 50%
UNIFLEX
®
:
ON
The UNIFLEX® suspension with electronic control adopted by the Tony, allows for part of the weight of the equipment to be transferred
to the tractor's wheels. The reduction of specific ground pressure leads to numerous positive effects:
Lower compaction
Less resistance to pushing and pulling
Greater productivity
Lower fuel consumption
Greater grip
Greater stability
The UNIFLEX ® suspension with coaxial cylinders maximises its efficiency thanks to a reduced number of friction points. Its innovative concept
allows the equipment to follow and adapt itself to the contours of the ground, keeping the ground pressure constant thus benefitting speed and
work precision.
Tony 9800TR
is the first model from the Series to enter into production in 2016. It is isodiametric with an ACTIO™ steering chassis, reversible drive
and is fitted with a constant variable, electronically controlled transmission with 4 speed ratios which have 3 acceleration modes for each range
and 3 for each range in the Automotive version. The Tony 9800 TR was a "Finalist" in the Tractor of the Year 2017 Category "Best of Specialized"
and in the Category "Best Design".
UNIFLEX SUSPENSION
®