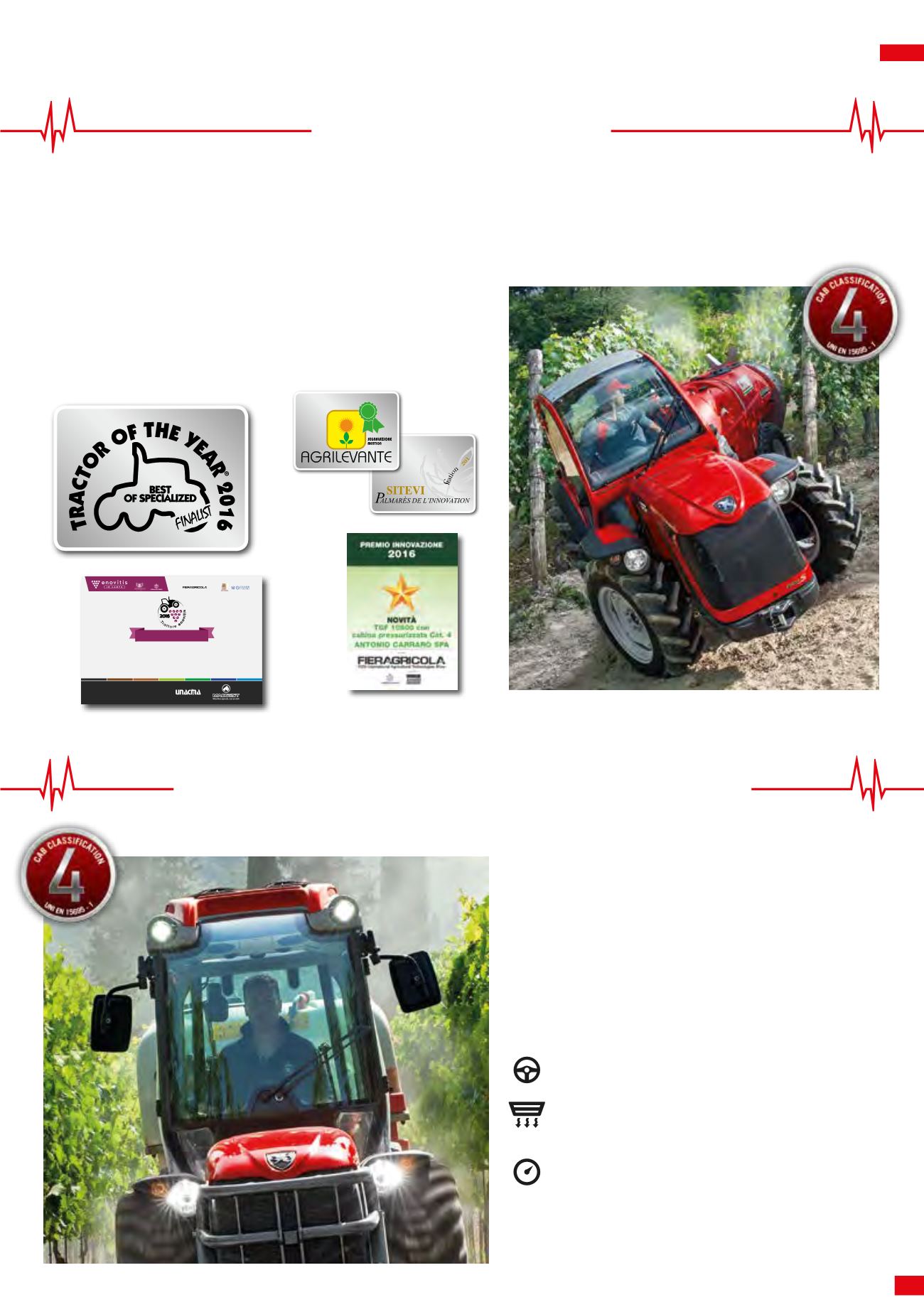 _17
TRACTOR PEOPLE <
THE PRODUCT
C
A
B
C
L
A
S
S
I
F
I
C
A
T
I
O
N
U
N
I
E
N
1
5
6
9
5
-
1
C
A
B
C
L
A
S
S
I
F
I
C
A
T
I
O
N
U
N
I
E
N
1
5
6
9
5
-
1
N
I
E
N
1
5
6
9
5
-
1
VINCITORE
2016
Vota ilTrattore
è in collaborazione con:
Con ilpatrociniodi:
Incollaborazionecon:
èorganizzatoda:
TGF10900concabinaProtector100pressurizzata inCat.4
AntonioCarraro
CATEGORIA:
ISODIAMETRICI
ALL THE
PRESSURISED CABS IN CATEGORY 4
AIR CAB LIKE THE PROTECTOR 100:
PRESSURISED WITH DIGITAL CONTROLS
The Protector 100 cab, pressurised with Cat. 4 certification is still the first and only compact cab that offers the operator maximum isolation from all types of
harmful substances such as dust, gas and aerosols.
Strengthened by the success of the Protector 100 Cat. 4, the AC Research and Development department has continued to go down the virtuous path towards the most
ecological certification for the new Air cab, destined for the Tony models and the brand new Ergit R Series.
In 2016 the Protector 100 cab Cat. 4 together with the TGF was awarded the Palmarès
de l'innovation at Sitevi (France), the Agrilevante Innovation Award (Bari, Italy),
"Finalist" in the competition "Tractor of the year 2016" and the Fieragricola Innovation
Award (Verona, Italy). The latest award was for "Vote for the tractor" at Enovitis in
Campo held in Puglia last June.
Compact in terms of height (the Protector 100 destined for the TGF
model has a minimum height of 1740 cm while the Air Cat. 4 doesn't
exceed 2100 cm) they both offer top level comfort. In addition to the
various accessories belonging to the series such as the radio wiring,
a 12V outlet, front and rear windscreen wipers and washers and rear
view mirrors, they are both fitted with many features that optimise
the operator's working activities such as the streamlined profile, all
round visibility and pull handles. The Cat. 4 pressurisation, which
determines the operator's isolation from harmful substances like dust,
gas and aerosols, is guaranteed by a series of specific functions and
characteristics.
The drive platform is made up of an isolated, sealed
mono-block
Incoming air is purified by active carbon filters
Pressurisation efficiency is tested by the digital control
system Aircontrol