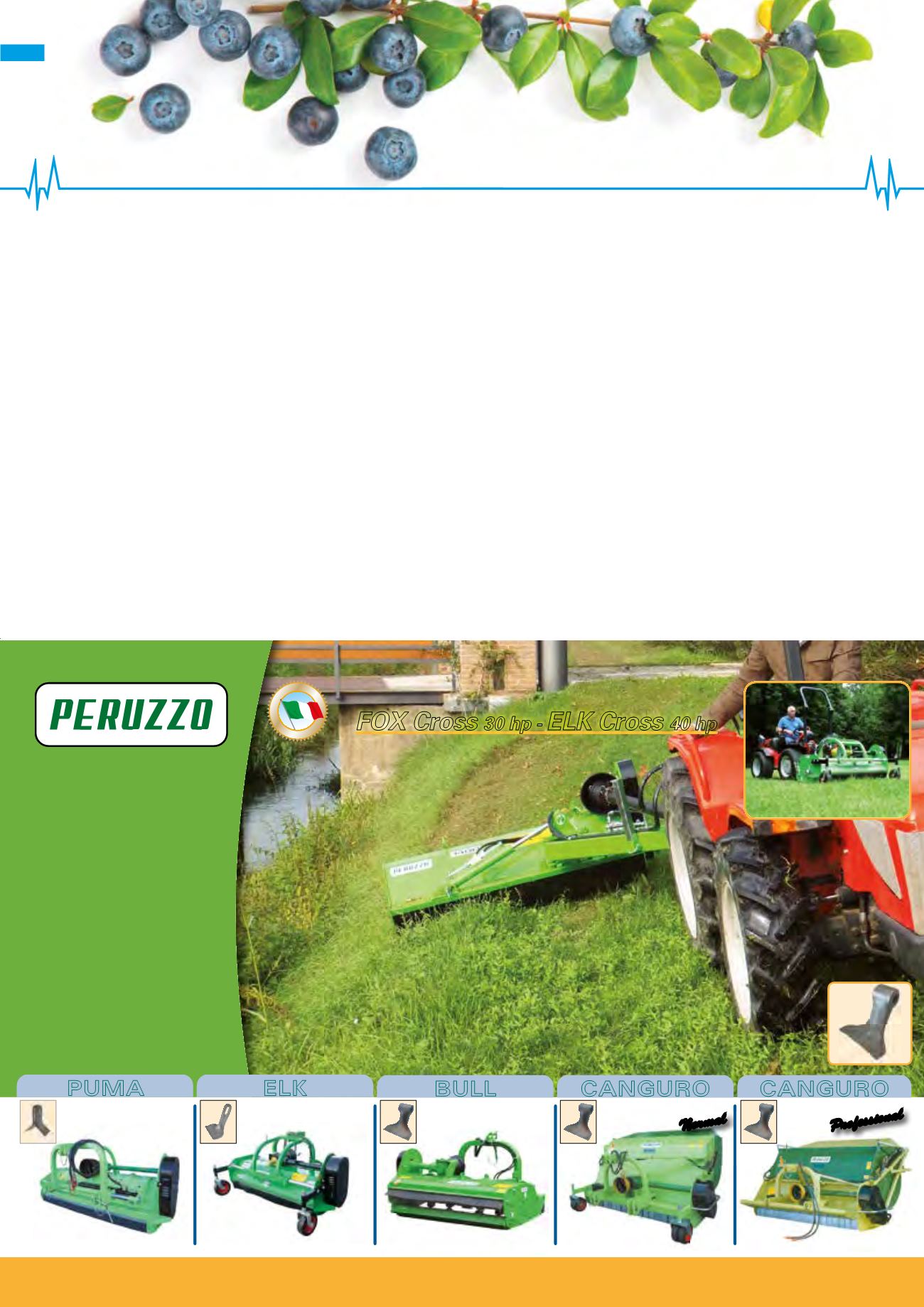 2
4_
THE PRODUCT
> DOLCE VITA
www.peruzzo. i t
PERUZZO S.r.l.
Via Valsugana 30 - 35010 Curtarolo (Pd) Italy
Tel.
+39 049 9620477
- Fax.
+39 049 9620435
-
peruzzo@peruzzo.it
CANGURO
CANGURO
BULL
PUMA
ELK
Professional
Normal
foX cross
30 hp -
elK cross
40 hp
M
A
D
E
I
N
I
T
A
L
Y
P
E
R
U
Z
Z
O
®
According to ancient traditions the blueberry is a fruit of the forest, which has been used for food or for curing various illnesses. It grows mainly in
the mountains and is found in great abundance on ground rich in humus. It is a 60 cm high bush that flowers in spring. There are three species: black,
red and blue, all of which contain an enormous quantity of antioxidants, capable of preventing cardiovascular disease, protecting against tumours
and delaying the natural aging process.
The black variety
is the richest in healthy properties. It contains sugars and many acids, amongst which citrus acid, which protects cells, and
hydrocinnamic acid capable of neutralising the carcinogenic agent nitrosamine. Another important acid in the black variety is folic acid (a vitamin
from group B) that reinforces capillaries and blood vessels. These acids, working in synergy, are able to carry out antihaemorrhagic actions
countering free radicals. It has been proven that all of these substances increase the regeneration speed of retinal purpura, improving vision
especially at night, in low light.
The red variety
It differs from the black variety in colour, flavour and its tough, shiny, resistant leaves. The red variety is rich in iron, vitamin C and fibre. It is
common throughout many regions in Europe and on the hills and mountains of Italy and favours sunny, partly shaded ground. Its fruit is strongly
flavoured and they are usually used in jam. In medicine the red fruit can be used to prevent and cure water infections (cystitis) and it is also
efficient in dealing with mycosis and viruses. Finally the red variety can also help with skin problems such as acne.
The blue variety
It grows mainly in Europe and differs from the black variety in colour and flavour as well as shape. Its properties are just as miraculous: it makes
blood vessels more flexible and toned and it is a natural and efficient remedy against cellulite, varicose veins and water retention. It eliminates
excess liquids. Like the black variety it is a strong antioxidant: thanks to the anthocyanin, substances the fight against the aging of the organism,
this fruit manages to protect against cardiac disease and tumours.
BLUEBERRIES: THE SUPERFOOD
The Widest
SHREDDERS
Choice
With andwithout
collection
for Agriculture
and
MunicipAlity
MAintenAce
Multipurpose
and Sturdiness
peruZZo
From 30 to 60 CV/HP
From 30 to 100 CV/HP
From 40 to 70 CV/HP
From 50 to 100 CV/HP
From 40 to 60 CV/HP