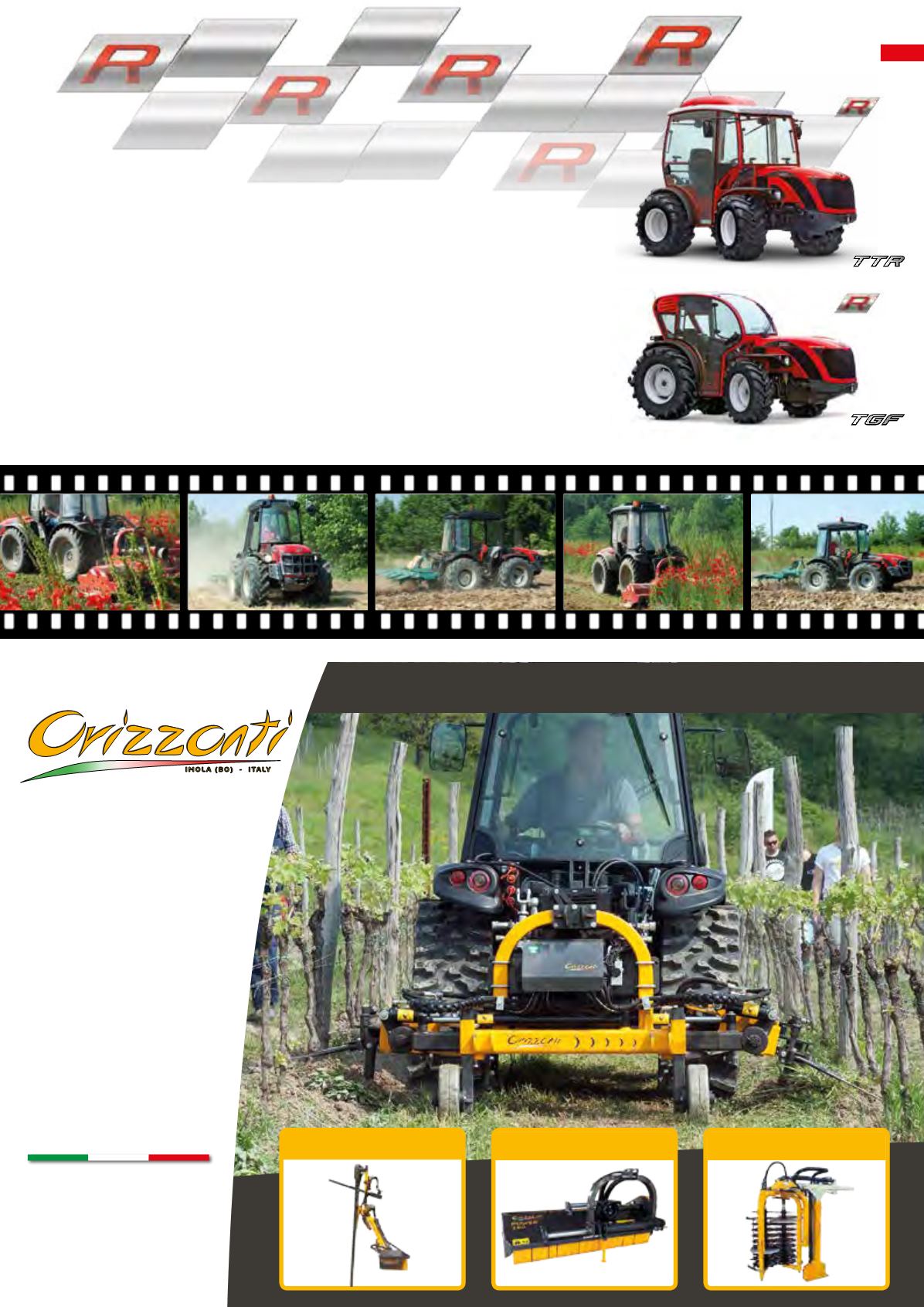 _27
NEWS <
AC PRODUCT

www.orizzontimacchineagricole.it
Via Rodolfo Morandi, 5
40026 Imola (BO) ITALY
Tel.:
+39 0542 643982
Fax:
+39 0542 641107
TTR 10900 ABSOLUTE STABILITY
Gearbox: 16+16 PTO: 540/540E/synchronised independent
A specialised reversible tractor with a wide track for working on pastures in mountains, on hillsides and on
the plain as well as in vineyards and orchards on slopes, river banks and green areas; principally designed as a
tractor for carrying out activities such as mowing and haymaking accurately at speed on slopes. Its reversible
drive, multipurpose joystick and extraordinary ergonomics and operative comfort simplify the task at hand
and reduce operator fatigue. It is available with a front powerlift, JPM proportional joystick and 6 hydraulic
outlets.
TGF 10900 LOW PROFILE, HIGH PERFORMANCE
Transmission: 16+16 PTO: 540/540E/ synchronised independent
Amono-directional tractor withdifferent sizedwheels: the smaller front wheels provide extraordinary handling.
The low profile design with a low centre of gravity makes it extremely suitable for working amongst narrow-
rowed crops, under leafy crops and on sloping terrain. The TGF is fruit of a design concept which, in previous
generations of AC compact tractors, has already received many awards for its exceptional performance. Ideal
for orchards, vineyards under awnings and greenhouses, the TGF can be fitted with the pressurised Protector
100 cab with a Cat. 4 certificate on request: the only one that guarantees the isolation of the operator from
dust, aerosols and vapours. It can be fitted with numerous tyre combinations in order to obtain a personalised
version. On request it can be fitted with a front powerlift with up to 5 hydraulic outlets on the front and back.
SERIES R TECHNICAL TESTS
Agricoltural
machines for
soil work
and pruning
of vineyards
and orchards
SHREDDERS
TRIMMER
PRE PRUNER
Made in Italy