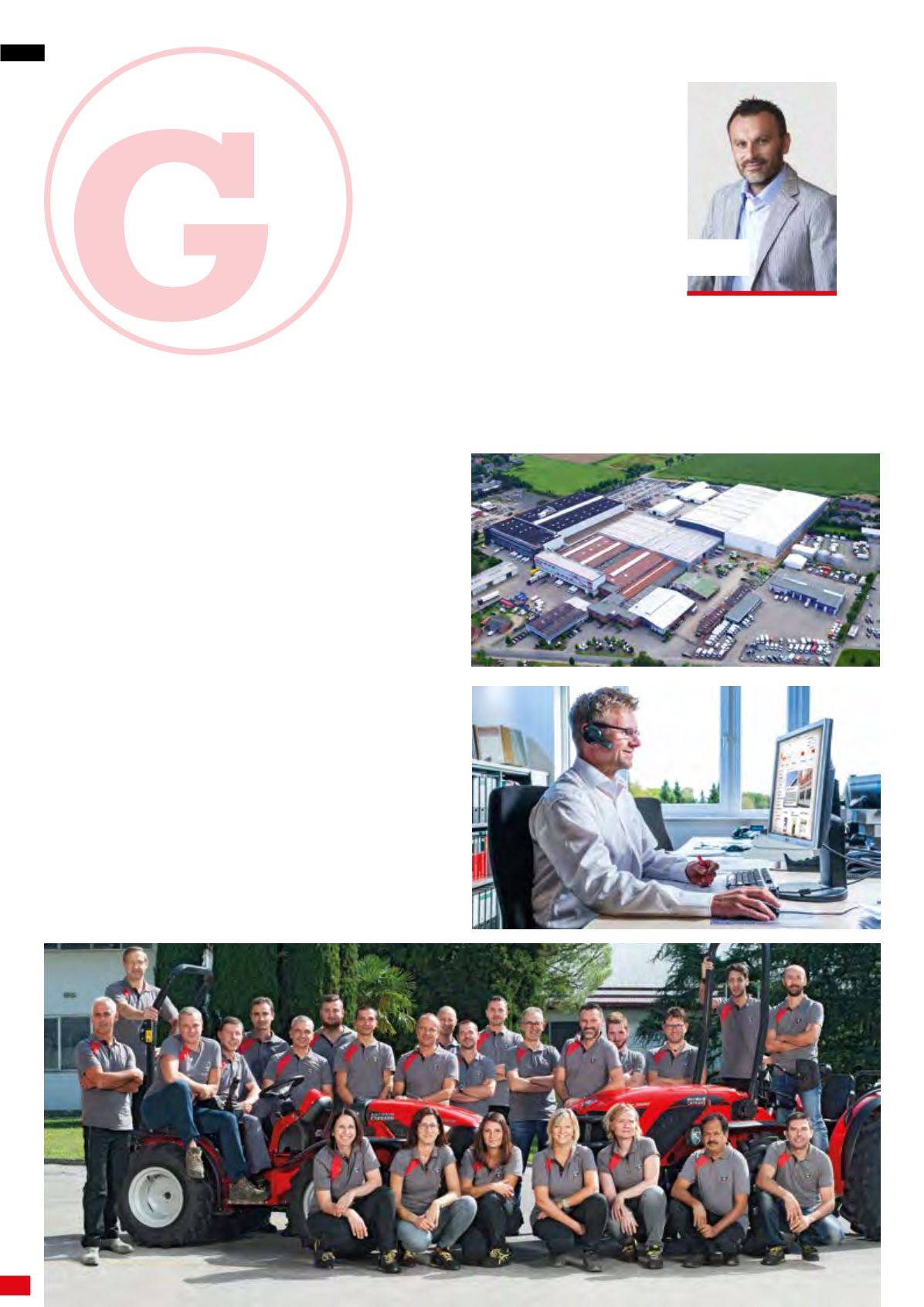 32_
AC TECH >
FACTORY
Simone Cavinato
After Sales Manager
GRANIT
Quality Parts
THE BIGGEST SPARE PARTS WAREHOUSE IN EUROPE
The Fricke Group is known as one of the biggest private German companies in the field of mechanised agriculture. As a specialised seller of agricultural machinery
and spare parts, the company has developed strongly, becoming one of the sector's main service suppliers, with an annual turnover of €700 million, 1,827 full time
employees, 53 offices in 18 countries. In 20 years, the Fricke family business managed to bring about its goal of creating the biggest warehouse in Europe for the
supply of spare parts to mechanised agriculture as well as for gardening and forestry.
Thanks to a stock surface of 58,700 square metres, our logistic centre is the biggest centralised warehouse for the sector in Europe. We keep about 195,000 articles
in stock!
GRANIT supplies spare parts to all the manufacturing companies and is
capable of providing original items and top quality branded products, such as
LUK, HELLA, Mann+Hummel, CBM, SKF and Letrika
GRANIT offers its customers a wide range of high quality own-branded
alternative spare parts and accessories at excellent prices.
GRANIT products are of proven quality. Thanks to the tests carried out by a
team of engineers in collaboration with independent research institutions
as well as with the certification bodies TUV, GRANIT is able to guarantee a
consistently high level of quality.
GRANIT is partners with specialised sellers too! Orders sent on before 18.00 are
delivered the next day. The final customers can request GRANIT products from
31,000 regional sellers, present throughout all of Europe.
Our customer service operators, present in all of Europe's most important
markets, offer daily, professional advice on the telephone.
Furthermore, the GRANIT Webshop permits the search and visualisation of
the products available amongst 8 million references, it sends orders on to the
central warehouse, also allowing for the selection of details directly from the
diagrams of each vehicle.
With the aim of providing a better service, we have developed the SHOP
SYSTEM, a modern, functional modular system for the display of GRANIT
products at our specialised sellers' sales points, in order to improve the image
of ourselves as competent players in the eyes of the local clientele.
For further information:
www.granit-parts.com
SINCE SEPTEMBER 2016 GRANIT IS INTERNATIONAL PARTNER OF AC SPARE PARTS IN THE WORLD.