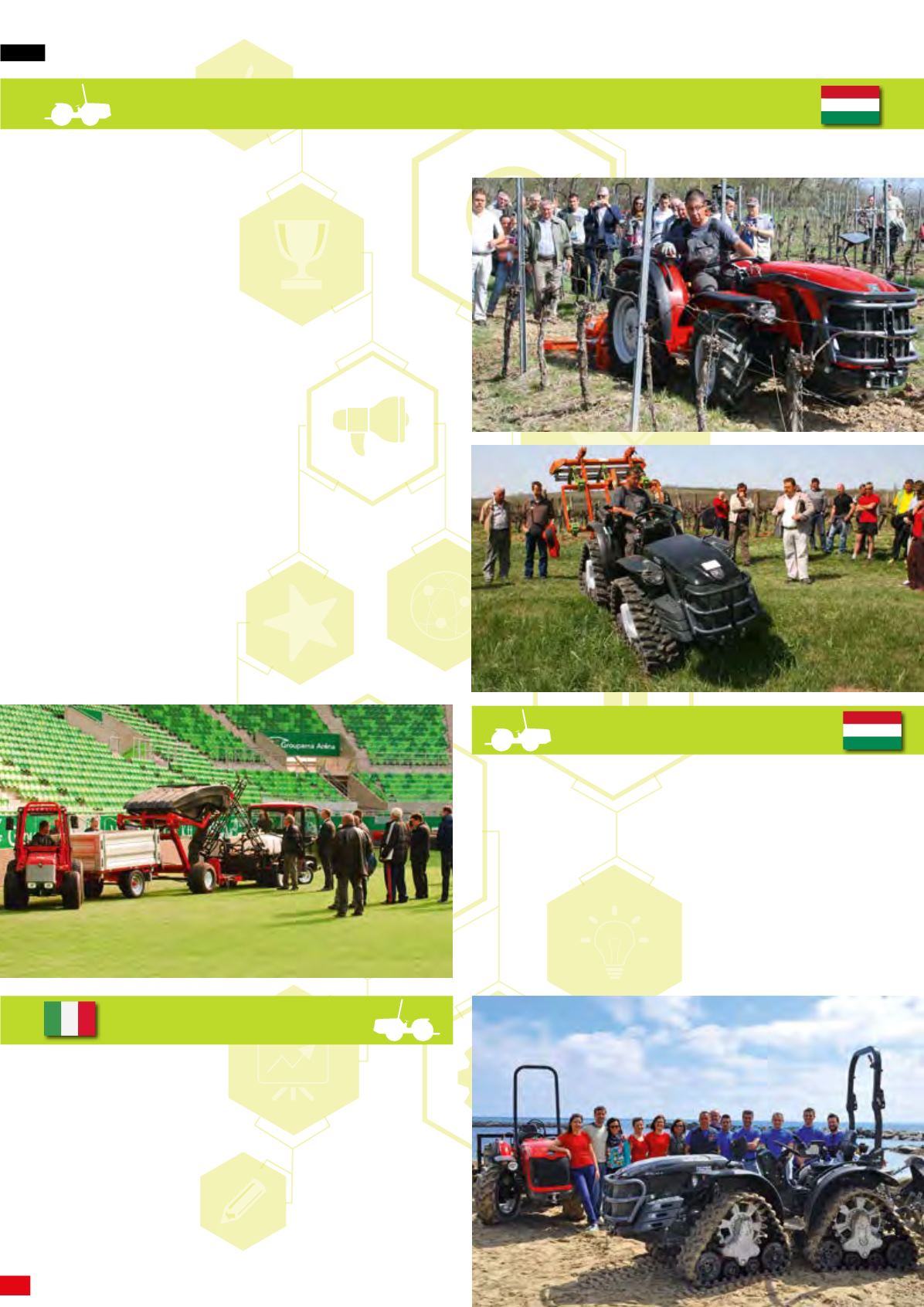 36_
AC WORLD NEWS >
FROM THE NETWORK
LOCATION: EGER - HUNGARY
IMPORTER: AGROLÁNC KFT
LOCATION: GROUPAMA ARENA - BUDAPEST - HR
DEALER: C.M.A.C. 2 SRL
LOCATION: TAGGIA (IMPERIA) - ITALY
LOCATION: VILLÁNY – HUNGARY
VINEYARD FIELD TESTS
SPORT CLUB CONFERENCE
BARREL SPECIALITY
The Hungarian importer Agrolánc has a knack of choosing great locations for its AC tractor demonstrations. This time it was the turn of two very
famous vineyards situated near the towns of Eger and Villány.
Thummerer Pince is a famous producer of Tokaj, an area known
throughout the world for the "Wine of Kings, King of Wines", named
after the fact that it was a gift offered by the Hungarians to the kings
and churchmen of Europe. The demonstrations were carried out on
the slopes of more than 100 hectares of vineyard belonging to a wine
producer whose wines are amongst the most renown in Hungary and
which have received many awards. The landscape in this region is
ideal terrain for the AC tractors: a real test bench that the Reds used to
prove their unstoppable reliability, once again surprising the numerous
participants present.
Csányi Winery is the vineyard belonging to one of the richest men in
Hungary, Sándor Csányi, the main investor in OTP Bank, and president
of the Hungarian Football Association. Having purchased the largest
vineyard of the region, he began producing and selling his wine under
the brand Teleki with an annual production of two million bottles a
year. During the field tests the AC tractors fully demonstrated their
power and multi-purpose functions. The articulated Mach 4 quad-
track created great interest but also the other models participating in
the tests were able to take their fair share of the limelight: Tigre 4400F,
TN Major, TGF 7800S, TRH 9800 and TRX 10900. Each model was able
to astound the onlookers by demonstrating their special individual
features on various types of terrain.
Groupama Arena is one of Europe's most modern stadiums, concert
hall and home football ground to Ferencvárosi TC, Hungary's most
successful football team. Agrolánc was able to organise the annual
training course for sports ground maintenance workers at the stadium,
transforming it for a day into a workshop for the study of the most
suitable models for sports ground maintenance, from the practical
Tigre 3200 to the hydrostatic TTR 4400 HST.
Armabeachat Taggiawas thehost of a series of Barrel horse races(http://
www.nbhaitaly.com/arma16.php)
. The Ligurian dealer C.M.A.C. 2
provided its staff, a powerful Mach 4 and a TRG for the preparation and
maintenance of the course. An excellent job was made of it, which
didn't go unobserved by the enthusiasts of this sport.
IMPORTER: AGROLÁNC KFT