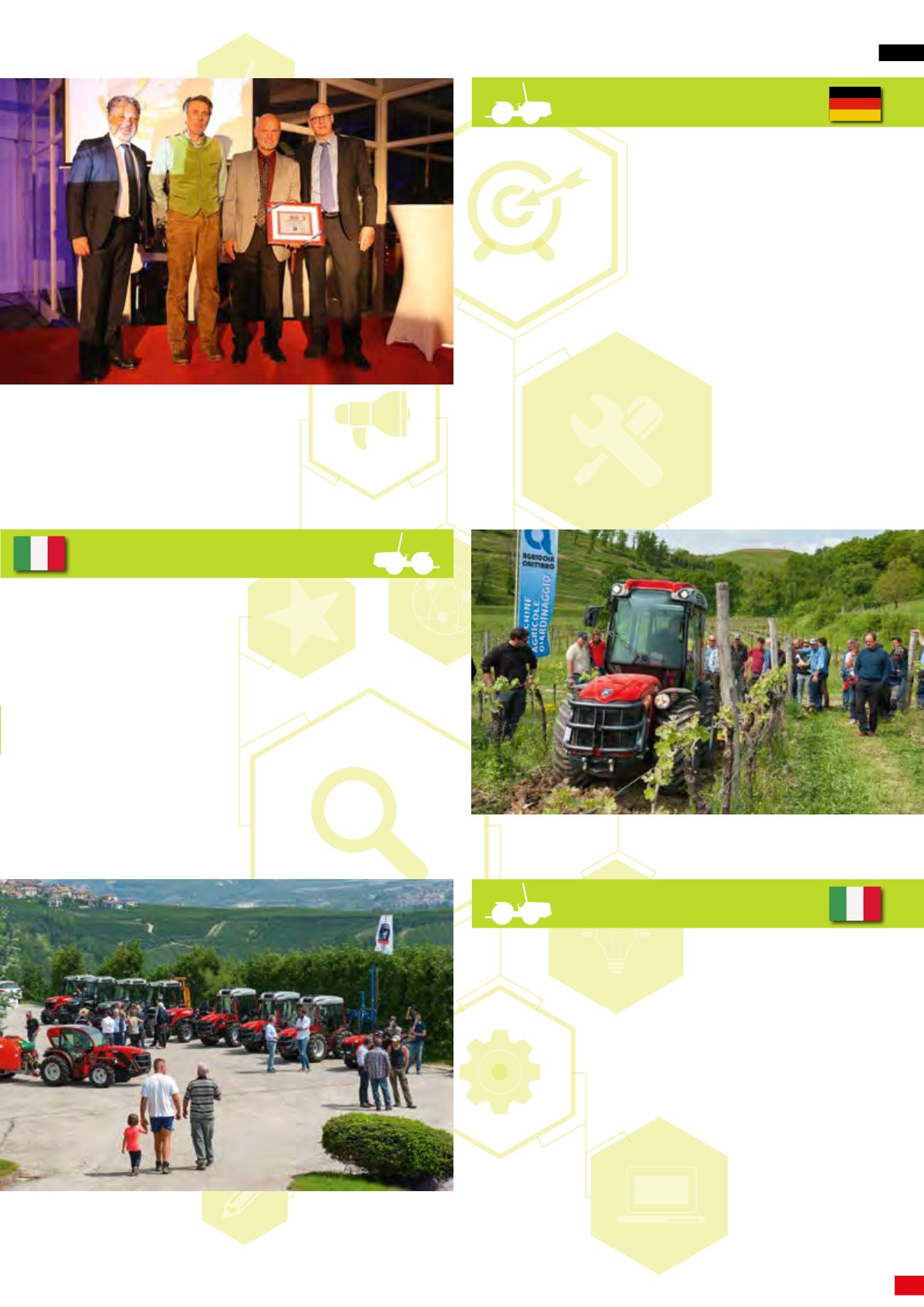 _37
FROM THE NETWORK <
AC WORLD NEWS
DEALER: AGRICOLA CHITTARO SRL
LOCATION: CORNO DI ROSAZZO (UDINE) – ITALY
DEALER: GALASSI GIACOMO SNC
LOCATION: FLAVON (TRENTO) – ITALY
TONY TESTS IN THE VINEYARD
TONY TEST IN THE APPLE ORCHARD
On the wonderful estate belonging to the Azienda Agricola Perusini,
on the eastern hillsides of Friuli, the AC dealer, Agricola Chittaro of Villa
Vicentina (UD) organised a day of field tests dedicated to the AC family's
new arrival, the Tony series. The two technological models, the TR and
the SR, fitted with various equipment, amazed the numerous partici-
pants that couldn't fail to also appreciate all of the other Campodarse-
go company's models ideal for working on vineyards.
The dealer Giacomo Galassi at Mori (TN) invited his customers and an-
yone else who was interested to two days of field tests at the agricul-
tural company Azienda Agricola Martini in Val di Non. The brand new
Tony range was the main attraction at the tests. The location, which
extends over 30 hectares of hillside, 20 of which house apple cultiva-
tions, was the ideal place to show off the high performance capabilities
of the two constant variable models, the TR and the SR.
IMPORTER: MAT GMBH
LOCATION: WALDKRAIBURG – GERMANY
GREAT CELEBRATION FOR THE
25° ANNIVERSARY
In the photo from the left: Giorgio Ceccato (AC), Thomas Gruber, Anton Gut (Managing Director Mat)
and Oliver Stamm (AC).
"Bewegung" – movement, in its various definitions – is the concept
behind Mat, AC's historical Bavarian importer, who celebrated its 25th
anniversary in 2016. The company, born as a subsidiary of Thomas Gru-
ber KG, a specialist in agricultural machinery, has "M" for "motor" as the
first letter of its name which incorporates the two sectors that have
made it the most well-known company in the region: automobiles and
tractors for green areas, municipals and agriculture. Mat celebrated its
special jubilee with an open day event rich in events and followed by
a wonderful gala dinner. The event was attended by numerous com-
mercial partners, amongst which there was AC, represented by the
Commercial Director, Giorgio Ceccato and Area Manager Oliver Stamm,
that brought a presentation plaque to commemorate the historical
partnership between the companies from Bavaria and Padova which
dates back to the foundation of Mat and which has brought numerous
successes and much satisfaction.