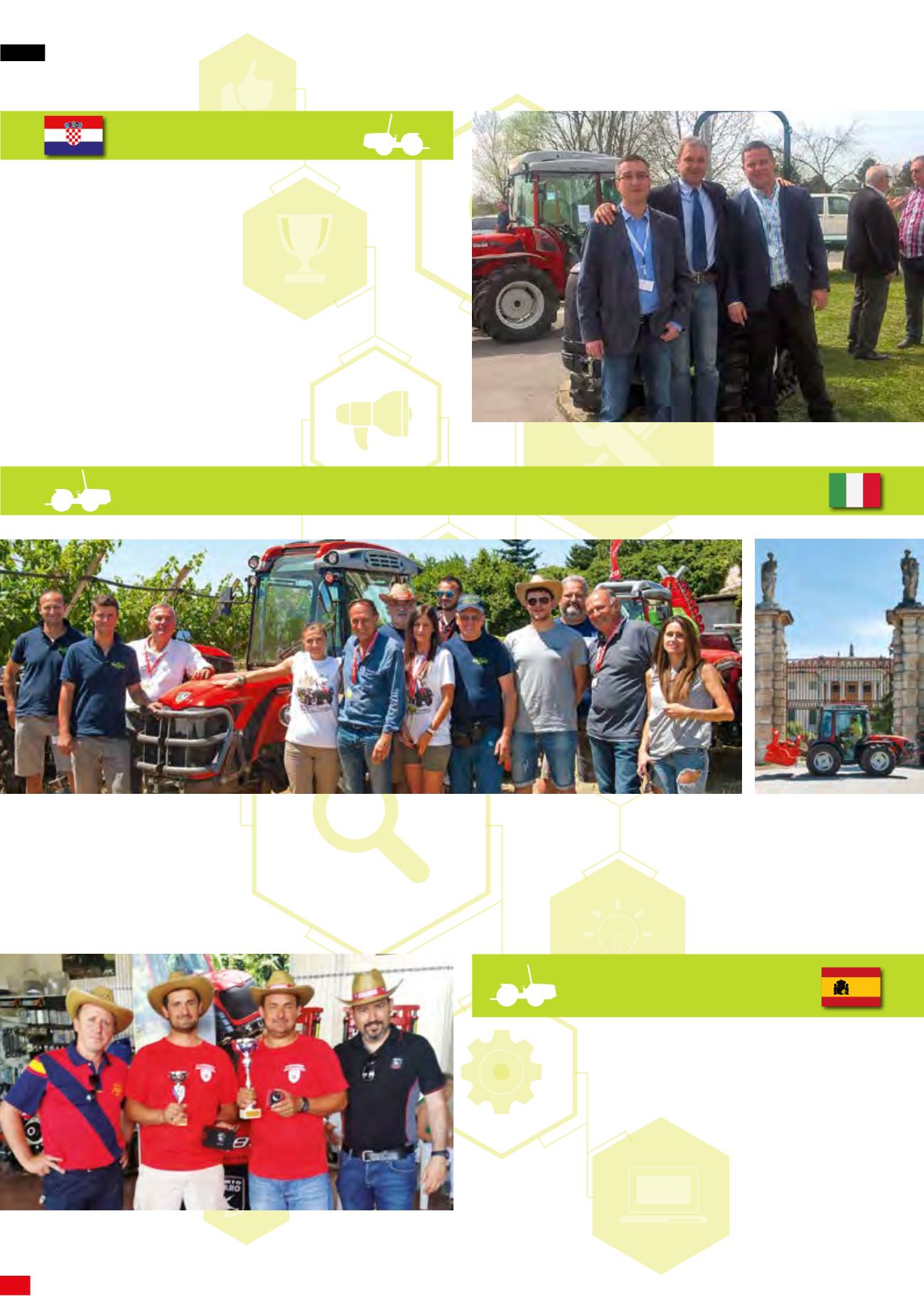 38_
AC WORLD NEWS >
FROM THE NETWORK
IMPORTER: PA-VIN D.O.O.
LOCATION: JASTREBARSKO - CROATIA
DEALER: REFOSCO ANGELO
LOCATION: SAREGO (VICENZA) – ITALY
DEALER: TRACTORES AZOR
LOCATION: ALMERÍA – SPAIN
SUBSIDIARY: AC IBÉRICA
OPEN DAYS
TONY TEST AT THE VILLA
OPEN DAY AND COMPETITION
The company Pa-vin D.o.o. began its activity in 1993 as a family business
and today is a market leader in Croatia for wine production, having
established contacts and collaborative projects with renown experts
coming from many agricultural sectors (agricultural mechanisation,
oenology, plant nutrition, etc.). Official AC importer, Pa-vin D.o.o.
organised a grandopenday topresent the entireAC range for vineyards,
executing direct tests which were watched by numerous visitors from
all over Croatia. "It was a great reward for my two tireless colleagues,
Mario Dobrinic (on the left in the photo) and Tomislav Pavkovic (on
the right)" said the Area Manager Michele Ceccato (at the centre of the
photo), "who over the years have been deeply involved in diffusing the
AC brand in Croatia".
At Monticello di Fara, on top of the hill that dominates the plain, there is the splendid Villa Da Porto also known as "la Favorita". This place was
chosen by the dealer Refosco Angelo (Cornedo Vicentino) to present to a select public of technology enthusiasts the new jewels in the AC crown,
the Tony TR and the SR. The vineyards that surround the splendid villa were the test arena for the AC top of the range specialised tractors to offer
demonstrations of efficiency and operative capabilities in the vineyard.
At their annual open day, the Andalusian dealer Tractores Azor held
the second edition of the competition "Tractor Drivers with Pallet
Carrier" on an SRH 9800 Infinity fitted with a forklift. The numerous
participants, in addition to demonstrating their skills at the steering
wheel, also attempted to get to know the extraordinary characteristics
of the hydrostatic tractor.
In the photo the competition winners receiving their prize: from the left Jose Manuel Azor (Azor
Tractores), Alejandro Pérez (runner up), Carlos Pérez (winner) and Oscar Pompermayer (AC Ibérica,
Eastern Area Manager).