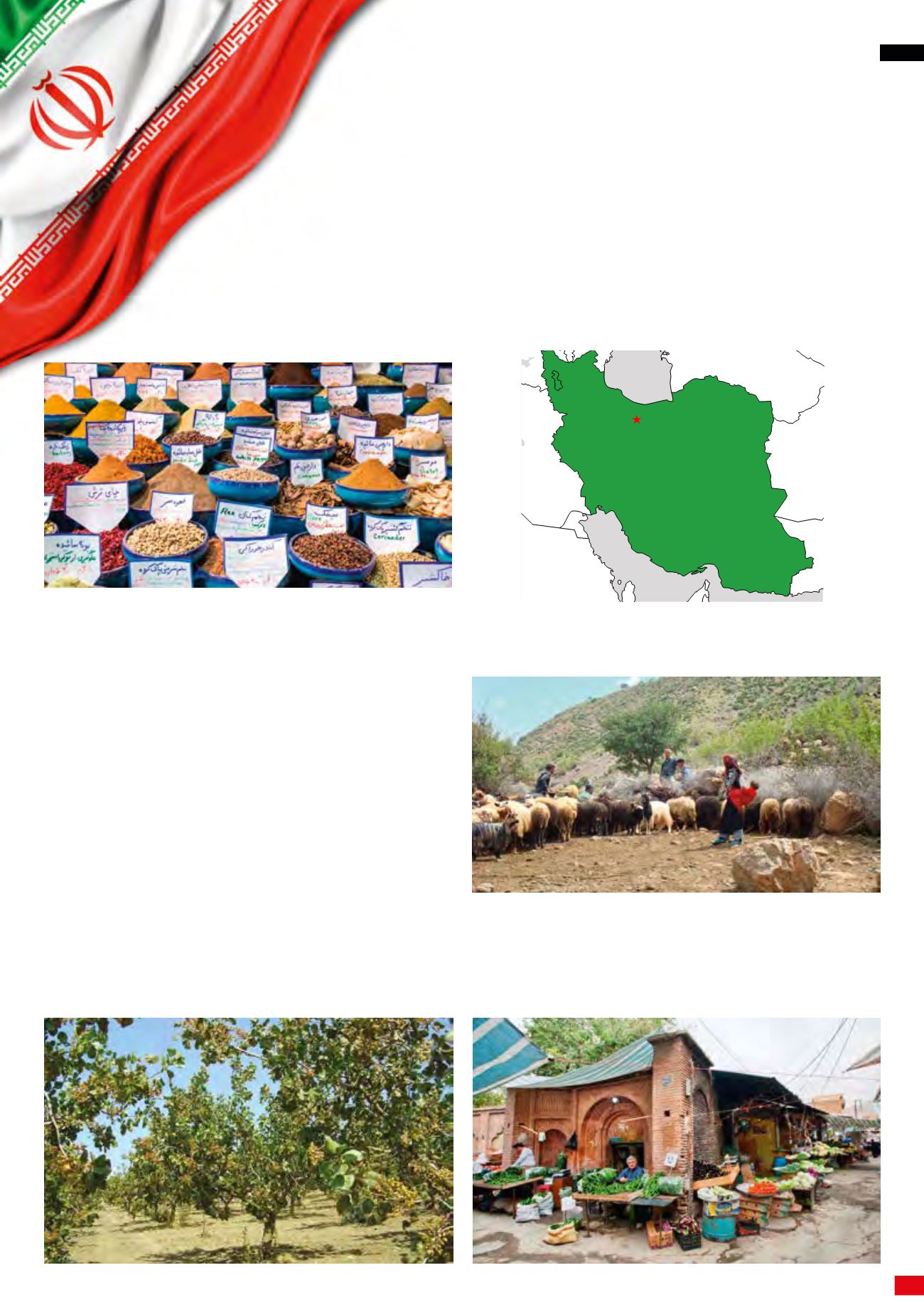 ARABIA SAUDITA
QATAR
BAHRAIN
IRAN
OMAN
IRAQ
KUWAIT
TURKMENISTAN
AFGHANISTAN
PAKISTAN
EMIRATI ARABI
Teheran
_41
REDISCOVERING
ANCIENT PERSIA
AGRICULTURE AND BREEDING
Why is Iran such a talking point and howmuch is agriculture worth in Iran?
Iran, with a population of almost 80 million people is the second largest economy of the Middle East after Saudi Arabia.
The dropping of sanctions against Iran at the beginning of this year (embargo) is leading the country progressively back
towards free trade and investment, with the World Bank forecasting economic growth at +5.8% in 2016 and +6.7% in 2017.
In line with the agrarian reform begun in Iran in the 1950s, 800,000
hectares of terrain were distributed to farmers. Since then 30% of the
population still lives off agriculture, carried out on very fertile ground
of which only 10% is cultivated with crops of pistachios, cereal, barley,
potatoes, rice, millet, cotton, tobacco, sugar beet and sugar cane.
Production varieties also include tomatoes, tea, dates, olives, citrus
fruit and oil seeds. In addition to agriculture there is widespread cattle
breeding in pastureland and sheep and goat breeding in more arid
areas. Horses, camels, buffalo and poultry are also bred and reared.
Furthermore the Iranians obtain top quality caviar from the eggs of the
sturgeon, caught in the Caspian Sea. Breeding is an important resource
for both industry and the food sector, for textiles and for hides, which
are considered the best on the international market because of the
type of subcutaneous fat they present.
With a cultivatable surface area of around 30 million hectares,
agriculture makes up 10% of Iranian GDP and employees a third of
the workforce. The wonderful climate and fertile land, along with
With the end of the embargo, an interesting road of collaboration lies ahead of Antonio Carraro with Iran, a
country geared towards specialised agriculture that represents, amongst the so called emerging nations, the
one with greatest chance of development thanks to the morphology of its terrain and the desire of its people for
modernisation.
the skills of a population linked to the tradition of agriculture, lead
Iranian products to be ranked amongst the best in the world. Iran is
the biggest producer of spices, seeds and berries amongst which are
saffron, pistachios, berberis and fruits of the forest.
IRAN <
AC WORLD FOCUS