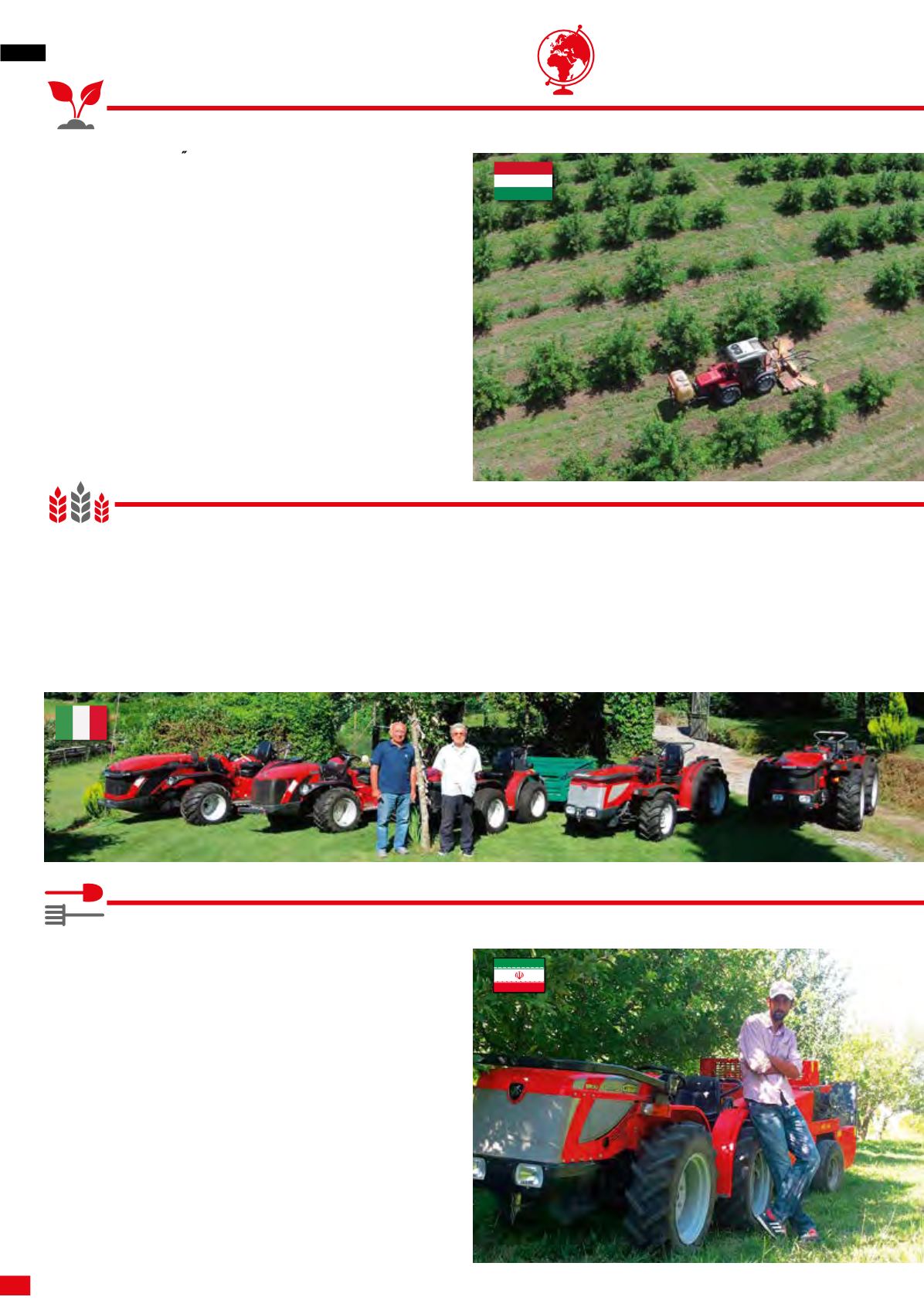 42_
AC WORLD FRIENDS
AC FRIENDS
> EVERYWHERE
CUSTOMER: GIANFRANCO AVETTA
LOCATION: COSSANO CANAVESE (TURIN) – ITALY
DEALER: FRANCO DECAROLI SRL
CUSTOMER: HOSSEIN ZADEH
LOCATION: DIZAG DOL - IRAN
IMPORTER: NIKOO KESHT SABZ BONYAN
A TRH AMONGST THE
ELDER TREES
RED PASSION
FROM IRAN WITH
COMPLIMENTS
More than 10 years ago Attila Benkő chose a TRH for his small Elder Tree
plantation. Today the company, which covers 20 hectares, has bought
a brand new TRH 9800. "Thanks to the hydrostatic tractors our working
capacity has increased by more than 30% says Attila. "The reversible
system allows us to work with great precision amongst rowed crops
without damaging the plants". Take a look at the newTRH 9800 at work
amongst the Elders on the Agrolanckft YouTube channel (https://www.
youtube.com/watch?v=IyrgWcfjKy8)
.
Gianfranco Avetta is one of the Decaroli dealer's oldest customers.
Nature lovers and true fans of the four rotating horse brand, he is the
proud owner of five AC tractors (TRX 10900, TTR 4400, Tigre 4000, HR
5500 and TRX 8400), each of which is dedicated to a specific task on his
large estate. Already a member of the Club #1 we can see him posing
in the photo with Franco Decaroli (left) in front of his fleet. Thanks for
your trust, Mr. Avetta!
Hossein Zadeh is one of the many Iranian agriculturalists who, thanks
to the end of the embargo, has been able to modernise his fleet of trac-
tors with the purchase of a brand newTigrone 5800. On the 60 hectares
of land in a town called Dizag Dol, near Orumiyeh in the north east of
the country, Hossein grows apples and grapes and with great satisfac-
tion recounts:"Thanks to my AC tractor my work is much more efficient
and I have more free time to go cycling. Compliments to the importer
and the manufacturer!".
CUSTOMER: ATTILA BENKO
LOCATION: TAMÁSI - HUNGARY
IMPORTER: AGROLÁNC KFT