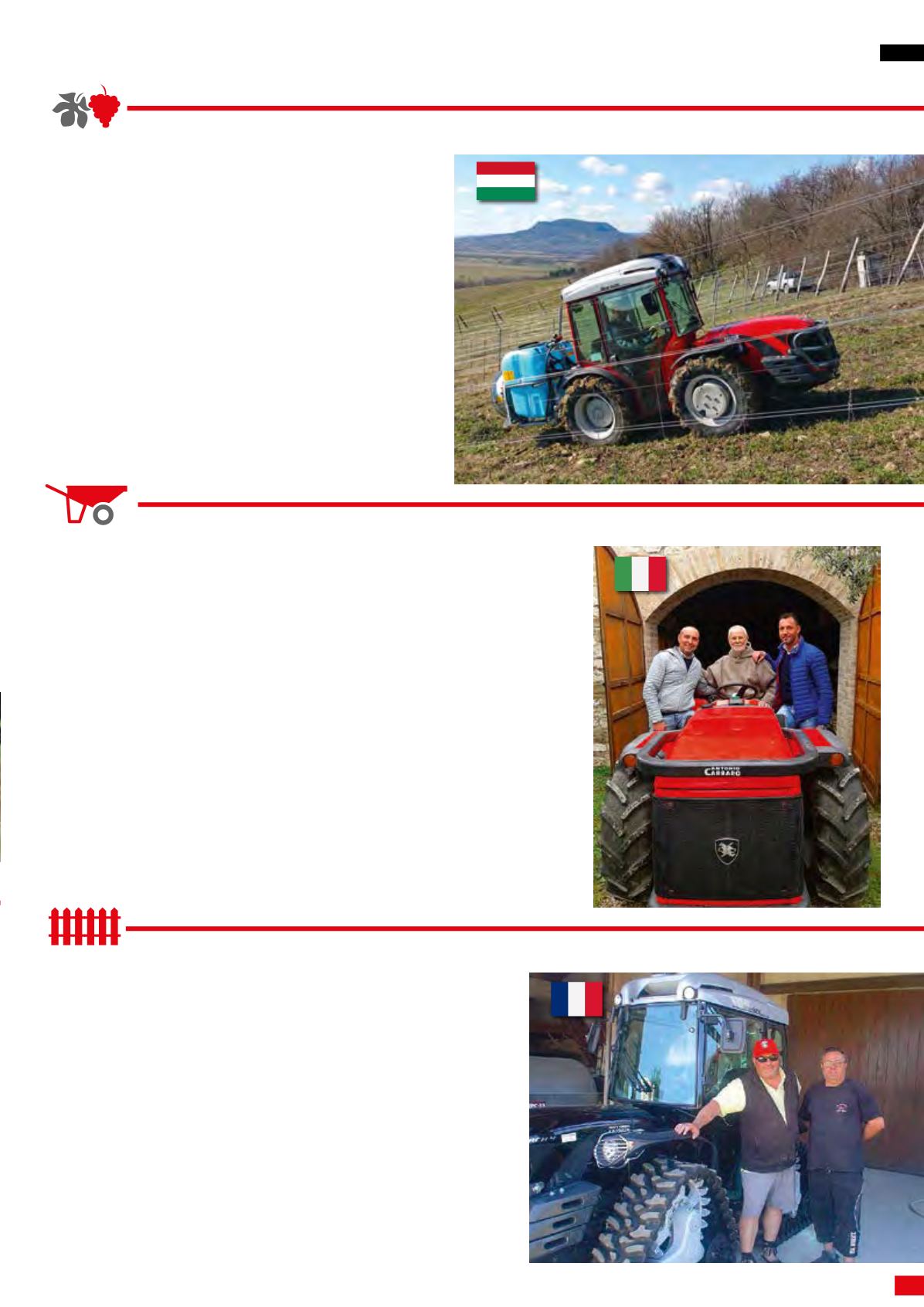 _43
EVERYWHERE <
AC FRIENDS
CUSTOMER: FRIAR DANILO
LOCATION: MORA – ASSISI (PERUGIA) - ITALY
CUSTOMER: DOMAINE GAUBY
LOCATION: CALCE (66) – FRANCE
DEALER: ETS MORA (66) – ILLE SUR TET
SUBSIDIARY: SODAVE - AC FRANCE
CUSTOMER: AZIENDA AGRICOLA LAPOSA
LOCATION: BADACSONY – HUNGARY
IMPORTER: AGROLÁNC KFT
ON HEAVEN AND EARTH
A MACH 4 ON THE PYRENEES
AN SRX AMONGST
THE BASALTS
StefanoMartini and Stefano Ferian, nicknamed"I Bistefani"(the two Stefanos), are two close-
knit colleagues in the AC Shipping Department. Their job is to coordinate the loads and
check that every tractor leaving the factory is in perfect condition. For many years, during
their holidays, these two, escorted by their wives, go to see a very special AC customer, Friar
Danilo, at the San Cristoforo monastery at Mora (Assisi-Perugia). It is a good opportunity
to check the tractor there, a TX 7800. In exchange the friar-farmer (skilled in the art of
cultivating the kitchen garden, the olive groves and the convent's fruit trees) offers them a
handsome lunch based on Umbrian specialities.
This year their visit coincided with the earthquake. Fortunately neither the monastery nor
the city of Assisi was damaged. We would like to take the opportunity to offer our hearts,
through Friar Danilo, to Saint Francis of Assisi with the prayer that he will protect the families
affected by the earthquakes.
The Gauby estate is situated 20 km north west of Perpignan and covers about
85 hectares of which 45 are historical vineyards (more than 120 years old)
and another 40 hectares are meadows, oak woods and scrub. A varied and
uncontaminated landscape situated on the slopes of the eastern Pyrenees,
which Monsieur Gauby looks after with an AC articulated quad-track: "The Mach
4 allows us to better take advantage of our land to produce excellent wines whilst
preserving the natural equilibrium, because we are, and will always be, farmers".
In the photo from the left: Mr. Gauby and Mr. Mora from the dealer with the same name.
Lake Balaton, the Hungarian sea, is the largest expanse of fresh
water in Europe and on its banks there are many extinct craters,
basaltic mountains and gentle slopes. The lake's territory, formed
by the force of the volcanoes, is sprinkled with wonderful vineyards
that produce excellent wines, amongst the best in Hungary. It is
here that Dr.József Laposa and his wife Eleonóra decided to set
up their company, with the objective of adhering to the real wine
producing traditions of the area while reinvigorating them with
new technology. For this reason they have chosen an SRX 9800,
the best possible ally for their 10 hectares of hillside terrain that
extends into the region of Badascony.