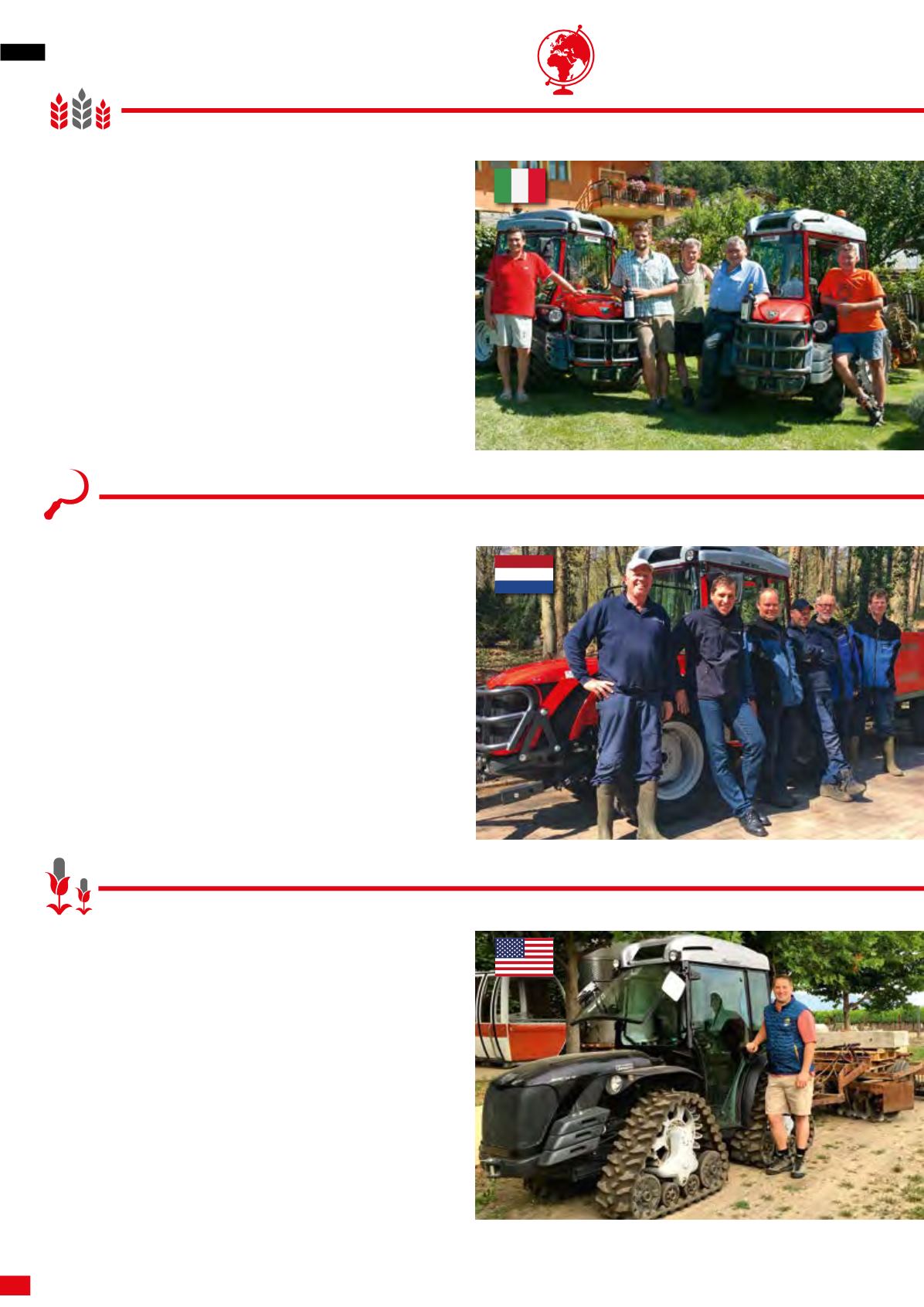 44_
AC FRIENDS
>
EVERYWHERE
AC WORLD FRIENDS
CUSTOMER: VINS GROSJEAN
LOCATION: QUART (AOSTA) – ITALY
DEALER: MAFER SRL
CUSTOMER: HEIDERUST
LOCATION: RHEDEN – THE NETHERLANDS
IMPORTER: FA. HISSINK & ZOENEN
CUSTOMER: KELHAM VINEYARDS
LOCATION: ST. HELENA (CA) – USA
IMPORTER: MGH EQUIPMENT LLC
GREAT MOUNTAIN WINES
GRAVEYARD TASKS
CALIFORNIAN MACH 4
When in 1969, grandfather Dauphin bottled his first wine to present at
the II Exposition des Vins du Val d'Aoste he could never have imagined
that it would have become a family business. Monsieur Dauphin's sons
have carried on what their father started and today, helped by their
own sons, they cultivate 10 hectares of high quality vineyards using
organic techniques. Their important helpers are an SRX and an SRH
Infinity. A fusion of tradition and modernity.
The AC tractors stop at nothing and amongst the many activities taken
on by the red all-rounders are the tasks needing to be done in the
graveyard. The Dutch cemetery Heiderust has recently acquired an SX
7800, much to the delight of the operators, who enthusiastically told
us: "The SX 7800 has a powerful engine and it has excellent handling
capabilities and is multipurpose. It is a loyal ally when carrying out all
tasks associated with green area maintenance".
The Hamilton brothers and Ron Nicholsen are oenologists and
producers of amazing wines, which are amongst the best in California.
For many years they have trusted the care of their 70-acre vineyards,
situated at the foot of the Maycamas mountains to an external
company, but given the importance of this activity they have decided
to take care of it themselves personally. They needed a strong safe
tractor with good handling, capable of climbing the steep Oakville
hillsides: in one word- the Mach 4. "We think it is the best tractor in the
Napa Valley" said Hamilton to AC Area Manager, Oliver Stamm"I tell all
my wine-growing friends about it!" Thanks for the excellent publicity,
Hamilton!