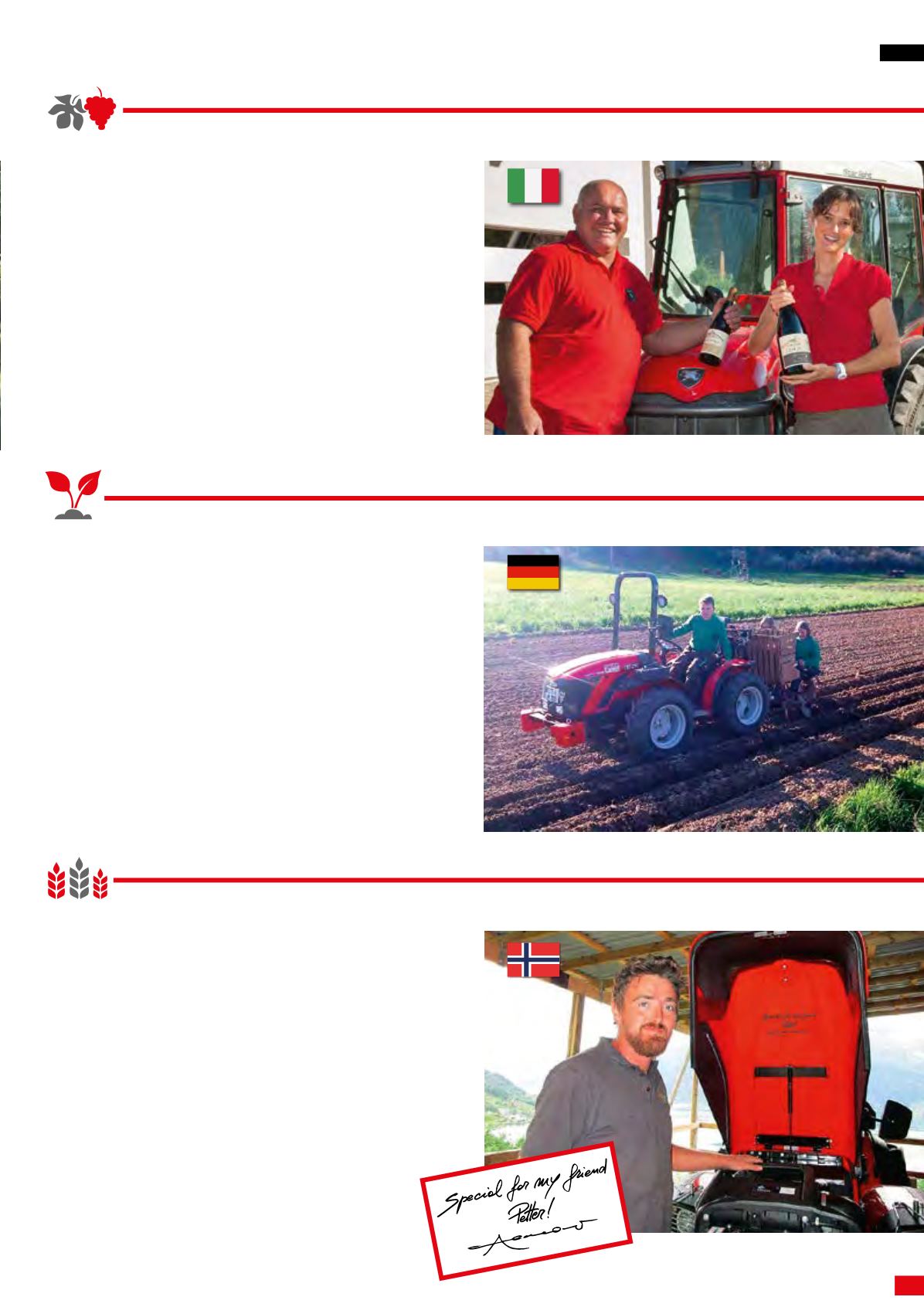 _45
EVERYWHERE <
AC FRIENDS
CUSTOMER: LES CRÊTES
LOCATION: AYMAVILLES (AOSTA) – ITALY
DEALER: MAFER SRL
CUSTOMER: NORBERT BURK
LOCATION: BIEDENKOPF – GERMANY
IMPORTER: MOERSCHEN GMBH
CUSTOMER: PETTER ULRIKSEN
LOCATION: SEKSE/HARDANGER, NORWAY
IMPORTER: H.A. FOG A/S
FROM GENERATION
TO GENERATION
EVERY CHILD'S DREAM
SATISFIED WITH
HIS NOBLE STEED
The Charrère family has been working its vineyards for 5 generations.
Their 20 hectares of vines, cultivated using manual techniques and
rigorously studied to safeguard the environment, cover six councils of the
Valdostana area. Eleonora is the latest link in the Charrère generational
chain. As a child she used to collect ladybirds from the mountain
meadows to later release them amongst the vines, where they could
devour the destructive mites. It was a very concrete choice, exactly like
the one of choosing to use an SRH Infinity: a union born from the love of
nature and a passion for technology.
Which little member of the Tractor People clan wouldn't like to drive a
tractor? No-one! In fact, our dear friend Norbert Burk, well aware of this,
didn't hesitate to get some help for his potato planting from his little
workers: his daughter Lea-Marie and her little friend Luise are sitting on
the equipment being pulled by the Tigre 4000, driven (under Norman's
watchful eye of course!) by Luise's brother, Louis Reuter. Great work guys
and take care!
Petter Ulriksen is a true member of the Tractor People and as such he
asked for his brand new TRG 10900 to be autographed personally by
President Antonio Carraro. No sooner said than done! Here he is posing
in front of his noble steed and he tells us with satisfaction: "It is the best
tractor that I have ever had and I bet that all my neighbours and fruit
farming colleagues are envious of it!"We think so too, Petter!
In the photo Eleonora Charrère with the SRH Infinity operator Carlo Bataillon.