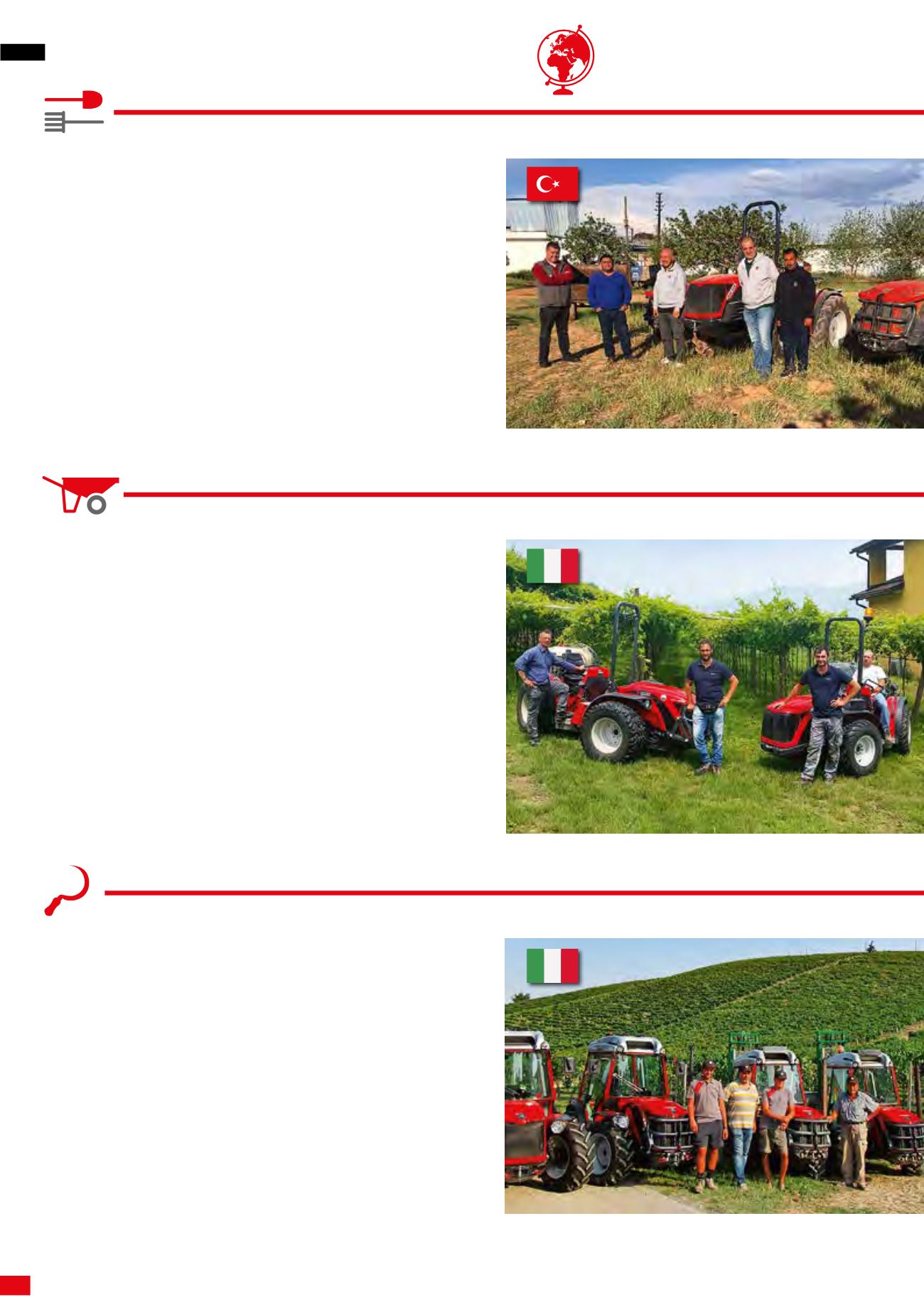 46_
AC FRIENDS
>
EVERYWHERE
AC WORLD FRIENDS
CUSTOMER: SOZMEN FARM
LOCATION: GAZIANTEP - TURKEY
DEALER: IRDAY TARIM - ADANA
SUBSIDIARY: AC ANADOLU
TURKISH PISTACHIOS
WINE GROWER FOR
7 GENERATIONS
FAMILY AFFAIR
With his 4 AC tractors (three TRG 10900 and a TRX 7800), Ibrahim Halil
Sozmen is one of the dealer Irday Tarim's most important customers in the
region of Nizip, in south-east Anatolia. He cultivates olives and pistachios
on 3000 hectares of land. "Why did I choose the AC tractors? Compact
dimensions, reversibility and low fuel consumption" explained Ibrahim.
Recently Mr. Sozmen received a visit from Giuseppe Cutaia, AC Anadolu
Director, accompanied by Abduhlkadir Orhan, head of the branch, and by
Orhan Irday, owner of the dealership of the same name.
CUSTOMER: SPERI VITICOLTORI
LOCATION: PEDEMONTE (VERONA) – ITALY
DEALER: OFFICINA ZANTEDESCHI
CUSTOMER: PIANA FAMILY
LOCATION: NIZZA MONFERRATO (ASTI) – ITALY
DEALER: L. SCONFIENZA
An antique family from Valpolicella, the company Speri is an authority on
and a loyal interpreter of the Valpolicella Classica wine. The company dates
back to the first half of the 1800s with just a few hectares next to the Speri's
family home. Over the years, the company has grown to its present size of 60
hectares and has incorporated systems of organic cultivation. A family tied
to tradition like theirs couldn't fail to choose a historic brand. They had no
doubts: here are the Speri brothers posing with their two (soon to be 3!) AC
tractors, an SRH Infinity and an SRX. Times change but the old values remain.
The Piana family are tight-knit at home and at work. They have cultivated
their vineyards in the heart of Monferrato for many years, using classic
tracked vehicles, tractors that seemed to be the most suitable for their
terrain. Then, several years ago, this all changed: the old tracked vehicles
needed to be changed, but with what? Months of field tests with tractors of
all brands andmodels led to all doubts being vanquished: the TRX 10400 had
all the right qualities to replace these obsolete tracked tractors. They bought
3 of them with accessories. Today, four years after their purchase, they have
now got 4 TRX, thanks to the TRX 10900. Tractor People like them bring great
satisfaction!
In the photo from the right: Antonio Piana, Claudio Piana, Luca Sconfienza and Marco Piana