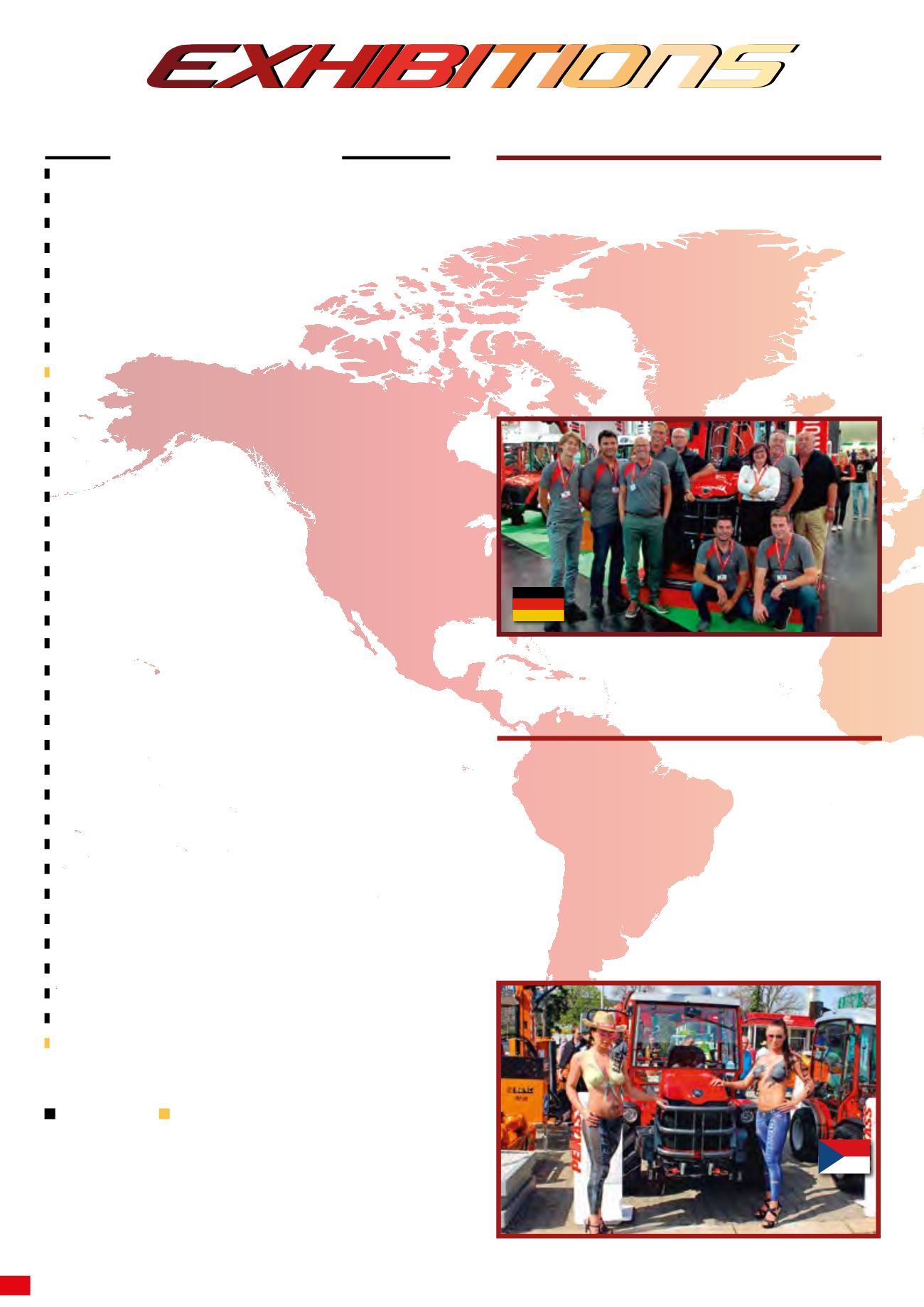 52_
USA Northwest Horticulture Show
I Fiera di Santa Lucia di Piave
NL Groene Sector Vakbeurs Hardenberg
USA United Wine Symposium
H AgrárgépShow
TR Gaptarim Tarim
USA Northwest Agricultural Show
I Fiera di Sant'Orso/Aosta
GR Agricultural Exhibition of Larisa
IL MOP Arava
AU Small Farm Fiel Day
USA WAWGG Convention
CH Tier und Technik
AU Farm World
I Fiera della Meccanizzazione Agricola/Savigliano
I Fiera di San Giuseppe/Scandiano
I Agriumbria/Bastia
UK Agri-Expo
I Agrimont/Longarone
TR Gida Tarim
I Fiera Campionaria di Lonigo
I Fiera Nazionale dell'Agricoltura/Lanciano
I Fiere di Mezza Quaresima/San Sepolcro
I Fiera del Madonnino/Braccagni
I Mostra Agricola Campoverde
I Agricollina/Montecastrilli
IL Ahitoov Open Day
I Mostra Mercato Macchine Agricole/Tarquinia
I Fiera di Fornaci/Barga
MA SIAM
SEB Novi Sad International Agricultural Fair
AU Ag-Fest
AU Tocal Field Days
AU Agro Trend
ES Demoagro
NAMPO Harvest Day
05-07/12/2016
10-12/12/2016
10-12/01/2017
24-26/01/2017
25-28/01/2017
26-29/01/2017
26-28/01/2017
30-31/01/2017
02/2017
01-02/02/2017
04-05/02/2017
06-08/02/2017
23-26/02/2017
30/03-02/04/2017
03/2017
03/2017
03/2017
1/3/17
18-19, 24-26/03/2017
23-26/03/2017
24-27/03/2017
24-26/03/2017
04/2017
04/2017
04/2017
04/2017
05/2017
05/2017
05/2017
05/2017
05/2017
04-06/05/2017
05-07/05/2017
05-06/05/2017
9-11/05/2017
16-19/05/2017
GALABAU – GERMANY
The 2016 edition of the trade fair GaLaBau, the international
exhibition dedicated to urban green areas and open spaces
held in Nuremburg from 14 to 17 September closed with a new
record: more than 60.000 visitors and more than 1300 exhibitors,
30% of whom were from abroad. AC's stand exhibited its new, hot
off the production line, products: the super-technological Tony
9800 TR and, an absolute first, the TTR 7600 Infinity, which unites
the hydrostatic transmission Infinity with a wide tracked vehicle,
suitable for all uses on extremely steep slopes. Numerous visitors
were greeted at the AC stand by the ever qualified and well-
prepared staff of German importers, led by the Head of Sales for
Germany, Oliver Stamm.
TECHAGRO – CZECH REPUBLIC
It is biggest biannual fair for the agricultural sector in central
Europe. Held at Brno, it is a key event for all the most important
brands in the Czech Republic. The official importer Pekass A.S.
has represented AC for the last 17 years and is well rooted in the
Czech territory thanks to its network of 8 subsidiaries. At its large
stand Pekass presented the entire AC range for agricultural and
civil use in the Czech territory. All of which was accompanied by
an amazing performance by the body-painted girls. Thanks to its
professionalism Pekass A.S. has become one of the most important
points of reference for the Czech market in terms of products for
specialised agriculture and green area management.
FAIR
PERIOD
YEARLY
BIENNAL
*dates are subject to variation. We strongly advise you to consult the fairs' websites.