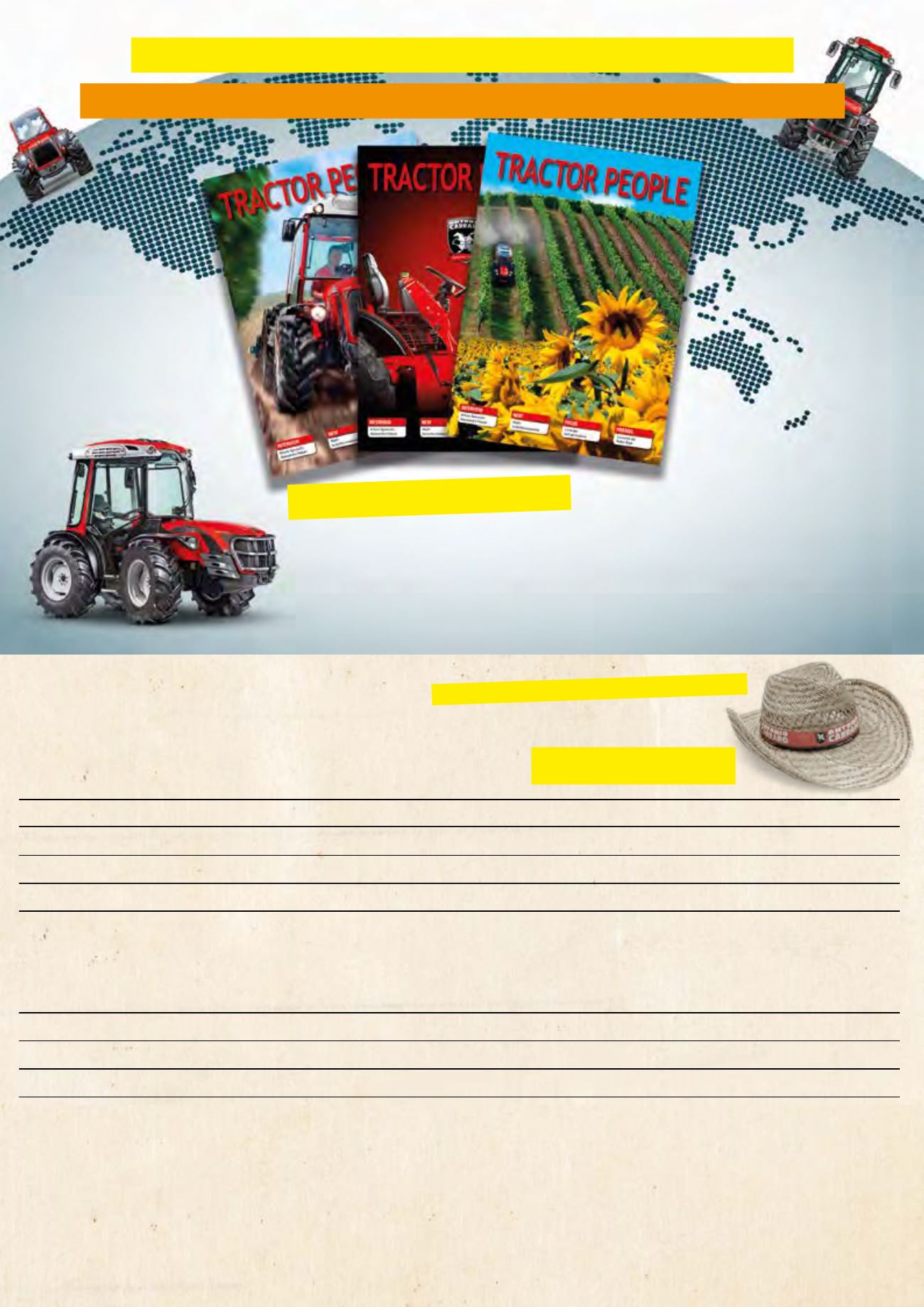 _63
I consent to the treatment of personal data in accordance with the law D.Lgs. 196/03
ORDER COUPON
Antonio Carraro spa - Via Caltana, 24 - 35011 Campodarsego (Pd) Italy Fax
+39.049.9219922
/ Email:
gadget@antoniocarraro.it
REMEMBER TO SPECIFY PRODUCT CODE, SIZE AND QUANTITY.
NAME & SURNAME OR COMPANY NAME
STREET
CITY
POSTCODE
COUNTY
TELEPHONE NUMBER
EMAIL
IT IS COMPULSORY TO INDICATE VAT NUMBER :
SHOPPING CART
CODE
PRODUCT
QUANTITY
SIZE
ADDITIONAL NOTES
TARIFFS FOR SHIPPING
FOR ORDERS UP TO 100 EURO:
ZONE A 12 EURO: Austria, Belgium, Denmark, Finland, France, Germany,
Great Britain, Greece, Ireland, Italy, Luxemburg, Monaco, Holland, Portugal,
Spain, Sweden. ZONE B 20 EURO: Andorra, Bulgaria, Cyprus, Estonia, Gibraltar, Iceland,
Canary Islands, Latvia, Liechtenstein, Lithuania, Malta, Norway, Poland, Czech Rep.,
Romania, Slovenia, Switzerland, Turkey, Hungary
ZONE C 30 EURO: Rest of the world
FREE SHIPPING COSTS ANYWHERE IN THE WORLD WITH PURCHASES OVER 100 EURO!!!
DATE
SIGNATURE
METHOD OF PAYMENT
FROM ITALY: CHEQUE
FROM ABROAD: PURCHASE FROM THE SITE
ESHOP.ANTONIOCARRARO.IT
OR BY
WRITING AN EMAIL TO
GADGET@ANTONIOCARRARO.IT
Prices indicated are valid until May 2017.
BY PURCHASING WITH THE COUPON
YOU WILL RECEIVE A FREE STRAW HAT!
Write to
cromanello@antoniocarraro.it
.
We will formulate the most suitable offer for an individual
advertising plan in our magazine, the only technical information journal to be translated into six
languages and distributed to target markets across five continents.
Remember, our motto is
minimum cost, maximumgain. It will be the best money you ever spent on
advertising because our business interest is the same as yours!
Are you a manufacturer or distributer of agricultural products and want to make yourself known in the world of
Tractor People
?
BECOME AN ADVERTISER IN TRACTOR PEOPLE!
Do you want to reach out to 65,000 readers?