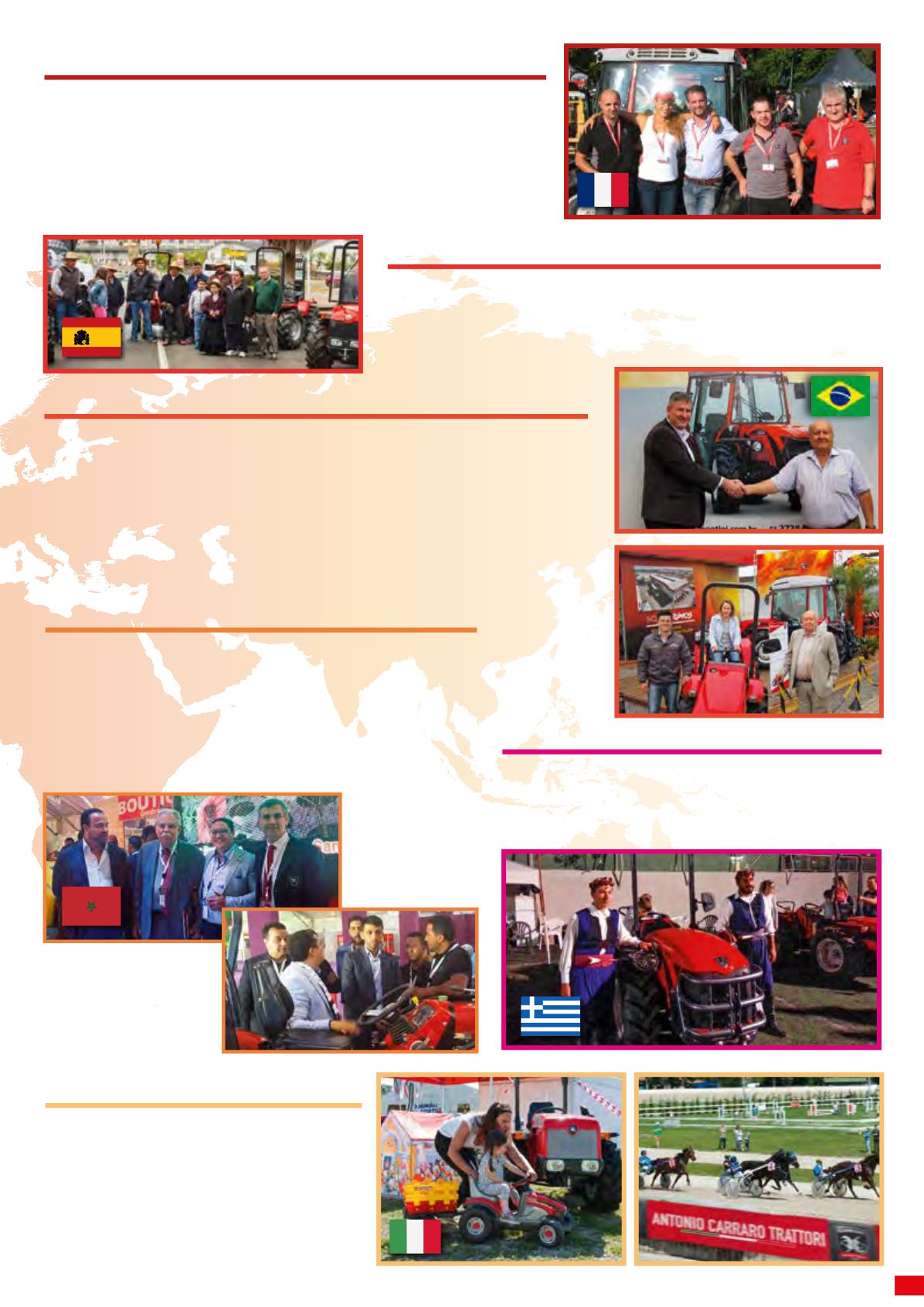 _53
1
2
SALONVERT – FRANCE
The number one French trade fairs dedicated to rural landscapes was held, as it is every
two years, at Saint-Chéron (91) a few kilometres from Paris, in front of the backdrop
of Château de Baville. Along the entrance way of the splendid 25-hectare park, 500
producers specialised in green area maintenance got the opportunity to present their
products being used in real conditions. The AC staff together with colleagues from the
French subsidiary Sodave, showed off the brand new TR and SR from the Tony family,
along with the pioneering TTR 7600 Infinity destined for great success amongst green
area professionals.
AGROEXPO - CRETE
The first edition of AgroExpo was held at Ierapetra, Crete. The
Greek importer Panagiotis Katsaros demonstrated the AC articu-
lated models, which are highly suitable for the island's many olive
groves and greenhouses.
FERIA DE ORTIGUEIRA - SPAIN
There was a great meeting of Carraro fans at Feria de Ortigueira (La Coruña, Galicia),
where the dealer Talleres Lopez Golpe S.L., in collaboration with his subagent Agrico-
la Santeiro, put the AC range on show, inviting the customers along with their own
tractor.
EXPOINTER - BRAZIL
One of the region's most important trade fairs was held at Porto Alegre, Río Grande do Sul.
The AC brand, already well-known in Brazil, was represented by the new importer Tramontini,
whose stand presented the AC range by highlighting the technological and innovative features
of the Padova tractors.
In the photo Leonardo Tramontini, Owner and Commercial Director of Tramontini shaking hands with Aldo
Lingua (AC South America).
In the photo from the left Everton Coutinho, national sales co-ordinator at Tramontini and Sulimar Fogaça,
marketing, with Aldo Lingua.
FESTIVAL DELL'AGRICOLTURA
Festival Show for Agriculture was held for the first time
at Padova, at the Hippodrome Le Padovanelle. AC in col-
laboration with the local dealer
RO.DA
., presented many
new things for the adults and provided lots of attrac-
tions for the little ones.
SIAM 2016 – MOROCCO
The importer TAMC participated in the 11 edition of the most important
agricultural fair in Morocco presenting the tractors from the top of the AC
range. Numerous important people visited the stand. Amongst whom the-
re was Tariq Kabbage (photo 1, in the centre), ex Mayor of Agadir along
with one of the most important entrepreneurs in southern Morocco, whose
company generates 30% of national exports of citrus fruits as well as Hi-
cham El Guerrouj (photo 2, in the centre), a Moroccan athlete that specia-
lises in long and middle distance running, considered the best Moroccan
athlete of all time.
th