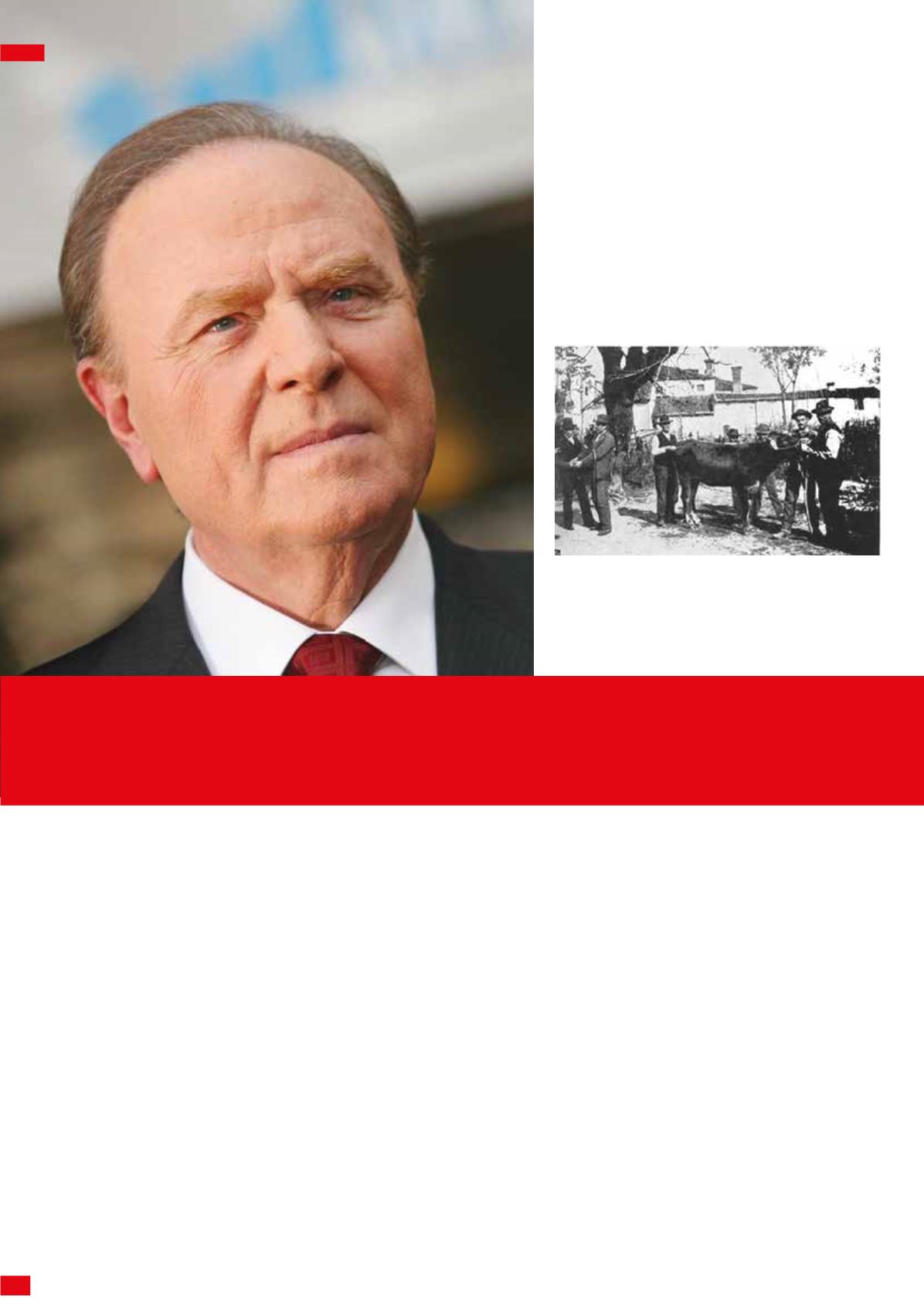 6_
AC WORLD NEWS
> INTERVIEW > EXCELLENCE
At a delicate time in the history of the Eurozone banking system, we interview the most famous banker in Italy, Ennio Doris. Born in Tombolo in 1940, married
for over 50 years to Lina, he has two children, Massimo and Sara and seven grandchildren! Today he is considered the king of Family Banking in Italy. Much of
his success is due to his endless enthusiasm, his dreams, the love for his family and his attachment to his Veneto farming roots that lead him into a simple way of
reasoning that respect traditional values: family and work.
1.You were born in Tombolo a place, which despite having land to cultivate, was populated by extraordinary cattle breeders that
were able to become wealthy. You are very attached to your origins, which memory do you carry closest to your heart?
I carry in my heart all the memories of when I was a boy and during the summer, like all my friends, we used to go to the Friday market at
Tombolo at Castelfranco Veneto. It was a very important market. I used to get up at two o'clock in the morning and go to my uncle's barn
to feed the cows that were then taken to the market. We used to give them a bucket of water and bran, which the cows ate avidly and
which pumped them up so that they looked better at the market. I used to go with my uncle. It was great. I was the child taking part in
an adult's world. I used to climb aboard the truck that took the cattle to Castelfranco Veneto and I would hope to be able to help the vet
carry out his examination of the cattle before it entered the market to check that it didn't have foot-and-mouth disease. You could tell if
they had it from the mouth. You had to make them open their mouths by putting two fingers in their nose and then with the other hand
lower the chin in order to get a good look at their teeth. My best memory was the day that there was the Tombolo market on a Thursday.
My uncle bought a Polesine cow. They were tall cows with long horns that were easily irritable. He gave me the cow to take to the barn. I
had to go about 500 metres, it wasn't far but I had to pass through the centre of the village. I held the "cavesa", a rope perpendicular to the
cow because I was only little compared to the cow. At a certain point the cow became frightened and started running near the bar, which
had some tables outside with people having a glass of wine. I was hanging on to the rope and I didn't want to let go because it would have
brought shame on me. I had to manage to smack it on the nose because I knew that would have stopped it but while it was pulling me
along I couldn't manage to do it. Meanwhile the people in the bar were running away. The cow ended up banging into some tables and
at this point I was able to hit it on the nose and it finally stopped so that I could take it to the barn. I was about 6 or 7 years old and it was
a real achievement for me to tame a cow, which meant being a man to me. I had defended my honour.
2.You are considered the king of family banking with a thing for saving: will you tell us when you started saving?
I began saving when I started work. The idea of saving is innate. When I used to go to the market, my uncle would give me some pocket
money that always finished up in my moneybox. When I started work at the bank part of my salary was kept to one side, which meant
giving up a better lifestyle in the present in order to prepare for the future. There has never been a month in which I haven't saved
something. Every single month. My wages were 47,000 lire and I saved part of it. My life style went up but never enough to use up all my
salary. This has been a way of living my entire life. Regardless of the extent of my earnings. I have always thought like this. It comes from
ENNIO DORIS,
THE FAMILY
BANKER
Vintage photo of Tombolo's bovine market (Padova)