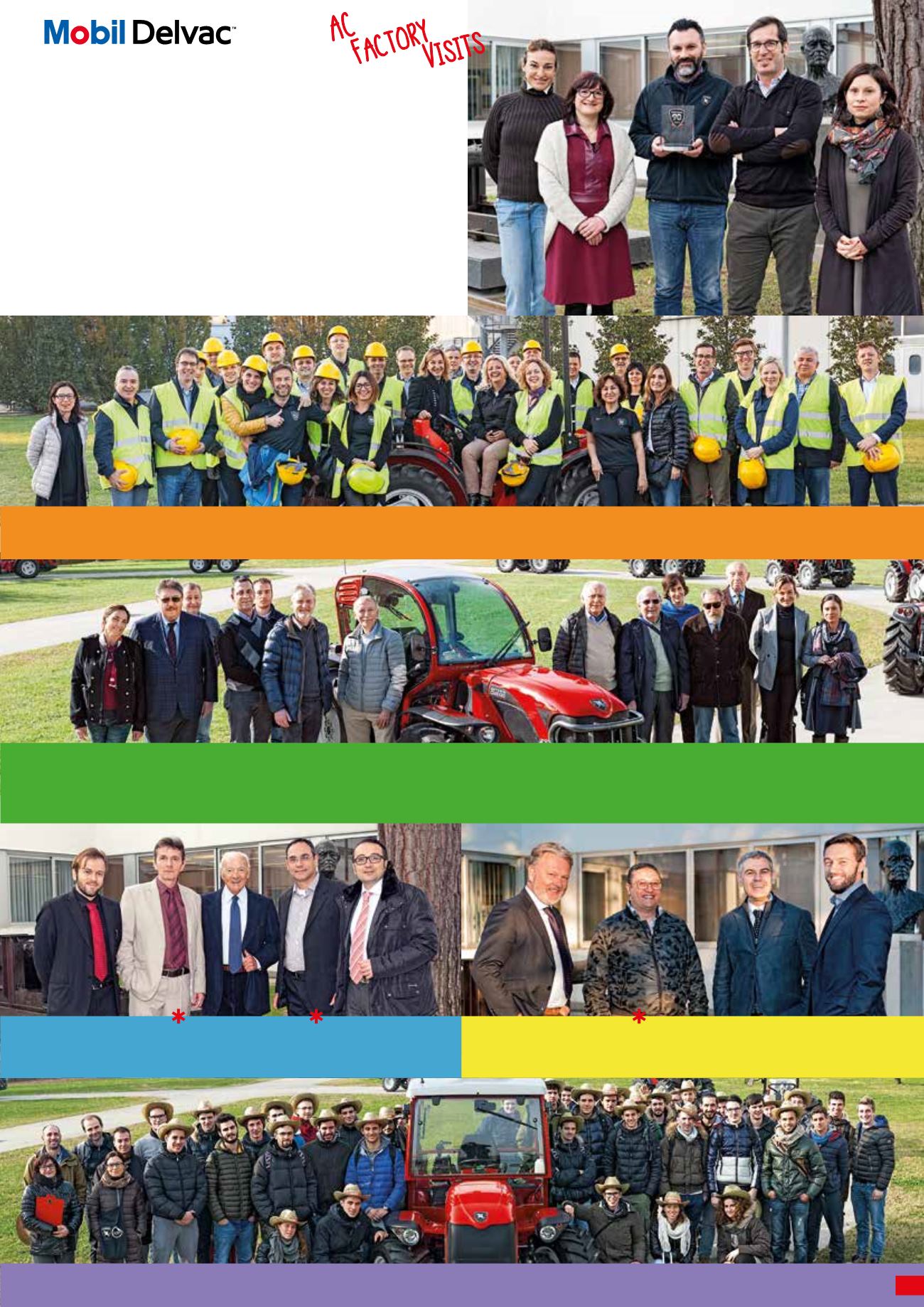 _51
3 DECEMBER 2015
Students from the 3rd year of Science and AgrarianTechnology at Padova University-TESAF, Italy, with professors Francesco Marinello
and Franco Gasparini.
A lot has changed since 1925, when Mobil Delvac became one of the best oils
in the world. In its 90 year history, Mobil Delvac has stepped up to the growing
demands of the traction industry with more innovative and better performing
products. From the pioneering efforts of the first engine vehicles, to the modern
and sophisticated fleets of our time, from the dusty old highways in the past
to the motorways of our era, Mobil Delvac never abandoned the way. It has
supplied AC since 1964 with oil for its primary system. On the occasion of its
90th anniversary a group of sales representatives and marketing managers from
various parts of the EAME area (Europe, Africa and the Middle east) from the
ExxonMobil group paid a visit to the Antonio Carraro plant in order to better
understand their knowledge of our products. The moment presented Mobil
Delvac with the opportunity to offer Antonio Carraro an award in order to
underline the strong partnership between the two companies
90 YEARS OF HISTORY
17 NOVEMBER 2015
*
Jacob Alberto Tramontini (Purchasing Manager) and
*
Ubirajara Choairi dos Santo (CEO) of "Tramontini" in Rio du Sul, Brazil.
19 JANUARY 2016
*
Redouane Laalam (President) of the importer TAMC at Ait Melloul, Morocco.
27 OCTOBER 2015
Professors from the Department of Agronomy and Agrarian Mechanics at the University of Padova, members of the renowned "Accademia
dei Georgofili", North East Italy Division. Founded in Florence in 1753, whose aim is to contribute to scientific progress with specific reference to agriculture,
to safeguard the environment and the rural world. Led by Professor Cesare De Zanche and Professor Giuliano Mosca (President): Prof Anna Lante, Dr Sandro
Prosdocimi, Prof Arturo Zamorani, Prof Claudio Giulivo, Dr Massimo Ferasin, Prof Michele Cera, Dr Roberto Rongaudio
3 NOVEMBER 2015
Sales Representatives and Marketing Managers from various parts of the EAME (Europe, Africa and Middle East) of the ExxonMobil group.