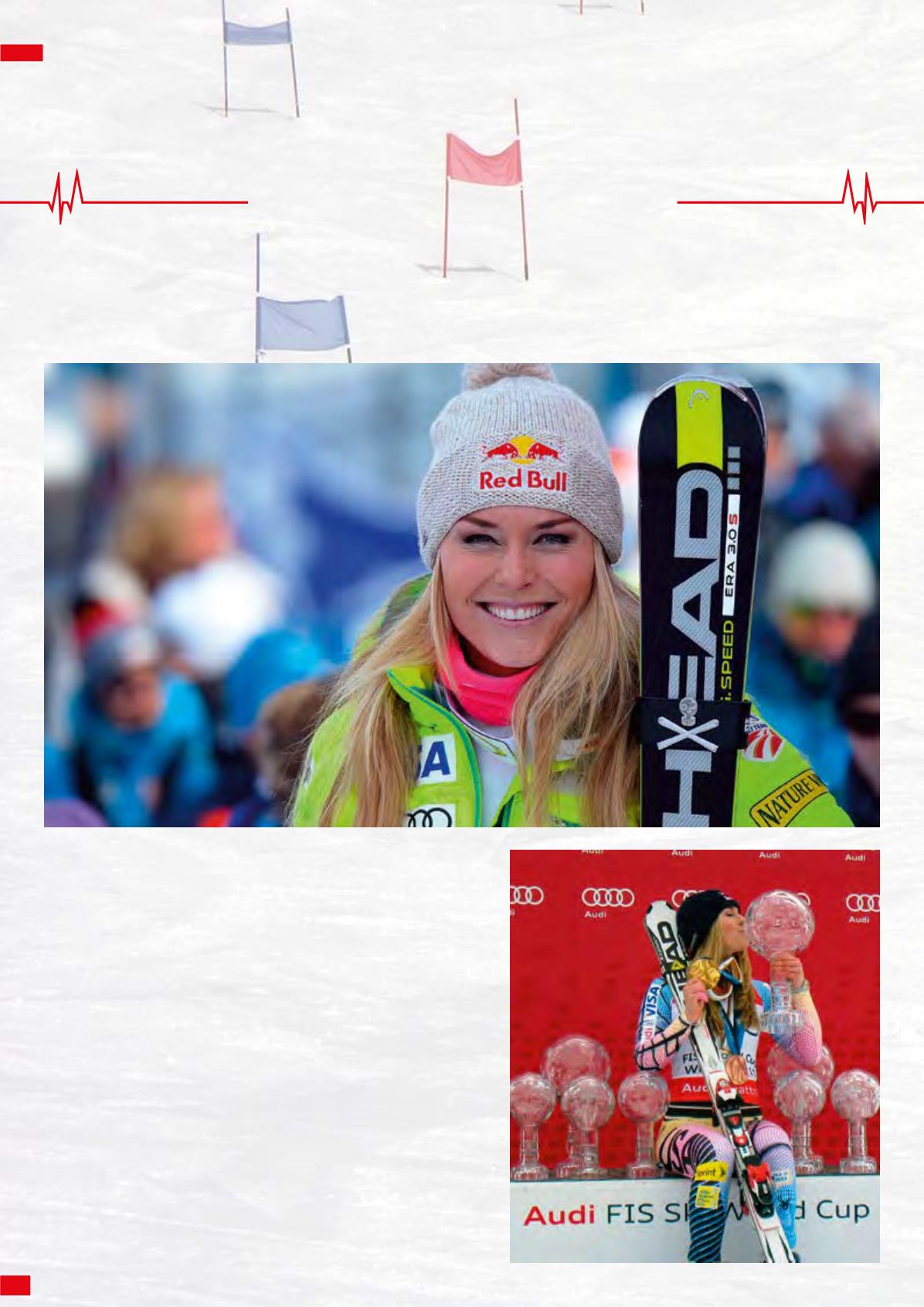 30_
AC WORLD NEWS >
INTERVIEW
Today, this 31-year old girl from Minnesota has become a role model (also for
those who have never worn a pair of skis) due to her ability to get up after a
fall (real and spiritual) and to do so according to the philosophy which always
puts herself at the centre of the world. "When I was a young girl many people
tried to convince me to change how I ski but my trainer told me that it was
the very reason why I was fast. I have applied this to my whole life. I don't
need to change anything, I am the way I am". With an unequalled physical
power in women's skiing, at 1.75 metres and 72 Kg, she has decided to tell her
story in a new book: "Strength is the New Beauty" currently out in the USA.
Her 4.15 wake-ups are well-documented on Instagram, Twitter and Facebook
where she can be seen lifting weights or on the cyclette in the gym, showing
the strength that allows her to ski like a man as she dares to exceed all limits.
When she wins she likes to treat herself to shoes and bags. She loves Louis
Vuitton because "we have the same initials".
Diva and star of a series of spectacular falls at the beginning of her career in
2004, she really took off in 2007 when she changed her name from Kildow to
Vonn, following her marriage to Thomas, companion, trainer and manager.
The marriage ended in 2011 with an epic argument: jilted, he filed all of her ski
boots the night before she was due to compete in an act of revenge, forcing
her to pull out of the Giant at Aspen. The break-up with Tiger Woods, the golf
champion, was announced recently by her, as a way of stating who was lea-
ving who. "I loved him and I will always love him. It simply didn't work". For
Lindsey life is made up of falls, the important thing is to keep getting back up.
Lindsey Vonn is the greatest female skier in history, with 76 World Cup titles to her name. This is not the only reason she is to be found on many front
covers though. She is not the only one with a pretty face either: the winter sports bring us many girls that would not look out of place on the catwalk.
Vonn was the first of her sport to become an all round celebrity. One of her most amazing feats to go down in history was at Soldeu 2016: victory in the
Super G the day after she had fractured her knee.
LINDSEY VONN:
WORLD RECORD WOMAN
NO LIMITS (WONDER) WOMAN