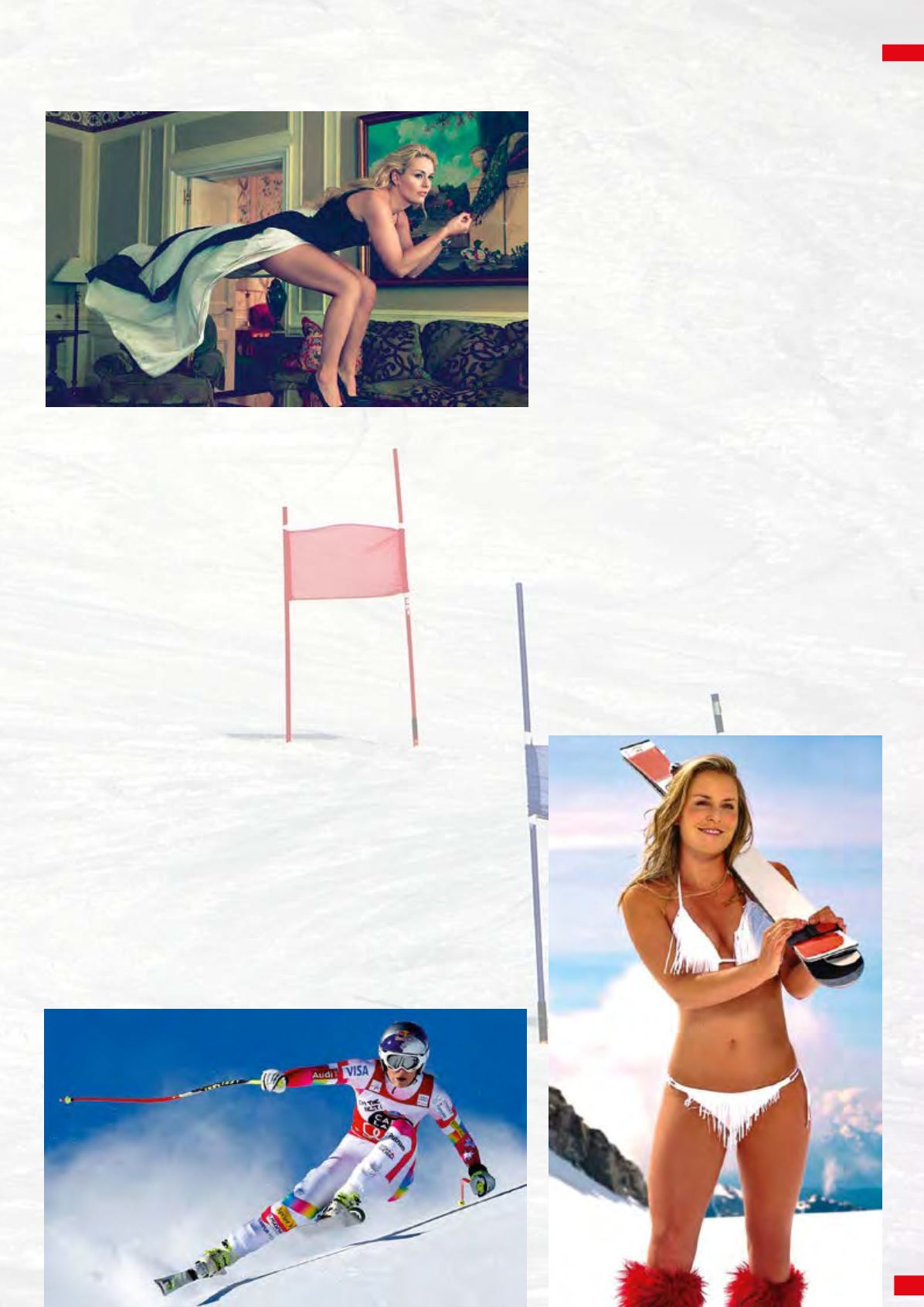 _31
INTERVIEW <
AC WORLD NEWS
1. Did you always dreamof becoming a champion even
when you were a child?
Yes, I've always wanted to be a champion since I was 7
years old.
2. How much sacrifice has it taken to become who you
are right now?
To be a ski champion it takes a lot of hard work and
dedication. I sacrificed a normal childhood with friends
and family to get to where I am right now- but I don't see it
as a sacrifice because it's what I knew I wanted to do.
3. How important was your family in helping you get
all your records and achievements?
My family sacrificed a lot to allow me to ski and without
them I wouldn't be where I am today. I owe them a lot.
4. When you race you ski lines that nobody else can…How do you do it?What do you think about before you start?
It takes a lot of training and practice. I memorize the course and know every turn before I race. Imagining the turns before you start is important
so that you know what's coming up ahead of you. I calculate everything so there are no surprises.
5. What is your typical day like?
During ski season it's either traveling to the next race, preparing for the race, or racing. Off season I'm in the gym every day or outside staying
active. I love fly fishing, scuba diving, and playing with my dogs.
6.What does your Foundation mean for young girls? What are its goal and values?
When and why did you start thinking about your foundation and the important of the empowerment of girls and women?
I want to create a confident future for young girls. The goal is to give young girls the tools to become strong individuals. This foundation has been
my goal for years. I've been a part of a camp for girls in Vail, Colorado called Ski Girls Rock for a long time and I'm so thankful that I can finally take
that idea to the next level.
7.Bode Miller said you are the greatest skier of all time, it's a great compliment from one of the best skiers in the world, do you feel
flattered about it?
It is a great compliment! Of course I am flattered, Bode is a great skier and a good friend.
8. Has your approach to skiing changed after all your injuries?
Not really. I think it's pushed me farther actually. When you have had as many set
backs as I have it drives you to give it your all every race because you know how
much it means to you.
9. How do you imagine your future when you stop skiing?
For right now I'm just putting one injured knee in front of the other and taking it
slow. I still have a long way to go before I hang up the towel!
10. You love the speed and now there is the world champion of F.1, Lewis
Hamilton…
We are only good friends…
SILVIA CARRARO