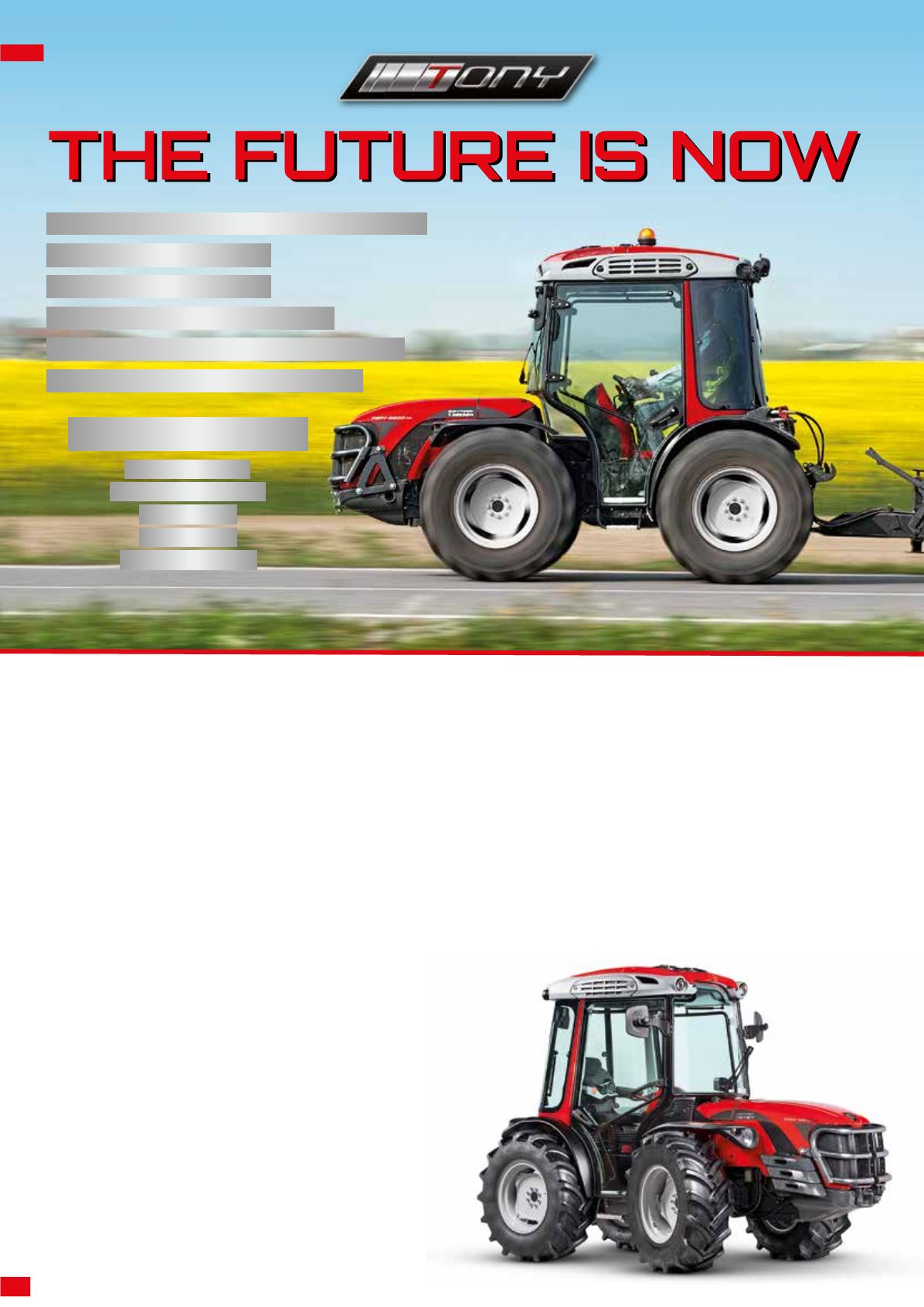 14_
THE PRODUCT
> TRACTOR PEOPLE
Simply clever...but we are not talking about cars but rather the most "intelligent" tractor from the AC range. It is the Tony 9800
TR, the hydrostatic tractor designed for precision agriculture, fitted with a 4 cylinder, 87 hp Yanmar engine with a hydrostatic-
mechanical transmission with continual variation with 4 electronically controlled ranges. The PTO has two rpm settings at 540
and 540E and is synchronised with the tractor's speed (opt. 540S or 1000 rpm). The AIR cab, stylish inside and out, is fitted with
a Falling Object Protective Structure –FOPS and Operator Protective Structure-ROPS and is also pressurised with Category 4
certification. The real news is the on board software, designed at Antonio Carraro, which makes the tractor...simply clever!
TONY: THE PERFECTIONIST
The Tony 9800 TR (87hp) is fitted with a continual variation transmission with four electronically controlled speed ranges – each with continual
variation – with 3 ways of accelerating both manually and with Automotive, for a total of 24 adjustable speeds from 0 to 40 km/h.
It is fitted with a powerful engine (Yanmar – 4 turbo cylinder) both quiet and ecological along with a unique variable transmission. It is compact,
agile, economical and versatile when carrying out both heavy and delicate tasks for specialised agriculture. The management software for all the
functions was designed with simplicity, savings, comfort and creativity in mind.
ACTIO™ - STEERING-RGS-87HP
ITAC (operative system)
JPM + (multipurpose proportional joystick)
CONTINUAL TRANSMISSION
TMC (Tractor Management Control)
AIR cab (Cert. ROPS/FOPS/CAT.4)
SAVINGS!
EFFORT
TIME
ENERGY
MONEY
FUEL
It is an intelligent tractor which, thanks to its Eco Speed system, allows
the operator to monitor and reduce fuel consumption to a minimum.
How? Simple: by maintaining speed constant at 40 km/h, the system
automatically reduces engine revolutions.
Maximum torque, up to 287 Nm, can be kept constant and nominal
engine speed can be reached at just 1850 rpm. The maximum power
of the transmission is available at 4 speed ranges thanks to the SIM
technology (Shift In Motion) that allows for the passing between speed
ranges without stopping or interrupting movement.
The cooling technology is the result of a detailed engineering study
with the insertion of a new finning which increases the air flow between
the two overlapping radiators, which guarantees exceptional thermal
exchange. Access to the bonnet is quick and easy thus simplifying
cleaning and maintenance activities.