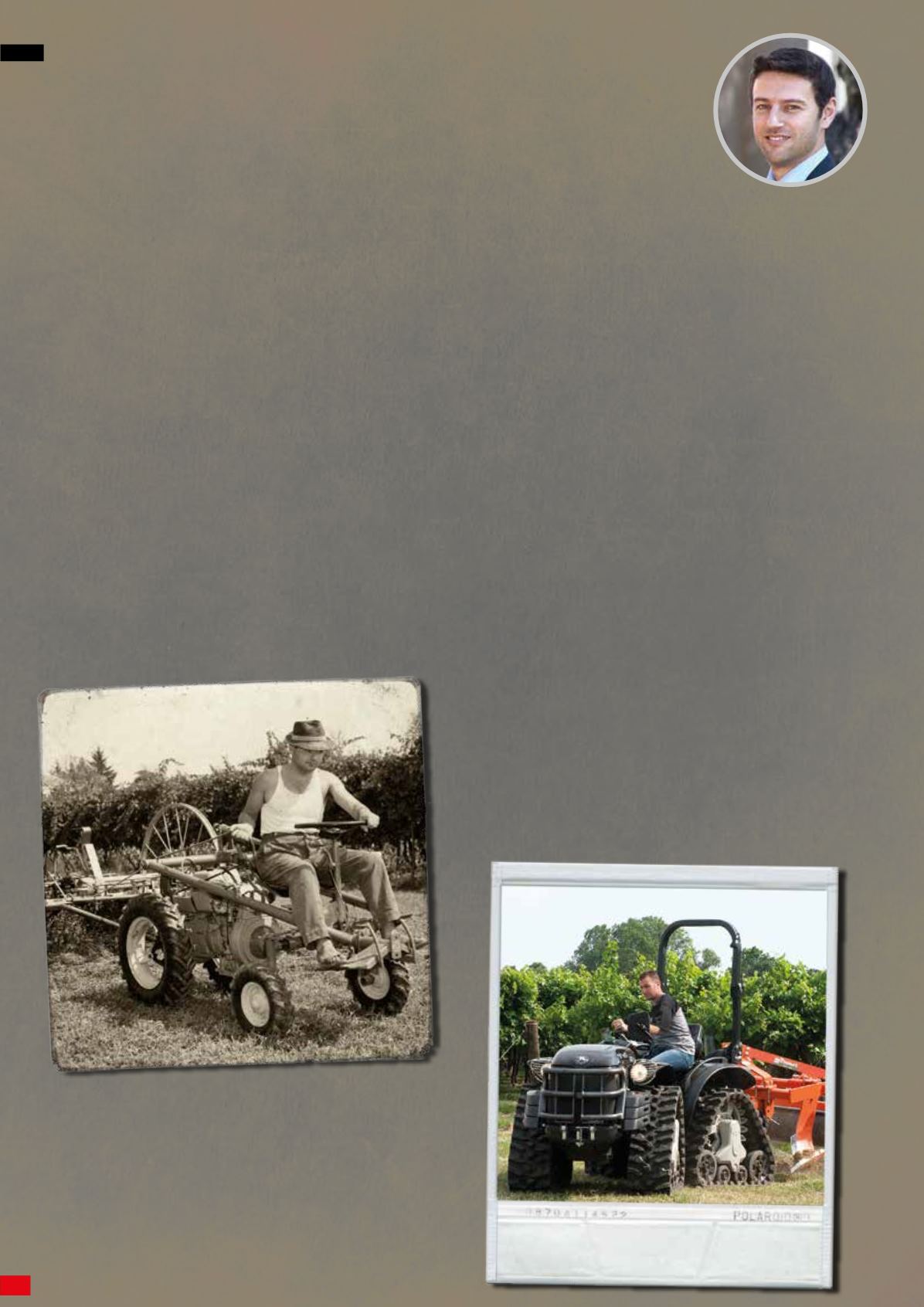 36_
AC TECH >
FACTORY
Vintage or antiquated?
"Who knows why, when people imagine an old dress or piece of
furniture, they consider it "vintage" or retro yet when they imagine an
old tractor they don't?
The fact is that the majority of countries in the world, those that have
little to do with agriculture have an image of today's tractors similar
to the tractor of the past. This doesn't happen for clothes, furniture or
domestic appliances.
In reality we all know how different a tractor was 10 years ago! So
imagine the one people associate with their childhood...
One of the reasons is that we manufacturers don't always take every
opportunity to promote the evolution of the tractor outside our
narrow professional environment. Tied to the romantic and not very
technological image of agriculture, the agricultural machinery sector
is often demonised when it reveals its entrepreneurial nature and
efficient side. This relegates us to a secondary sector when instead
only the technology (used properly) can come up with real projects to
increase the value of the land. (A far cry from returning to the fields like
100 years ago!)
At the moment in Italy the topics of the moment are the "License" to
drive complex work vehicles like the tractor or its systematic revision in
Dr. Roberto Castiello
Trade Marketing Manager and
Federunacoma Councillor
REVISION AND LEGAL
CONFORMITY OF TRACTORS:
A CHIMERA?
order to guarantee efficiency and safety. The discussion seems centred
on whether these instruments are needed or not, rather than on how
well they are being implemented. Personally I have the sensation that
we are wasting another good opportunity.
In reality agriculturalists know how to promote their work when the
opportunity arises. The world of wine production is a classic example
with its modern and efficient image closely tied to its traditions, with
innovation placed at the centre of the sector's evolution in order to
improve results and production.
This is where we have to concentrate our energy. Whenever we can we
need to explain the quality of the work carried out in the countryside to
those who don't know about it and just how technologically advanced
it has become.
Our sector is essential for the planet (without agricultural machinery,
food cannot be produced!) and I don't see why this should keep being
trivialised.
Mine is clearly a sincere invitation for us manufacturers, together with
all the sector's employees, to be the first to explain and promote the
idea of just how advanced and innovative mechanised agriculture is.
It is easy for me to say because I work in a company like Antonio Carraro
SPA which bases its present and its future on the notion of doing things
better every day. The famous "Kaizen" (the Japanese philosophy of
constant improvement) is an integral part of our way of working across
all departments. If I look back it is plain to see that nothing that we do
today is the same as what we did 15 years ago and I am sure that it will
be different again in another 15 years.
My greatest wish is that also people far from our world will recognise,
sooner or later, the great innovation that has been brought to
agriculture through its mechanisation and that moreover, the revision
of mechanised vehicles will be seen as a blessing and not an economic
cost to the owners of agricultural vehicles, who should be willing to
invest in their machinery so that they can become more efficient, safer
and more environmentally friendly."