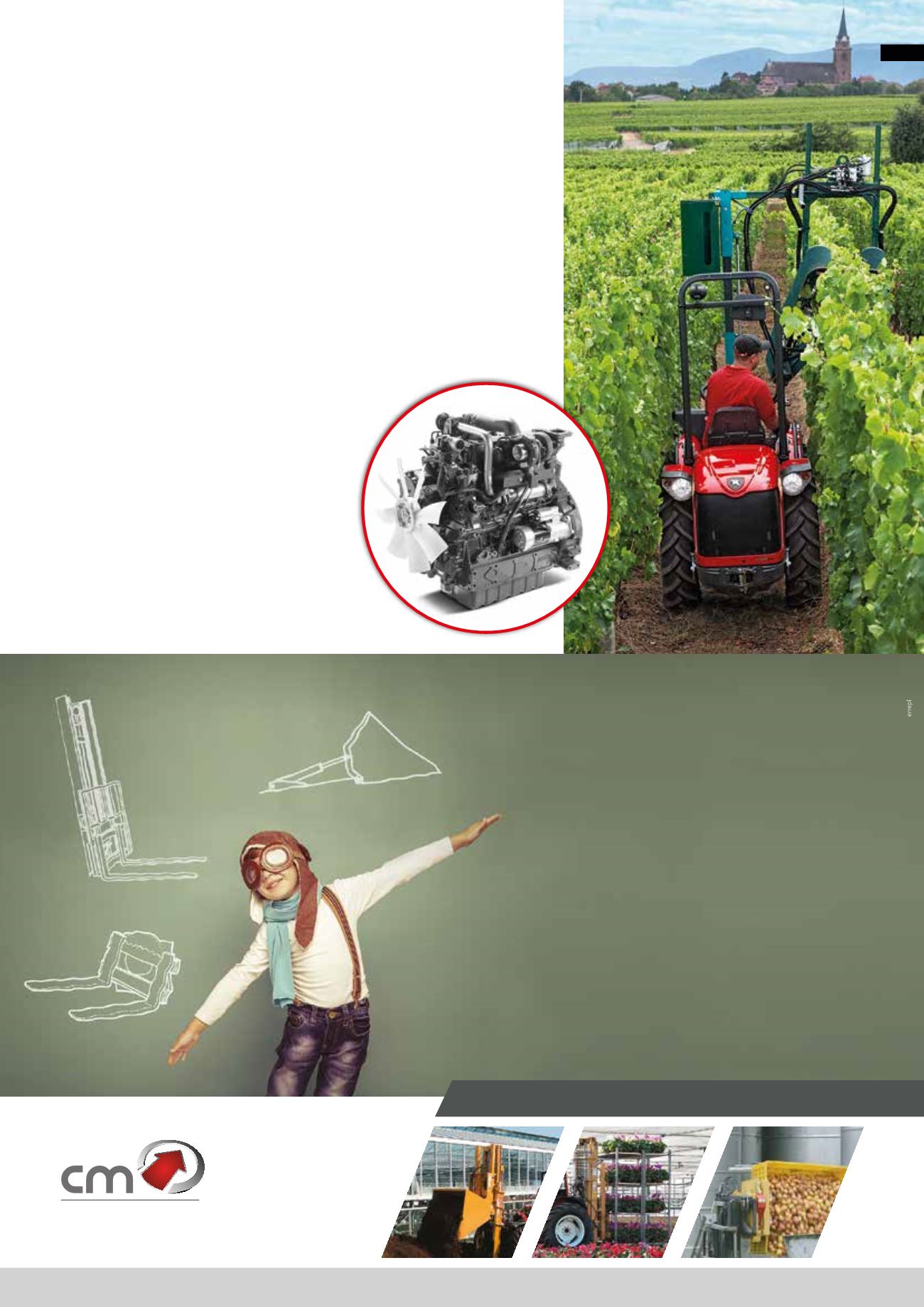 _37
C.M. srl
- Via Bedazzo, 39 - 48022 LUGO (RA) Italy
Tel. +39 0545 34134 - Fax +39 0545 32117 -
cm@cm-elevatori.it
Excellence in motion
Sollevare, trasportare, rovesciare / Lifting, moving, tipping
Vola solo chi osa farlo.
CM, movimentazione senza confini.
Only the brave dare to fly. CM, unlimited handling.
www.cm-elevatori.it
FACTORY
<
AC TECH
EMISSION LEGISLATION ON DIESEL
ENGINES FOR NARROW TRACTORS
Nei numeri passati del ns.magazine avevamo informato i nostri lettori dellenuove
norme sulle emissioni dei motori diesel dei trattori "stretti". Fortunatamente è
arrivata una proroga dal Parlamento Europeo che ha ammesso la specificità di
tali trattori.
In back issues of our magazine we informed our readers about the new diesel engine
emission legislation on "narrow" tractors. Fortunately a deferment from the European
Parliament has arrived, thus recognising the particularity of such tractors. Essentially,
orchard and vineyard tractors have been considered separate. Federunacoma
(Federation of manufacturers of agricultural machinery and tractors) and lots of
other players from mechanised agriculture, had been saying so for years, and finally
in September 2015, the European Parliament followed this line of thought, thus
confirming a different timeline for the application of the new law on exhaust fumes
for narrow tractors.
Two amendments, which recognise the specific nature of"narrow"
tractors, have in fact been approved. The first commits the
European Commission to carrying out further analysis
before extending the legislation regarding mobile, non-
road vehicle engines to narrow tractors. The second
sets out that narrow tractors, currently available on the
market, need to be redesigned ex-novo only if the new
regulation becomes law, thus avoiding the need to
partially carry out modifications in a brief intermediary
period.
Thereforesometimehasbeengiventothemanufacturers.
The question is still on the table, but the time margins for a
legal solution are easier to handle.
What happened?