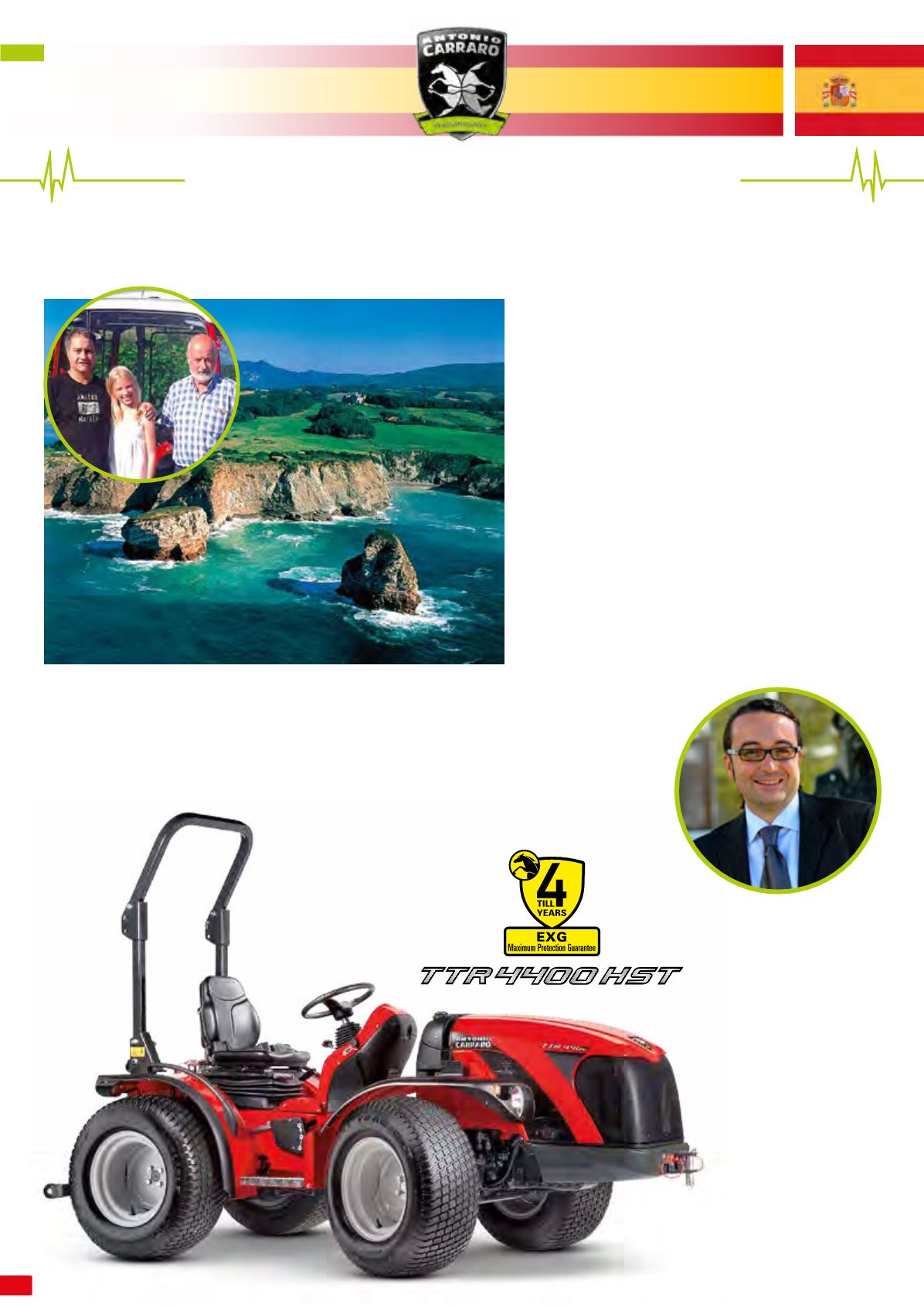 20_
THE PRODUCT
> GROUNDCARE
Unique. This is the perfect definition of the TTR 4400 HST, an isodiametric reversible tractor with a hydrostatic transmission, with a quiet and eco-
nomical 3-cylinder Yanmar (38 hp) engine that guarantees top performance in the civil maintenance sector.
"The TTR 4400 is an extremely capable and reliable tractor, suitable for all companies that operate in the
spheres of green area and urban maintenance. This is why a large number of Spanish companies choose it
to head up their mechanisation team. The ratio between lowmaintenance costs, easy access on difficult,
sloping ground, great comfort and an enormous operative capacity make the TTR 4400 the perfect
choice for the Iberian peninsular".
(Justo Sampayo, Director Antonio Carraro Iberica)
VAMOS A TRABAJAR!
(Let's get to work!)
Recently theTTR 4400 HST has been experiencing great success
in northern Spain, particularly in the Basque region. One of the
latest purchasers is Mr. Gaizca Gil Basañez, in the photo with
his daughter Olatz and the dealer Javier Markaida (Markaida
Alquiler and Suministro, Mungia, Biscaglia). His TTR is destined
to work in the small hamlet Degollene, Erandio.
Facing a gulf of the same name, with an outlet onto the
Atlantic, this Basque province has a Mediterranean climate,
which influences both the landscape and urban spaces. Like
Mr. Basañez, many agricultural, green area and maintenance
operators consider this tractor to be an excellent response to
their needs. The TTR 4400 HST is a 38 hp hydrostatic designed
to carry out most maintenance activities associated with urban
cleaning, sports grounds, mowing and green area maintenance
as well as snow clearance, material movement and roadway
maintenance. All of these activities can be carried out aboard
a stable, versatile tractor with good manoeuvrability thanks to
its compactness with an overhanging engine and a subsequent
perfect weight distribution over the equipment.