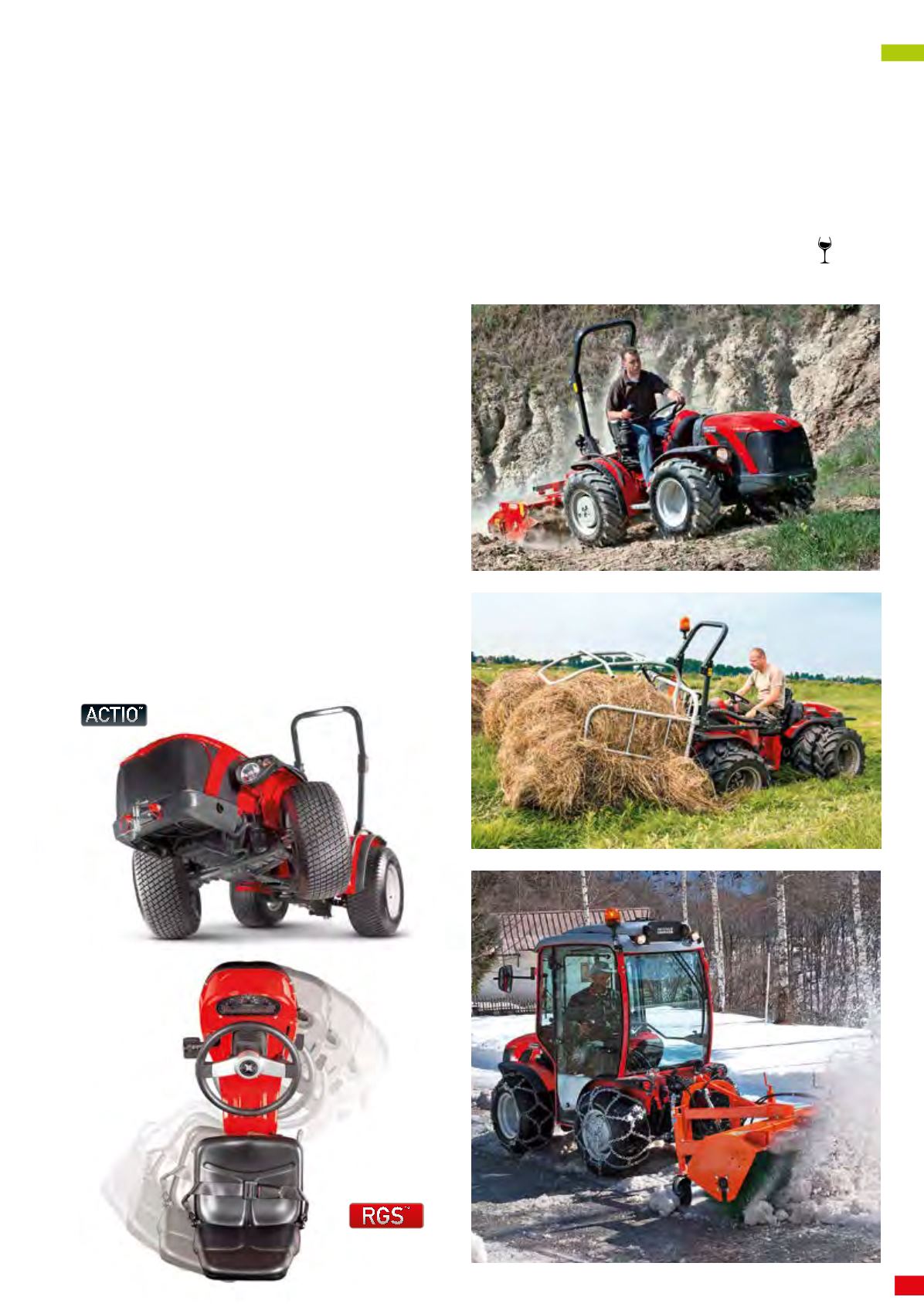 _21
GROUNDCARE <
THE PRODUCT
For a while now many Spanish agriculturalists have found the
hydrostatic transmission of the TTR 4400 HST easy to operate, precise
and above all high performing. For the precious vegetables from
northern Spain (suppliers to the most prestigious kitchens around the
world) the TTR is proving to be the ideal tractor.
The ACTIO™ , full chassis with oscillation with a low centre of gravity
which provides greater stability than traditional tractors is greatly
appreciated. With the TTR it is possible to work in comfort and safety
even where a standard tractor would have difficulty (slopes, uneven
terrain, poor grip). The Speed-Fix system, for example, is extremely
useful to the operator that wants to work with a constant forward
speed, both on the slopes and the plain.
Another plus point is the RGS™ reversible drive system on the rotating
control tower that allows for the use of both forward and rear fitting
equipment, with direct vision over the equipment (in both directions)
that guarantees easy and accurate working activity, without wasting
time and energy, by avoiding unnatural or uncomfortable procedures
that are sometimes unavoidable with traditional tractors, not ideal for
frontal applications.
The PTO is independent and has a double speed setting (540/1000 rpm).
Should it be necessary to carry out tasks with two pieces of equipment
fitted simultaneously, the TTR has a front PTO and lift (engine side). The
joystick ON-OFF is also available for the management of the equipment
and the rear lift with double effect cylinders. The tractor can be set up
with a protective roll bar or air-conditioned cab with automatic clima
control.
Many tractors in one also for agriculture
For all of these reasons it is natural that the Spanish customer would
choose a TTR 4400 HST: the best option to carry out the task at hand
well and in a short time in order to be able to spend time with friends in
front of a nice glass of Rioja and some tapas! Salud!
p.s. "tapas is a typical Spanish snack before lunch or dinner.