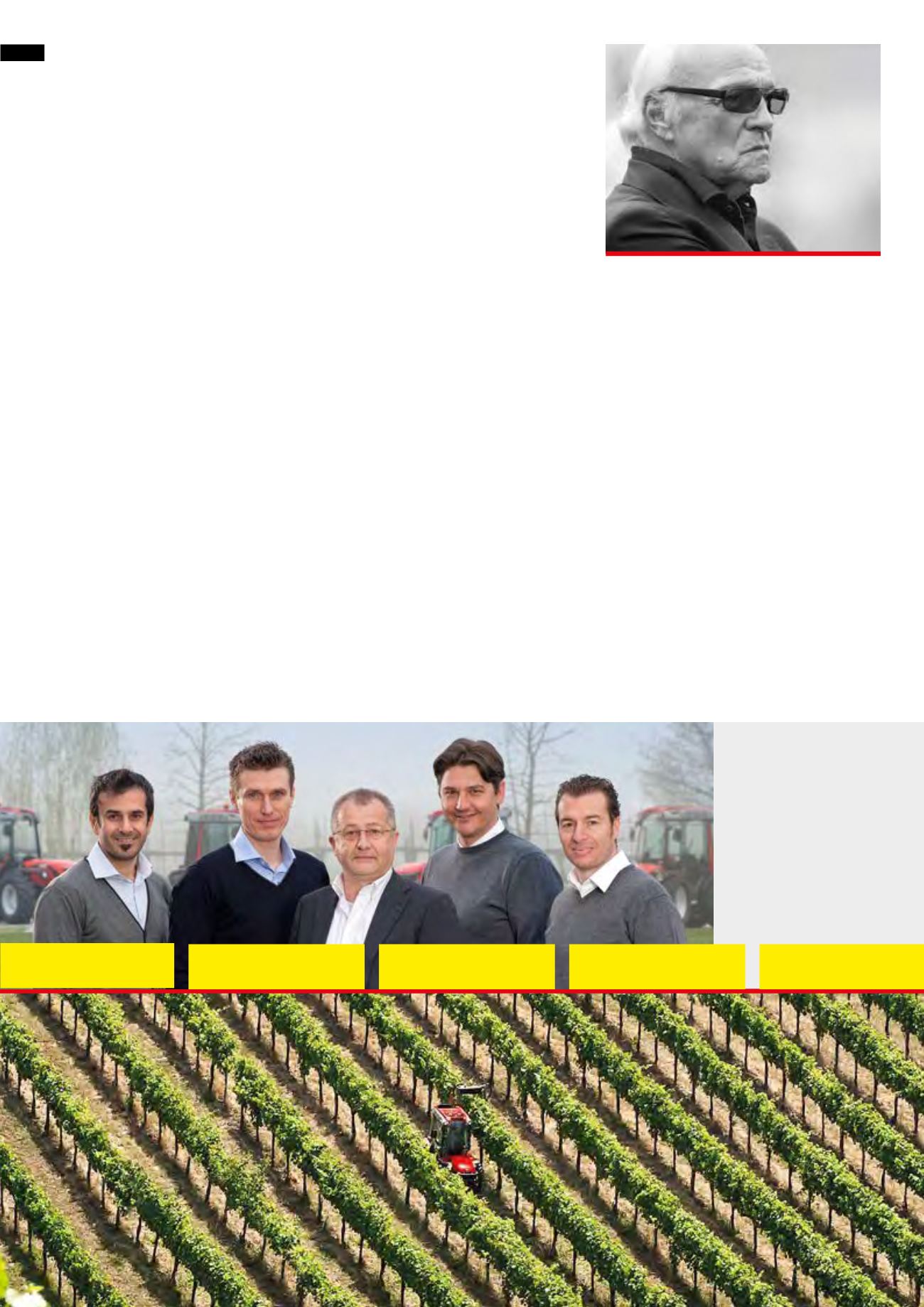 TRACTOR PEOPLE
> EDITORIAL
"Our objective remains the same:
to build the best tractors in the world."
Antonio Carraro, the President
The data shown in the
technical articles is
homologation data. The
following people from the AC
Research and Development
Department collaborated on
the technical tests.
Oscar Chiarello
Dolce Vita Products
Andrea Beltrame
Product Manager
Stefano Bortolato
Product Manager
Pier Claudio Massarotto
Director
Damiano De Checchi
Tractor People Products
For many years now in Italy, the Antonio Carraro brand has registered the highest number of tractors in the isodiametric sector aimed at
specialised agriculture and civil maintenance, from 20 to 100 hp.
However, what makes our tractor production special is not the number of tractors produced in a wide variety of models but rather the tirelessly
innovative spirit that leads us to develop unique technical solutions that are sometimes against the trend, which provide a range of tractors
recognised by the operators for their specialisation, originality as well as for the care taken over design, comfort and reliability.
The company's design philosophy, based on "lean" principles (developed over many years of training with Porsche Consulting) is defined by its
great production flexibility, so that each tractor is "made to measure" for its individual customer.
Antonio Carraro tractors are rarely seen in open fields but rather amongst narrow rows, on inaccessible crops, on slopes or on slippery ground.
We might go as far to say they go wherever eagles dare because all terrain is cultivatable and every crop is accessible as far as Antonio Carraro is
concerned.
Every model is the fruit of our centre for study and research's limitless creativity, which is manifested in primis by our President, who on the
production of each innovation, ironically repeats: "Our objective remains the same: to build the best tractor in the world".
Now it is the turn of the Tony tractors with their constant variable transmission and of the new Ergit R Series. The same dream was cultivated for
the Tigre, the Tropical, the Series 22, the reversible Tritrac, the Ergit, the Jona, the Major and the Mach. Each time we begin the dream of building
the best tractor in the world again. (At least as far as we are concerned)
Happy reading!
Liliana Carraro
Chief Editor
TRACTORS WITHOUT LIMITS,
"MADE TO MEASURE"