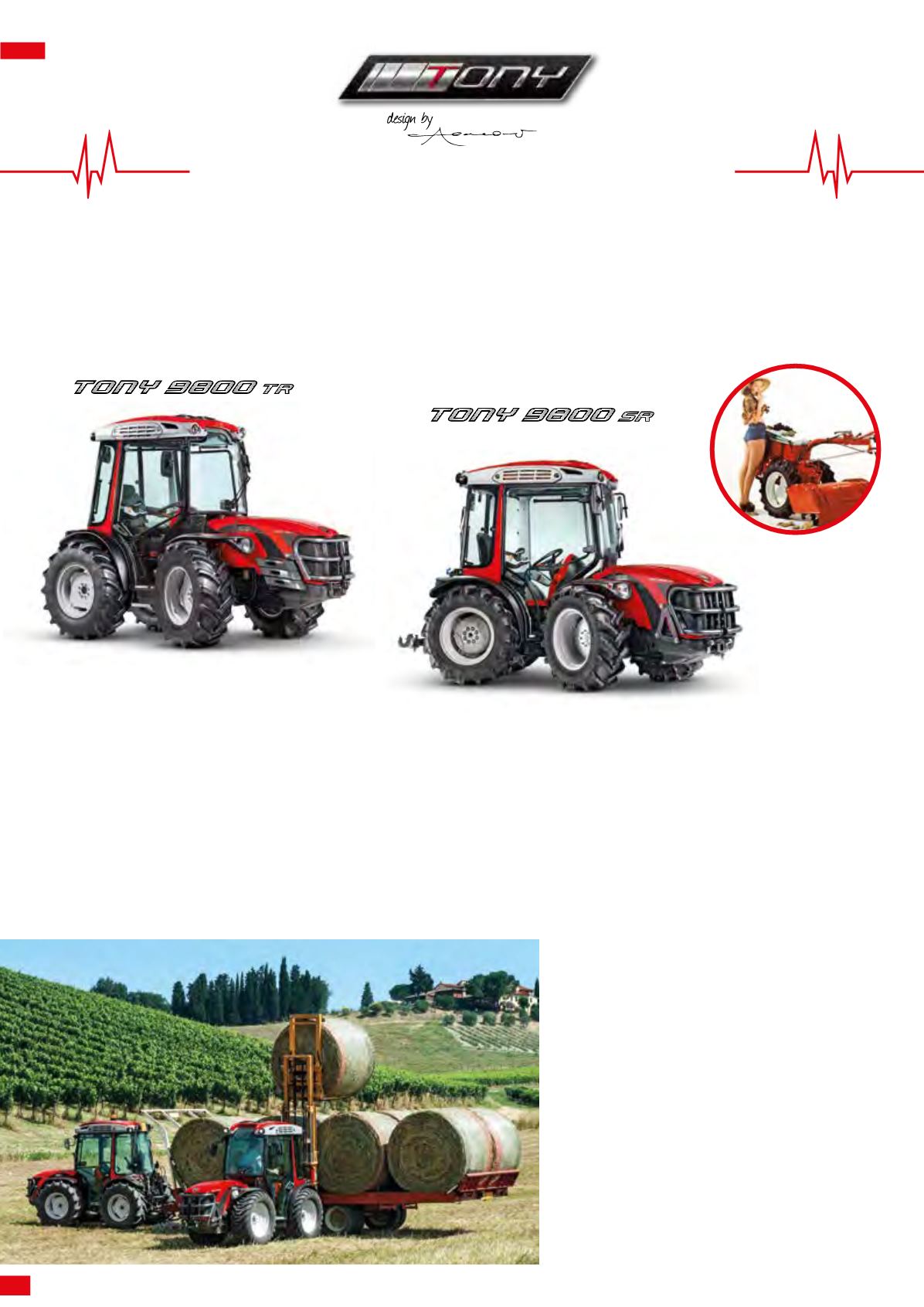 8_
THE PRODUCT
> TRACTOR PEOPLE
The Tony are completely innovative tractors. The main differences from the tractors currently in production lie in the new structurally reinforced
chassis, the new platforms and cabs designed on one monolithic piece with ROPS and FOPS homologation with a category 4 certificate, the
new ITAC (Intelligent-Tractor-Antonio-Carraro) electronic operating system, the new programmable joystick, SOS the operator safety emergency
system and range-finding with GPS technology. All of which allows the operator to personalise their work, with total respect for the legislation
on emissions, safety and the environment. The innovative aspect of a robotic transmission, in Italy and abroad, and the accurate servo-assisted
systemof the gearbox satisfy each and every customer request by offering perfect control of the tractor, even in extreme conditions. Not only does
the Tony allow the instantaneous inversion of the movement or the continuity of forward motion, but it also allows the operator to personalise his
work to his own sensations and drive style. The operator is able to work comfortably and safely even during difficult, lengthy tasks, because the
pre-selected functions remain constant until the job is done.
The Tony represent an important development in the sector of specialised tractors: the miniaturising of the parts, the choice of high performing
materials and the strict testing are a great feat of engineering. The objective behind the economic commitment to bring this project of having a
constant variable transmission on such compact tractors about, is always that of rendering the specialised operator's work less stressful and above
TONY: THE FUTURE IS NOW
The Tony models are the fruit of the experience gathered at Antonio Carraro over a forty-year study of hydrostatic transmissions. Back
in 1975 Antonio Carraro adopted the technology"CVT" or Continuous Variation Transmission for the first time on the Planematic model.
The idea has always been the same: to render agricultural work more comfortable, easier and less tiring by simplifying the use of the
tractor thanks to a transmission capable of adapting to all kinds of tasks imaginable with infinite speeds available to the operator.
COMPACT REVERSIBLES WITH
CONSTANT VARIABLE TRANSMISSION
all more accurate, both for traditional and reverse drive
usage.
The Antonio Carraro tractors with the hybrid
hydrostatic/mechanical
transmission
encompass
certain aspects that significantly improve comfort for
the agricultural operator, such as the elimination of
levers traditionally positioned on the central tunnel
facilitates access aboard, the ergonomics of the controls,
the living space and the simplification of the operator's
movements, all of this takes operational performance
to a level of excellence that translates into maximum
performance with a drastic reduction in work time and
fuel consumption.