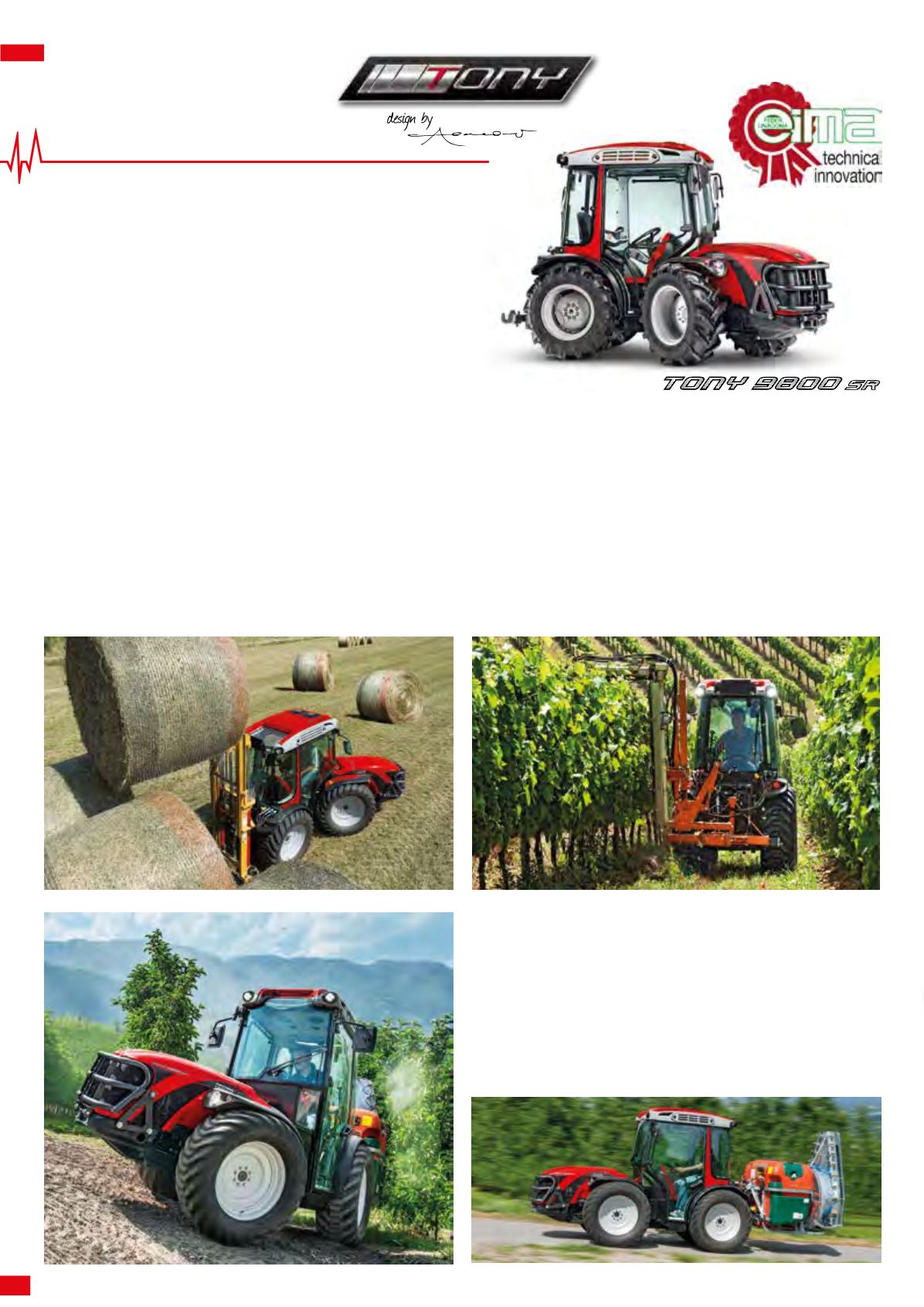 14_
THE PRODUCT
> TRACTOR PEOPLE
NEW ENTRY
PRODUCTION 2017
STREAMLINED WITH GOOD HANDLING
The Tony 9800 SR is the first new product of the Tony line:
isodiametric, articulated ACTIO™ chassis, with reversible drive and
an electronically controlled constant variable transmission with 4
speed ranges along with 3 acceleration modes for each range and
3 for each range in Automotive mode.
The constant variable transmission, combined with the Rev-Guide
System™, increase the vehicle's versatility, offering it maximum
operative efficiency with the possibility of being fitted with numerous
pieces of specific equipment and therefore simplifyingwork procedures
in tight spaces, on uneven ground and on steep slopes. The articulated
chassis and the narrow track render this model especially agile whilst
moving between rowed crops and when carrying out manoeuvres with
a reduced number of turns.
The transmission provides great flexibility with a large number of front
and rear fitting equipment. Its start off sensitivity, working memory
and available options allow the vehicle to adapt itself perfectly to the
needs and driving style of the operator.
The purchaser of a Tony 9800 SR can configure their tractor according to
their individual needs, thus obtaining a tractor that is ideal for all types
of rowed crops (grapes, fruit, citrus fruit andhops) or specific agricultural
tasks (snow clearance, greenhouse activities or in nurseries). Each Tony
can be perfectly adapted to individual clearance requirements. The
model with the narrowest track is articulated. Also regarding height
the Tony is at the top of the class, reaching a maximum height of 2.10
m with the Air cab.
Amongst the numerous software functions, there is the automatic
speed regulation geared to preserving maximum engine torque at
set revolutions, simulating the corrections normally carried out by the
operator hundreds of times a day while driving the tractor. Therefore, in
addition to increasing work performance, the Tony SR reduces driving
stress by providing an automatic speed pilot.
The Tony 9800 SR with its speed control system and fixed engine
revolutions along with its pressurised cab homologated to Cat. 4 thus
guaranteeing the operator maximum protection, is particularly useful
when working with products for crop spraying.
Tony 9800 SR, articulated, candidate for the award "Technical Innovation EIMA 2016"